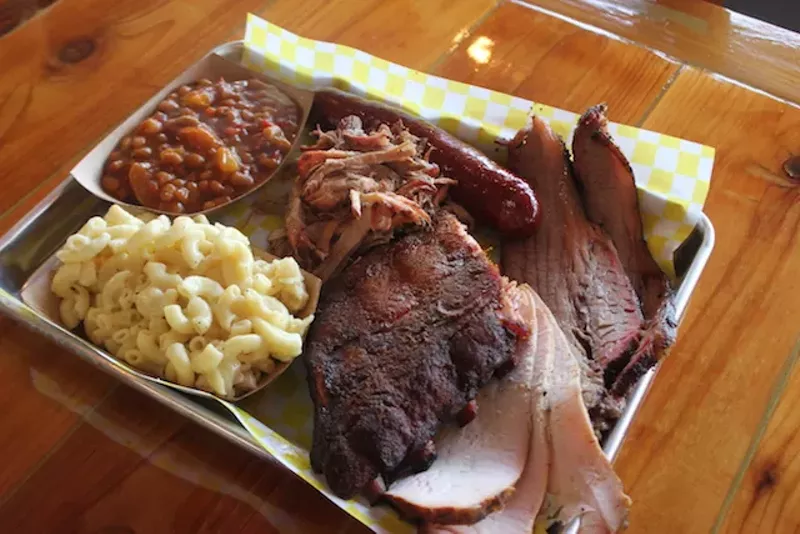 SARAH FENSKE
Barbecue choices include brisket, ribs, smoked turkey, hot sausage and pulled pork.
Honey Pit Smokehouse (951 S. Kirkwood Road, Kirkwood; 314-698-2121), the barbecue joint that opened its doors in Kirkwood just before Christmas, would likely generate a lot of interest even without its smoker.
For one thing, there's the location — the high-visibility corner of Kirkwood Road and South Big Bend, close to both I-44 and a ton of big-box shopping. For another, the months of construction that its co-founders put into rehabbing and retooling an old Chinese restaurant have left them with a seriously striking space. With big windows, lots of pine and some whimsical touches, it's a far cry from the utilitarian look of many barbecue spots.
And yeah, there's also that smoker. Co-owner Shane Mihaljevic Sr., who opened the place with son Shane Jr. and his friend Zach Fagas, boasts that it's the only water smoker in a barbecue restaurant anywhere in Missouri. Its moisture-rich atmosphere allows for higher temperatures, cooking the meat faster without drying it out. "Four to five hours, and you have perfect barbecue, with just the right amount of smoke," he promises.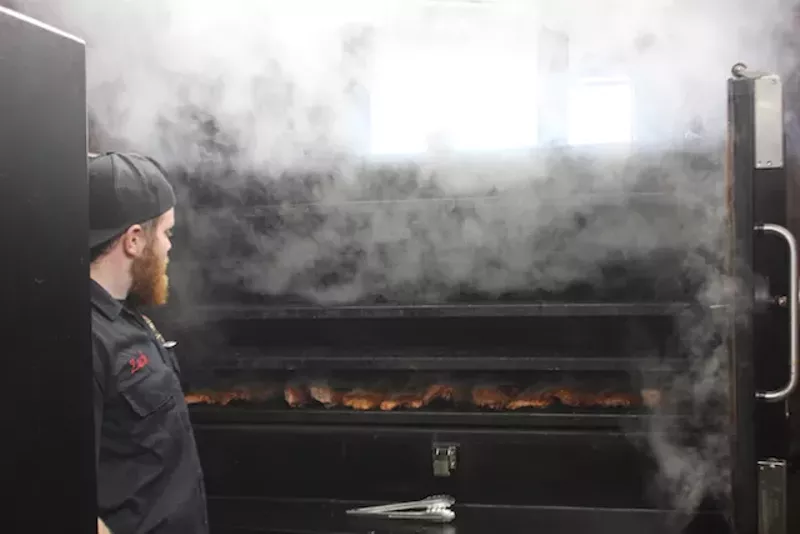 SARAH FENSKE
Zach Fagas surveys the smoker.
The smoker isn't their only innovation. Honey Pit is also one of the few, if not the only, barbecue joints in town that makes a point of meeting the dietary restrictions of a calorie counter — or even a serious athlete in training. The "Fit Home & Health" portion of the menu offers a variety of proteins (turkey breast, chicken breast, salmon) along with a choice of three rotating sides made without butter or oil. For that portion of the menu, the calorie counts are prominently displayed. "We're doing something a little different," Fagas say — a true understatement.
Gluttons, however, will still be happy at Honey Pit. While the kitchen uses honey as much as possible, relying on its natural sweetness instead of high-fructose syrups, it's fine with decadence. Even beyond the barbecue, the double cheeseburger topped with bacon and the Provel-topped Philly cheesesteak, you may want to save room for dessert — not only do they bake cookies in-house, but they make a mean shake with an entire slice of pie, blended right in. Naturally, there's a gooey butter option.
SARAH FENSKE
From left, Shane Mihaljevic Jr., Zach Fagas and Shane Mihaljevic Sr.
Each member of the trio has restaurant experience — Mihaljevic Sr. owns a few Imo's, and Shane Jr. runs one of them, while Fagas (a friend of Shane Jr.'s dating back to grade school) has worked at Springfield-based Buckingham's and Sugarfire Smokehouse in St. Louis.
Their quest to open a restaurant together began four years ago, when all three flew to Georgia to attend a barbecue school there. Since then, they've worked endlessly to perfect the techniques, with a Mihaljevic Sr. parking a smoker the size of a car in his driveway for months on end as they experimented. (The neighbors, suffice it to say, did not complain.)
But it wasn't just working on their recipes. The trio hired a pitmaster (Jim Randall) and a chef, Justin Brundeis. They also personally put some serious work into the space. "Everything in here was trashed; we basically had to gut the place," Mihaljevic Sr. notes.
"Every wall in here, we built," adds Fagas. They also added both a big room in the back for the smoker and a four-seasons-style room in the front for additional seating.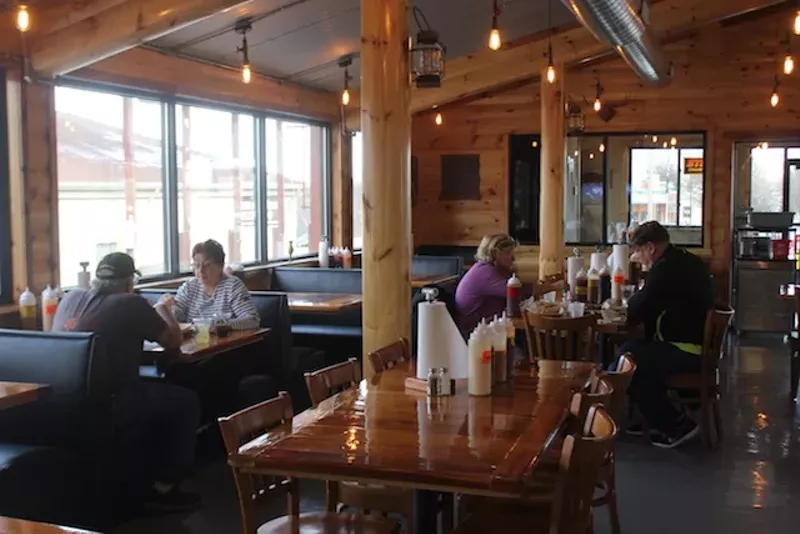 SARAH FENSKE
The space is a stunner, the hunting cabin you only wish your family had.
When everything finally came together, it was late December and they were left with a conundrum. Catch their breath a bit and wait 'til after Christmas, or throw open the doors right away? As they tell it, there really was no choice to be made. After a few "friends and family" nights, they opened for the first time on December 22. As they tell it, the stress of running a high-volume restaurant actually proved a relief.
"Construction is a hassle," says Mihaljevic Sr. "You're dealing with the city, the county, all these parts, all these construction issues. It ended up being two times what I thought it would cost. But now we're open, and food is what we know how to do. For me, this is easy."
It helps that they're already earning raves. "It's been a full house," Mihaljevic Sr. says. "It's been great."
Honey Pit Smokehouse is open daily from 11 a.m. to 9 p.m., or until they run out. Scroll down for more photos.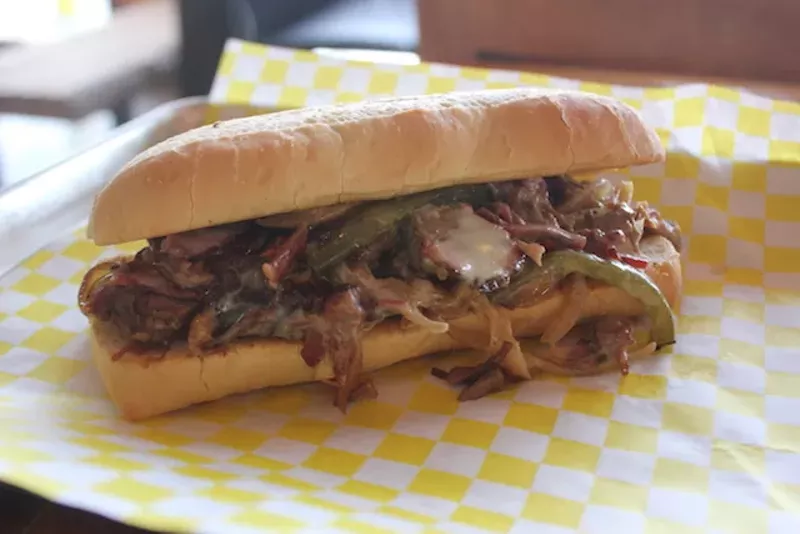 SARAH FENSKE
Paying tribute to the Mihaljevics' roots at Imo's, the Philly cheesesteak is topped with Provel. So is the mac and cheese.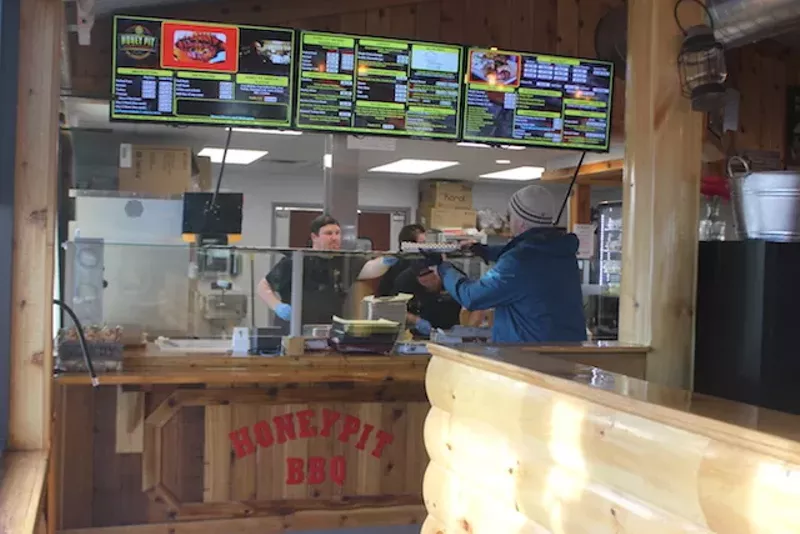 SARAH FENSKE
Customers order at the counter.
SARAH FENSKE
Customers enter a cafeteria-style line, with the day's sides on a chalkboard.
SARAH FENSKE
The "Fit Home & Health" menu is definitely something a bit unusual in St. Louis.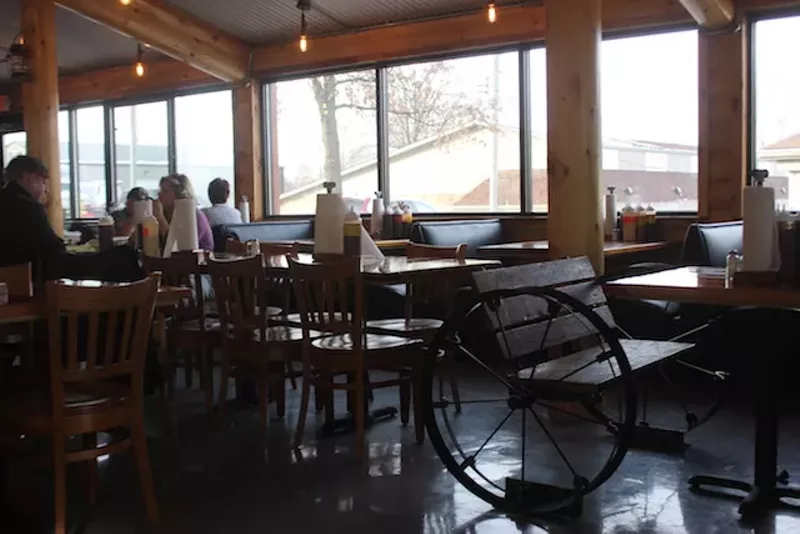 SARAH FENSKE
Whimsical touches include this unique set of seating.

We welcome tips and feedback. Email the author at sarah.fenske@riverfronttimes.com