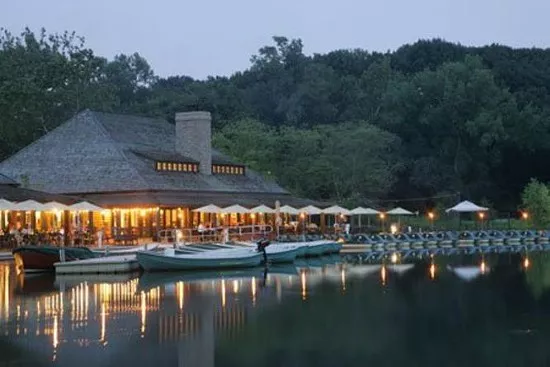 You'll soon have a new menu to try at the Boathouse in Forest Park — and a number of its dishes will be familiar favorites.
According to St. Louis Magazine's George Mahe, the ownership group behind Sugarfire Smokehouse, Hi-Pointe Drive-In, Cyrano's and Sugarfire Pie will be taking over the operation of the Boathouse sometime after the new year.
According to Sugarfire co-owner Charlie Downs, the change is the result of a five-year contract at the Boathouse coming up for renewal. Proposals by Gerard Craft of Niche Food Group and Mark Erker of Catering St. Louis, whose company has operated the Boathouse for thirteen years, were also considered for the contract's renewal.
Downs told the magazine that the new menu will consist of bestsellers from Sugarfire, Hi-Pointe and Cyrano's — meaning you'll be able to get Sugarfire's sandwiches and smoked meats, Cyrano's famous roast beef sandwich and desserts, and Hi-Pointe's burgers and shakes along with that beautiful view. Downs also told
St. Louis Magazine
that the restaurateurs intend to put a lot of thought into the kids' menu, since the Boathouse often attracts families with children.
Another big change: rather than offering table service, the Boathouse will change to counter-service — more like its past operations, when it had a cafeteria line.
"We're in the planning stages of how to improve the service model. It's too early to say what form of service will work best," Downs told the magazine. "Given the size of the kitchen and the number of seats, we just want to improve things. At this point, all I know is that, in a perfect world, restaurant service would be better, and that's our goal."
Beyond the food, the Boathouse's design will also receive a facelift.
St. Louis Magazine
reports that there will be a bar in The Annex, the Boathouse's smaller building, and that an awning (with, no surprise, a sail motif) will connect the two buildings.
Sugarfire's popular catering service will also play a part in the business's new home.
"The Boathouse already hosts a lot of onsite events, but I envision satellite pop-ups in different parts of the park all during the year," Downs told
St. Louis Magazine
.
And don't worry, the paddle boats you've come to know and love will still be there. Boathouse management will take care of their operations, according to
St. Louis Magazine
. In fact, Downs hinted to the magazine that you can expect even more activity on the water this year.
"We're going to have fun with the boats," he said. "Let's just say it won't be just canoes and pedal boats."