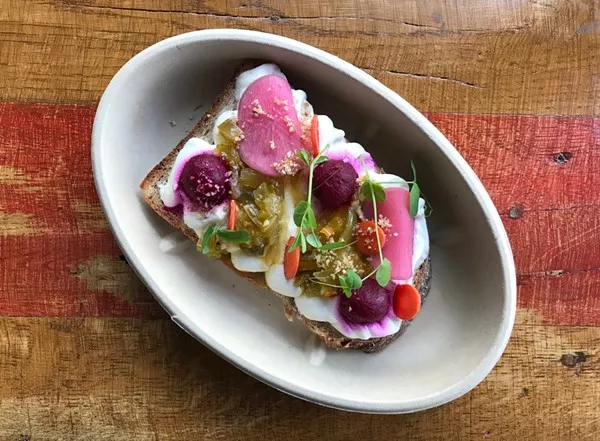 SARA GRAHAM
Ricotta toast at Squatter's Cafe: what could be more tasty?
November continued to be a fast-paced month in the St. Louis restaurant scene — with intriguing new openings across the metro region. And while the area suffered a few closures as well, with Barrister's unexpectedly shutting its doors after years in business and the well-reviewed
Humble Pie announcing it will become Dottie's Flour Shop
, it was overall a good month for food lovers.
Among the highlights: Russell's expanded to Chesterfield, Dewey's expanded to O'Fallon and intriguing new spots opened on Cherokee (
sausages!
), in the Central West End (
poke!
) and Grand Center (
more veggie-first options in a city that suddenly feels full of them!
).
See also: Poke Doke Is Now Open in the Central West End
But it's not just about good food. November also saw two unique bar concepts open their doors.
Game 6 Honky Tonk Joint promises a venue for country music fun
on the edge of downtown, while
Parlor offers arcade games (and Bob Brazell's food)
in the Grove. And if that all sounds fun, just wait til January —
Hamburger Mary's has announced
it will be returning to St. Louis as well, with a huge new restaurant right on Wash Ave.
Finally, it's your last chance to dine at one of the coolest, most romantic spots in St. Louis — an Indian restaurant with a view of the runways at Lambert.
India Palace is still open this weekend in its original spot
, but won't be for long; check it out while you still can.
See also: Game 6 Honky Tonk Joint Promises Country Music Fun
Closings
Barrister's
7923 Forsyth Boulevard, Clayton
Humble Pie
9783 Clayton Road, Ladue
Tim Horton's
231 Tucker Boulevard, Downtown
Tim Horton's
4249 Clayton Road, Central West End
See also: Parlor Is Now Open in the Grove

See also: Humble Pie Has Closed, to Become Dottie's Flour Shop
Openings
Big Boyz Burgers & More
6130 Madison Avenue, Berkeley
Dewey's Pizza
425 Regency Park, O'Fallon, Illinois
Frankly on Cherokee
2744 Cherokee Street, Cherokee District
Game 6 Honky Tonk Joint
758 S. 4th Street, Downtown
Garbanzo Mediterranean Fresh
8143 Maryland Avenue, Clayton
Knead Bakeshop and Provisions
3467 Hampton, Lindenwood Park
Parlor
4170 Manchester Avenue, the Grove
Poke Doke
8 S. Euclid Avenue, Central West End
Russell's Cafe and Bakery
14888 Clayton Road, Chesterfield
Seafood by Crushed Velvet
1317 Washington Avenue, Downtown
Squatter's Cafe
3524 Washington, Grand Center
Ye Ethiopian Restaurant
5196 Delmar Boulevard, West End
See also: Knead Bakeshop Brings Sourdough — and More — to Lindenwood Park

See also: Garbanzo Is Now Open in Clayton

We welcome tips and feedback. Email the author at sarah.fenske@riverfronttimes.com