CHERYL BAEHR
Garbanzo brings its "delicious and nutritious" food to Clayton.
Since 2009, Garbanzo Mediterranean Fresh (8143 Maryland Avenue, Clayton; 314-224-5222) has been serving fast-casual, healthful Mediterranean-inspired food to the people of Denver. Now, the growing brand is branching out of the Mile High City, and St. Louis is one of its first stops.
"Our goal is to make you feel brighter on the inside," says Devin Handler, the restaurant's director of marketing. "This is nutrient-dense food in a fast-casual setting, but it's delicious and nutritious. We purposely put the word delicious first."
Garbanzo follows the customizable model of dining, popularized by Chipotle, wherein diners choose a style of entree, protein and accoutrements. It's speedy, affordable and personalized, but Handler is quick to point out that the restaurant does not take any shortcuts.
"We call ourselves restaurants and not stores for a reason," he explains. "We make everything in-house — we knead, we bake, we sauté — and every ingredient we use is something your grandmother would recognize."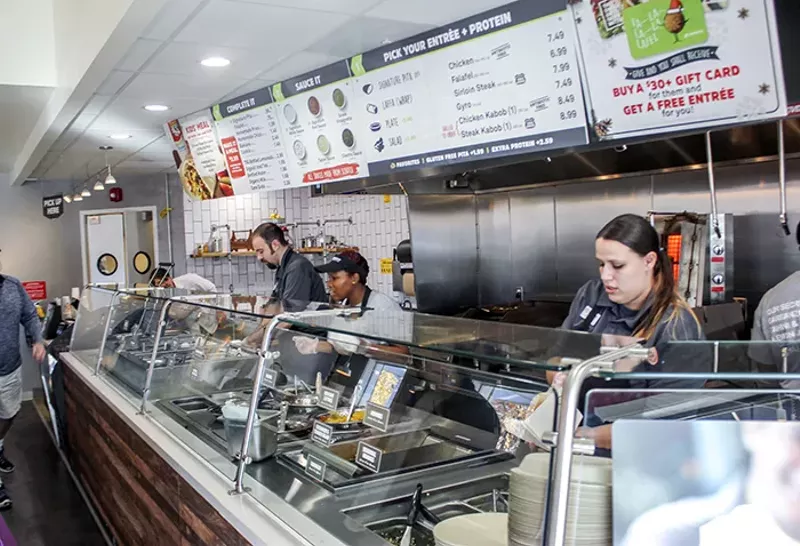 CHERYL BAEHR
Garbanzo allows diners to customize their dishes.
Located in the former Companion space on the west side of downtown Clayton, Garbanzo's latest restaurant is what Handler calls "Garbanzo 2.0," a re-imagining of the brand that aims to underscore its house-made philosophy and refine its image.
For those who have dined at one of the restaurant's previous iterations in Colorado, the change is noticeable in the aesthetics, not the food. Gone is the restaurant's signature lime-green color scheme, in favor of a more muted palette of Mediterranean blue and earth tones. A line of booth seating runs down the center of the space while tables and chairs line the length of the room. Accent pillows soften the aesthetic, and glass pendant lamps hang from the ceilings.
One of the other big changes, Handler notes, is that Garbanzo's bread-making operation has been brought out to the front of the restaurant, so that diners can watch as their pitas are being made. These warm, fluffy breads can be filled with a variety of protein options, including chicken, beef and lamb gyro meat, falafel and grilled steak.
Guests can also choose to have their meal served as a salad, a plate, a "Med burrito" or a flatbread.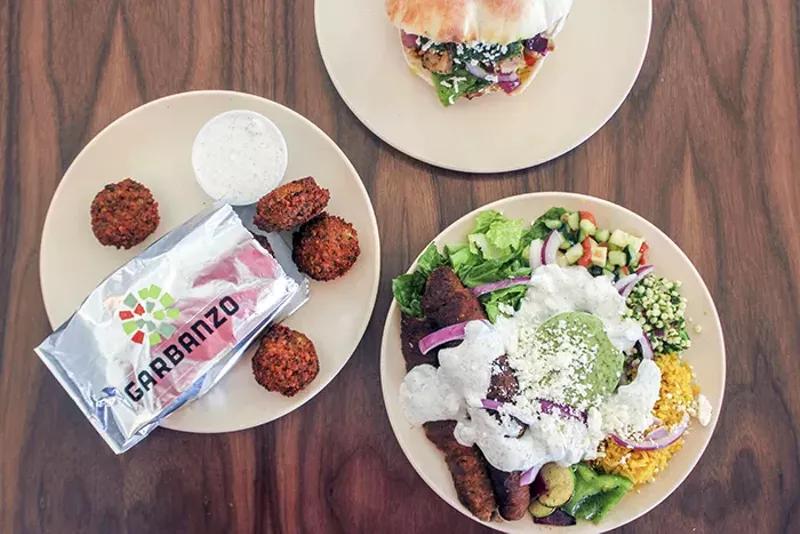 CHERYL BAEHR
The possibilities are endless.
Entrees can be dressed with everything from tabouleh to hummus to cilantro sauce, and diners are encouraged to add as many things as they'd like. And if they get carried away and end up creating a concoction that doesn't work, guests are welcome to return their items and give it another go.
"It's the Garbanzo Guarantee," says Handler. "We want this to be accessible adventure and allow our diners to take risks and try new things without having to worry about ruining their lunch."
Handler sees the sky as the limit for Garbanzo, and if the positive response and lines out the door during lunchtime in its first few days are any indication, this will be the first of many Garbanzo outlets in the region.
"Our goal is for our guests to have a truly remarkable experience," Handler says. "We want you to taste how delicious nutritious can be."
Garbanzo Mediterranean Fresh is open Monday through Friday from 10:30 a.m. until 9 .m. and Saturdays and Sundays from 11 a.m. until 8 p.m. Click through for more photos.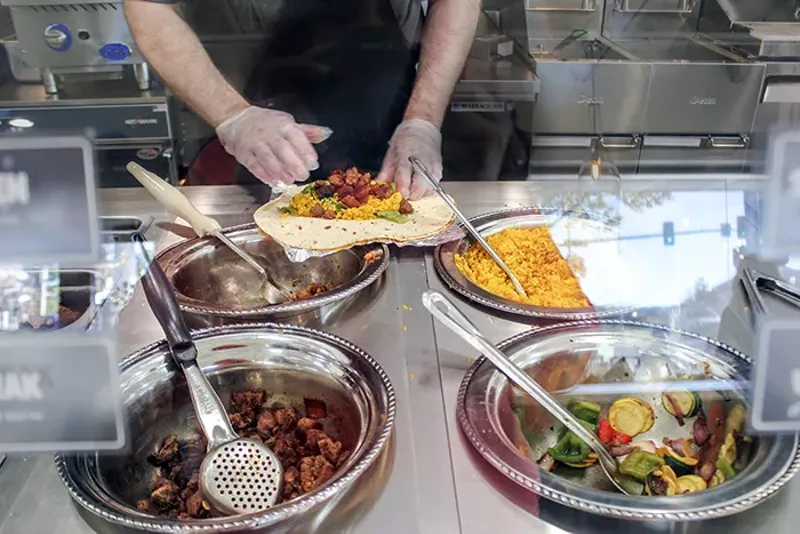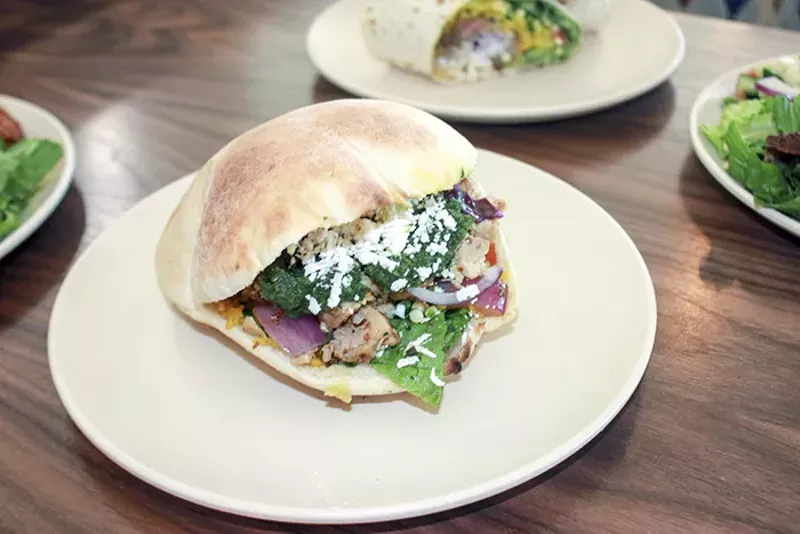 We are always hungry for tips and feedback. Email the author at cheryl.baehr@riverfronttimes.com.