SARAH FENSKE
A medium-sized tuna bowl topped with avocado, fried onions, wasabi sauce and roe.
Poke bowls are nothing exotic on the West Coast. The cubes of raw fish, combined with spices or fresh veggies, originated in Hawaii — and have become ubiquitous in LA and the Bay Area.
But is St. Louis ready for a restaurant serving that — and pretty much only that? Andrew Shih thinks so. Last month, he and his three siblings opened Poke Doke (8 S. Euclid Avenue, 314-833-5900), a counter service spot that aims to do for poke what Chipotle did for the burrito. Guests can choose their base (lettuce, rice or wonton chips), their protein (salmon, tuna or octopus) and then from a host of veggies and sauces.
It may not be the meat and potatoes that your parents are used to. So far, though, it's a hit.
Says Shih, "The amount of fish we've gone through — even my suppliers are in awe." And that volume has its benefits, he adds. "It give me buying power. They've got to send me the best of the best!"
SARAH FENSKE
Andrew Shih, 30, is Poke Doke's managing partner.
Shih, who is the managing partner for the venture, comes from a restaurant family. His parents, who are Chinese/Korean immigrants, own Hot Wok in Chesterfield. His aunts and uncles also have eateries.
Shih took over running Hot Wok about eight years ago. But after frequent trips to LA, he and his siblings (Leon, Annie and Steve) decided their entrepreneurial vision was different the family's classic Chinese, full-service restaurant. Shih began researching poke bowl spots across the country on his days off at Hot Wok. "Whenever I had free time, I'd get on a plane," he says. "I did a lot of restaurants in Chicago. I flew out Sunday morning, visited two poke places, and came back that night." He also persuaded a friend of a friend to let him work the line at their place so he could capture the rhythm of the experience.
Back in St. Louis, the siblings homed in on a spot, the former home of Oasis Restaurant on Euclid. At first they'd assumed the Central West End would be too pricey; they were delighted when the building proved a good fit. "It's so close to the hospital and the schools," he says. They enjoy a lot of foot traffic, with a busy lunch crowd and even more business at night.
They redid the space themselves, down to stenciling and then painting the logo on the walls. Despite some major renovations, it took just two and a half months to get open for business.
SARAH FENSKE
The PokeDoke label was designed by a friend.
Unfortunately, Poke Doke opened its doors just a few weeks after another concept offering poke bowls,
BLK MKT Eats
— which is coincidentally just a few blocks east. But Shih is zen about the potential competitor. For one thing, BLK MKT Eats specializes in sushi-style burritos; poke is only part of what it's doing. For another, he believes it's far enough away that the two shouldn't impact each others' business.
"I haven't gone over there yet myself, but I've heard nothing but good things," Shih says. "We're not in the same neighborhood. It's good." (Also helping, perhaps: BLK MKT Eats is tiny, without much room to dine in; for a more leisurely meal, diners would be wise to choose Poke Doke.)
But while poke is clearly having a moment — its first real moment! — in St. Louis, Shih, for one, is not resting on his laurels. He says the restaurant is also beginning to explore the idea of offering other items for people who just aren't ready for a bowl of cubed raw fish yet. They're looking at both wings and bowls that will feature chicken, beef and other cooked proteins.
"It's something we've already started playing around with in the kitchen," he says. "We've had a very good response with seafood, but we know that in St. Louis, they like their meat."
Poke Doke opens at 11 a.m. daily, with hours 'til 10 p.m. Monday through Saturday and 9 p.m. on Sunday. They plan to be closed for both Thanksgiving and Black Friday. "I need a break," Shih says, laughing.
Scroll down for more photos.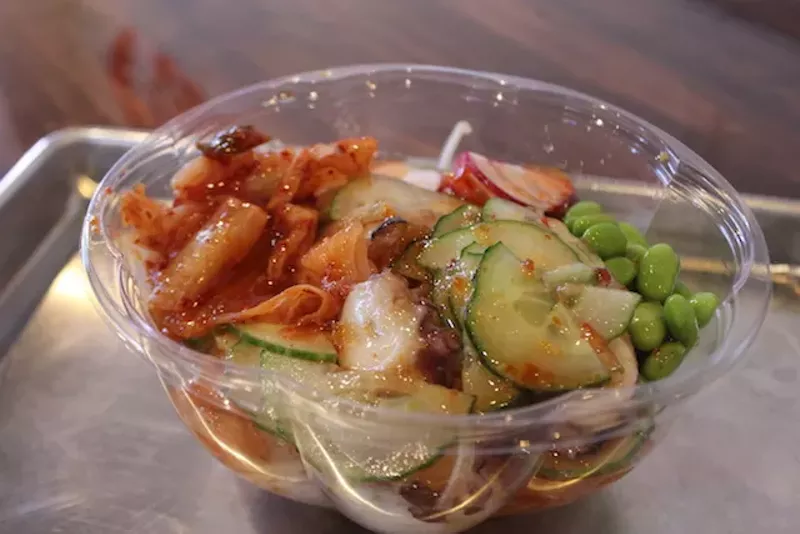 SARAH FENSKE
A bowl with salmon, kimchi and fresh veggies.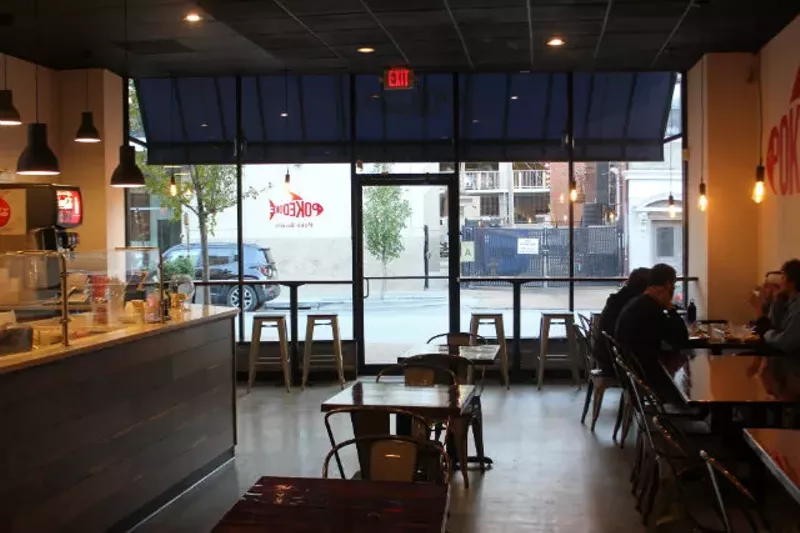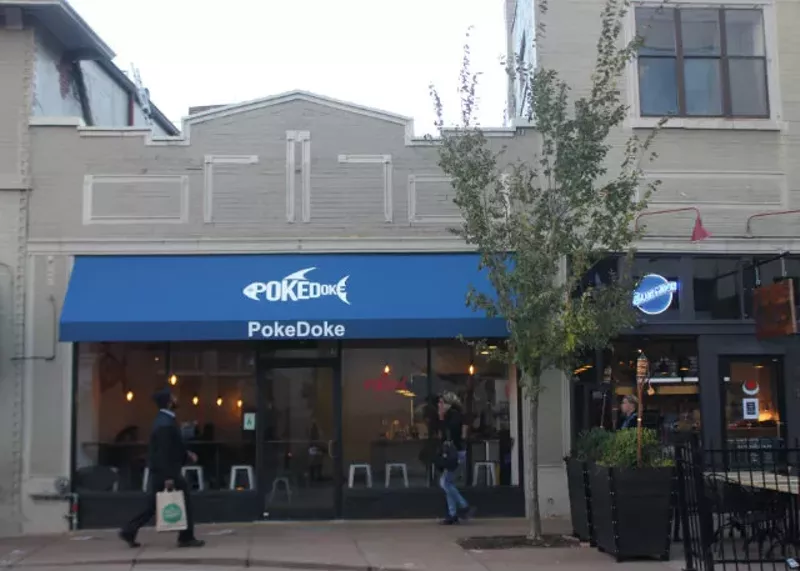 We welcome tips and feedback. Email the author at sarah.fenske@riverfronttimes.com