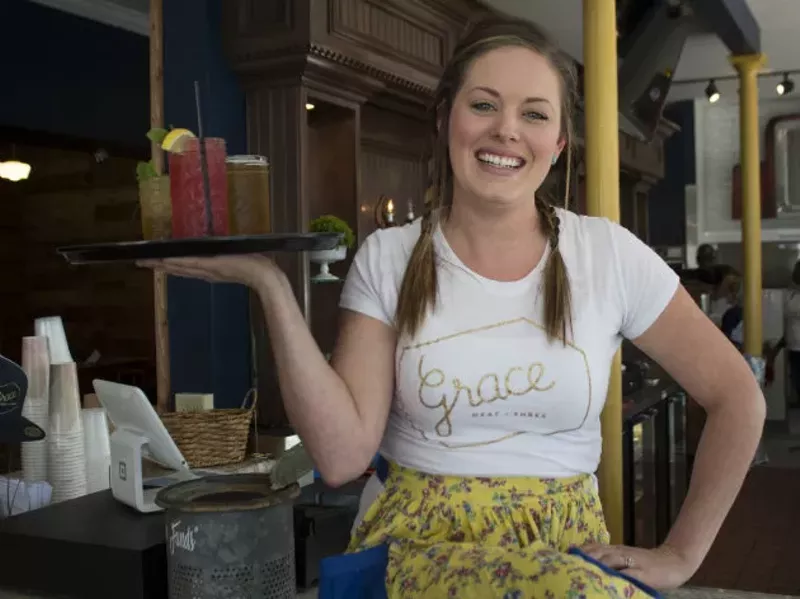 Sara Bannoura
Elisa Lewis keeps things running at Grace Meat Three.
Growing up as the daughter of small business owners, Elisa Lewis always felt that she would have one of her own one day. She didn't know it would be a restaurant, but after her first gig in the business, she certainly felt that pull.
"My first job was in my neighborhood at the Pitted Olive," Lewis recalls. "I just fell in love with how the owner, Mike Holmes, ran. He just enjoyed getting to know his customers and he enjoyed feeding them good food. I learned so much from him."
Lewis, who now co-owns
Grace Meat + Three
(4270 Manchester Avenue; 314-533-2700)
with her husband, chef Rick Lewis, didn't know it at the time, but her decision to work at Monarch after the Pitted Olive closed would seal her fate as a future restaurateur. She met Rick there, and the two of them became friends and started dating.
But it wasn't just romantic love that developed at the now-shuttered Maplewood landmark. She was also falling in love with the restaurant industry, particularly the level of hospitality being offered.
"I had not been around that type of food or service before. It was just a different level of creativity than anything I'd ever experienced," Lewis explains. "Everything from using all the different parts of a pig to having the artwork be a part of the dining experience — I'd never gone to a lot of fine dining restaurants, so it was a real eye-opening experience for me."
Around the time that Monarch was winding down, Lewis' father had bought a building on Gravois that he initially planned on flipping. He was approached by some people who were interested in putting a restaurant in the building, so he began building it out accordingly. The relationship turned into a silent partnership, and before he knew it, Lewis' father was heavily involved in what would become Quincy Street Bistro — a restaurant that would become a turning point for Elisa and Rick Lewis.
"I began picking up shifts at Quincy Street, and when Monarch closed, I transitioned there full-time," Elisa explains. "Then Rick came on board and he revamped the place, doing the kind of food that he does. Looking back on it, I guess it should have been a little scary, but we weren't worried about whether what we were doing fit into a particular category. We were just trying to feed the people in the neighborhood."
Quincy Street Bistro would thrust Rick Lewis into the spotlight and solidified his role as a rising star in the St. Louis culinary scene. Elisa was there every step of the way, leaving behind the family business to accompany her husband when he got the opportunity to be a partner in the wildly popular hot chicken restaurant Southern. There, she worked the front of the house and helped out around the restaurant while going to school for special education.
After she graduated, however, Lewis decided that she wanted to dedicate herself fully to the restaurant. She took over Southern's social media, catering and bookkeeping, serving as the sounding board, confidante and general yin to her husband's yang.
The pair branched out on their own this September, opening the country-cooking influenced Grace Meat + Three in the Grove, where Lewis continues to run the ship and keep her husband on track. "I call myself the 'Rick Whisperer," Lewis laughs. "I have to keep him organized. He says I am his therapist."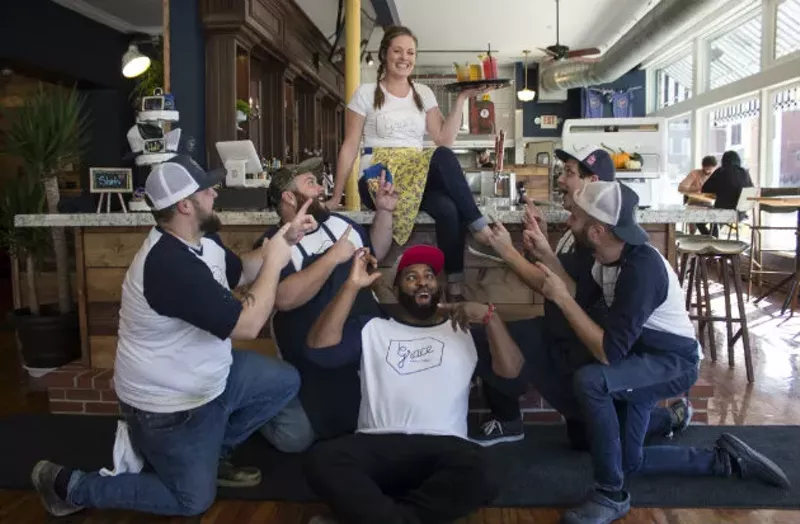 Sara Bannoura
Elisa Lewis is the queen of Grace Meat + Three.
But while working with her spouse isn't always easy, she wouldn't trade it for anything. "We've worked together for a long time, and our roles have really changed," she says. "It's not always bliss, but it's allowed our relationship to grow. We have a really good understanding of how the other works and can read each other. We complement each other. I think it's awesome to be part of the experience and to share all of this with him."
Lewis took a break from Grace Meat + Three to share her thoughts on the St. Louis food and beverage scene, her food crush (shh, don't tell Rick) and why two Elisas would be better than one.

What is one thing people don't know about you that you wish they did?
I head up the catering for Grace Meat + Three — so holla at your girl (elisa@stlgrace.com).
What daily ritual is non-negotiable for you?
Coffee. I am a seriously heavy sleeper. I need to set about seven alarms to get up in the morning, and I sleep through the majority of them. Our coffee pot is on auto every night — it helps motivate me to get moving in the morning.
If you could have any superpower, what would it be?
I think cloning myself would be a beneficial superpower for my personal and professional life. Between Grace Meat + Three and the twelve ongoing projects I have at my house, two of me would not only be helpful, but hey, there would be more to love!
What is the most positive thing in food, wine or cocktails that you've noticed in St. Louis over the past year?
Casual, chef-driven restaurants opening up in other areas surrounding St. Louis. I now live in St. Louis County, and I have been really excited to see great restaurants opening up in areas like Creve Coeur, Crestwood, O'Fallon and more — these are go-to places that make it so you don't have to always travel down to the city.
What is something missing in the local food, wine or cocktail scene that you'd like to see?
The St. Louis food scene is in a great place right now — I am continually excited and impressed by what our friends are doing. One thing I'd like to see more of is communal-style seating. I think this style of dining is an excellent way to enjoy a meal and the company of others. I am surprised at how often this style of seating makes diners uncomfortable. Sharing the meal is part of the beauty of the dining experience — and you never know who you're going to meet.
Who is your St. Louis food crush?
Other than Rick Lewis? Christy Augustin is my forever lady food crush. A fabulous baker, business woman and friend, Christy is a great person to bounce ideas off of, vent and laugh about everyday restaurant woes with. And have you tried her hand pies? I mean come on — they're amazing and served on Saturdays.
Who's the one person to watch right now in the St. Louis dining scene?
Loryn Nalic of Balkan Treat Box. She's everywhere and I love it! I think I learn something new about Bosnian cuisine and culture every time I eat with Loryn and her husband Edo. Loryn has a creative way of sharing the Balkan cuisine and it is delicious.
Which ingredient is most representative of your personality?
A few years ago a regular told me I was like a glass of Champagne — sweet, bubbly and always classy. He also followed up with how I reminded him of his third wife, which I was unsure if that was compliment.
If you weren't working in the restaurant business, what would you be doing?
Teaching. My degree is in special education. Owning a restaurant is a lot like teaching. You're just teaching a different subject.
Name an ingredient never allowed in your restaurant.
That's not really my department. I leave that up to the hubs.
What is your after-work hangout?
I read this question out loud to Rick and we cracked up. If I'm being honest, my favorite place is in my jammies, on the couch with our dogs, Zoey and Cowboy. I am an old lady.
What's your food or beverage guilty pleasure?
The soft-serve ice cream with a magic shell at Peacemaker. Don't get me wrong – the food is delicious — but I will stop eating my meal to save room for that ice cream.
What would be your last meal on earth?
Salt and pepper calamari and egg crepes from Mai Lee. I get crazy cravings for these dishes.
We are always hungry for tips and feedback. Email the author at cheryl.baehr@riverfronttimes.com.