Cheryl Baehr
Gilroy's signature dish is the "Duck Grilled Cheese," a molten masterpiece.
Chef Jessie Gilroy wasn't planning on opening a restaurant, at least not anytime soon. Fresh off her boss Kevin Nashan's James Beard win for Best Chef: Midwest, Gilroy was content and as busy as ever as his sous chef at Sidney Street Cafe. Then she got word from her father that her name had been floated to open a restaurant in New Town St. Charles, and things took on a life of their own.
"I was basically handed this building," Gilroy says of the lovely space that sits in the heart of New Town's business district. "Some friends of my dad had bought it and wanted to put a restaurant in it. My name came up. I kept thinking that it was going to fall through every step of the way, but it ended up happening."
The building's owners knew that they wanted a restaurant, but what it would look like was entirely up to Gilroy. She decided on an eclectic comfort food concept,
Pangea World Fusion
(3245 Rue Royale, St. Charles; 636-757-3579)
, which she describes as a "casual fine-dining restaurant focused on using fresh ingredients and international flavors."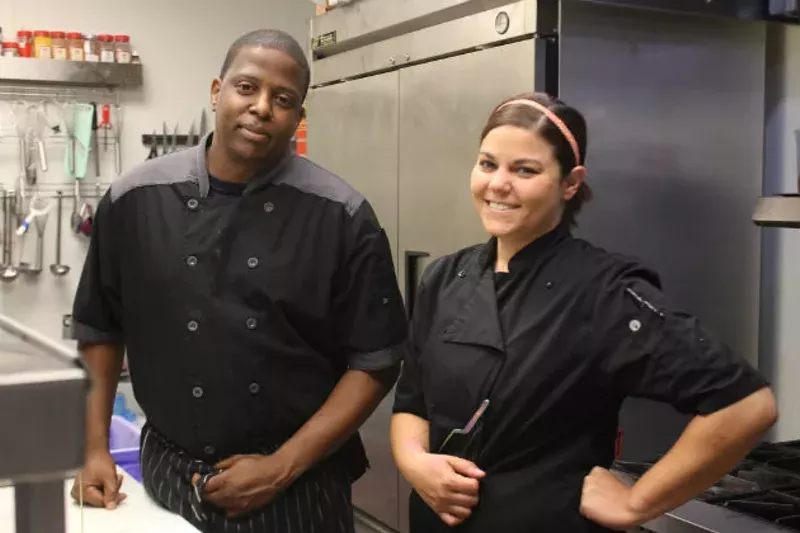 Cheryl Baehr
Chef Jessie Gilroy, with her sous chef, Lucious Simmons.
As Gilroy is quick to point out, Pangea is not a stuffy, high-dollar restaurant — just approachable yet interesting fare, done really well. "This is a place people can come in two times a week," she explains.
To that end, Gilroy's menu offers "New Town Skins," an upscale version of potato skins, using spicy pork, raclette cheese, green onions and housemade sour cream. Other starters include a bone marrow tart, French onion soup and ricotta gnudi.
For main courses, options include coffee-crusted pork, jerk fried chicken and beef cheeks. A must-try is her signature "Duck Grilled Cheese," a haute version of the diner classic that features duck, raclette cheese, arugula and tomato jam.
Pangea's dining room has the feel of the sort of old row house you'd find in New Orleans or the Old Town part of Alexandria, Virginia, with lofted ceilings and sweeping windows offering views of New Town's square and sand volleyball court. The main dining room sits to one side of the building, while the bar and a secondary seating area takes up the other half. Diners can opt for everything from an intimate, multi-course dinner for two to just dropping by for a beer and some appetizers at the bar.
Gilroy, who had never been to New Town before opening Pangea World Fusion, is in love with her new neighborhood. Apparently, the feeling is mutual. "Everyone has been so wonderful here," she says about her already loyal customers. "This is a really unique place and a wonderful community."
Pangea World Fusion is open Monday through Thursday from 5 to 9 p.m. and Fridays and Saturdays from 5 until 10:30 p.m.
Click through for more photos of Pangea World Fusion.
Cheryl Baehr
Pangea Global Fusion brings eclectic flavors to New Town.
Cheryl Baehr
Pangea accommodates everything from an intimate date to a low-key night at the bar.
Cheryl Baehr
The light-filled dining room looks out onto New Town's charming business district.
We are always hungry for tips and feedback. Email the author at [email protected]