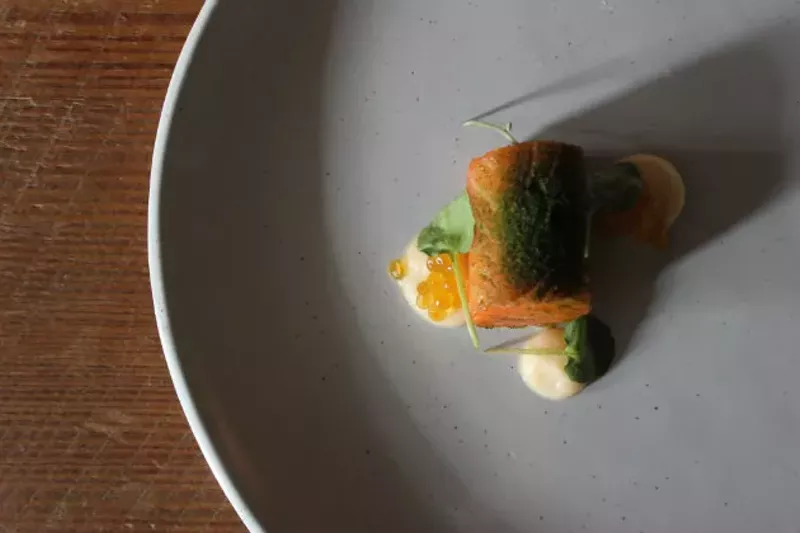 Cheryl Baehr
Privado, Mike Randolph's exploratory tasting menu restaurant, is now open on Fridays and Saturdays.
Mike Randolph is alone in his kitchen.
It's 10:30 a.m. on Friday, and Randolph is already two and a half hours into the day, working through his prep list in preparation for dinner service at
Privado
(6665 Delmar Boulevard, University City; 314-899-9221)
. His cooks, the few that will work with him that evening, will not arrive until much later that day — not because anyone called off, but because it's exactly the way he wants it.
"'Deliberate' is the word to sum up all aspects of this," Randolph says of Privado, the new tasting menu restaurant that replaced his homage to Italian-American dining, Randolfi's, just a month prior. "This is not a 'rah rah' kitchen. I really want to slow things down."
For Randolph, slowing down means beginning his day at 8 a.m. on the days Privado is open for service. He unlocks the door that bears the restaurant's name on a piece of paper, pulls himself a shot of espresso, turns on Miles Davis, and stands in his kitchen in silence. For a chef who has been in a near-constant, and at times frenetic, evolution since his first days on the line at the famed Moto in Chicago, the solitude is not only welcome, but it is emblematic of what he hopes to communicate with his guests at Privado.
Cheryl Baehr
Mike Randolph preps the night's offerings.
Barely a month after
announcing the closure of Randolfi's
, the James Beard award-nominated chef broke the news that he was planning on opening a tasting-menu concept as a way to "get back into fine dining, but in my own terms." Those terms are a Friday and Saturday only, single-seating ticketed event limited to sixteen people, akin to being invited to a dinner party in Randolph's home. Guests may arrive as early as 6 p.m. for cocktail hour, with the twelve to fifteen course dinner beginning at 7 p.m. There are no special requests and no modifications. Instead, diners are in the hands of Randolph, embarking on an exploratory meal in what he describes as a culinary "idea house," but, as he is quick to point out, is meant to be unpretentious.
"I don't think it's fair to say that fine-dining is dead. I know the tasting menu is passé," Randolph admits. "But we are dressing it up in a sexier light and taking away the pretentiousness."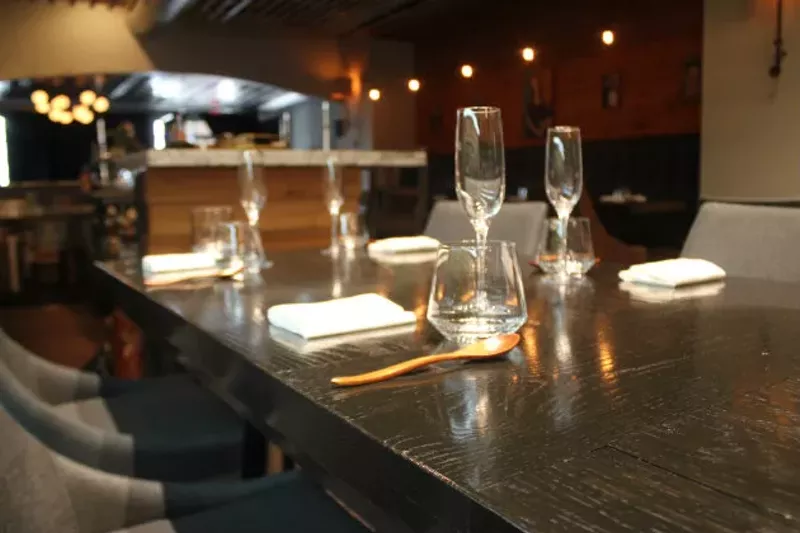 Cheryl Baehr
Privado's table setting is minimalist.
Unlike the cavalcade of dishes and wine pairings that define tasting menus of dining past, Randolph's modernized version is an all-encompassing experience. It begins the moment his guests enter the restaurant, which is still outfitted with Randolfi's signage outside, evoking a clandestine mood. This carries through upon entry, as the front of the restaurant remains darkened, the old Randolph's chairs stacked on top of tables as if you are walking into an after-hours party.
Diners are ushered to the back of the restaurant and seated directly in front of the minimalist, open kitchen. Music, something Randolph regularly invokes when discussing the restaurant, is a subtle but thoughtful component of the experience, changing from course to course to evoke a mood that compliments each dish while cueing the kitchen to where it's at in the night's service. The experience, start to finish, is meant to be as intentional as a traditional Japanese tea ceremony.
"There is no overarching philosophy — an ethos maybe — but it's not thematic," Randolph says of his courses. "We are trying to push and pull guests throughout the meal, but it's still coherent. It's not craziness. This is not about us showing fourteen different things we can do with food."
For those who experienced the Diversion dinner series Randolph recently put on at Randolfi's, the setup and experimental feel to the evening may seem familiar. However, Randolph explains that the concept dates all the way back to 20012 and his tasting menu restaurant Little Country Gentleman and its precursor, the pop-up Fixe.
"This has been a dream of mine forever, and the timing just made sense," Randolph explains. "At Little Country Gentleman, the space was hard. Because it was in Half & Half (Randolph's daytime restaurant), we couldn't get into the kitchen until 3 p.m. That just didn't work. Plus, back then, I just wasn't as mature as a chef."
In the years that followed Little Country Gentleman, Randolph has definitely matured, or rather evolved, into one of the city's most exciting chefs. After previously garnering acclaim for his Neapolitan pizzeria, the Good Pie, and his breakfast and lunch spot, Half & Half, he introduced the sexy Pùblico (a semifinalist for last year's James Beard Best New Restaurant award) and Randolfi's. Each one felt right — and uniquely representative of him as a chef.
And every last one of them has lead to Privado.
"A restaurant will not be as good the day it opens as it is a month after it opens. And it won't be as good a month in as it is a year later," Randolph muses while gazing out at the dining room from his chef table. "But if you can't learn from the past and reconnect it to everything you have ever done, then why are you doing it?"
Cheryl Baehr
Diners can opt for an a la carte menu beginning at 8 p.m. on Fridays and Saturdays.
Privado is open Fridays and Saturdays via the ticket system
Tock
at the cost of $100 per person, not including tax and gratuity. Because this is a ticketed event, reservations are paid for in advance. The restaurant also serves a limited a la carte menu on those days to walk-in guests at the bar, beginning at 8 p.m. Randolph will also be using the space for weekday pop-ups, including an upcoming curry night, and other special events.
Click through for more photos of Privado.
Cheryl Baehr
The Privado bar resembles that of Randolfi's in aesthetics, though the offerings are much more streamlined and classic.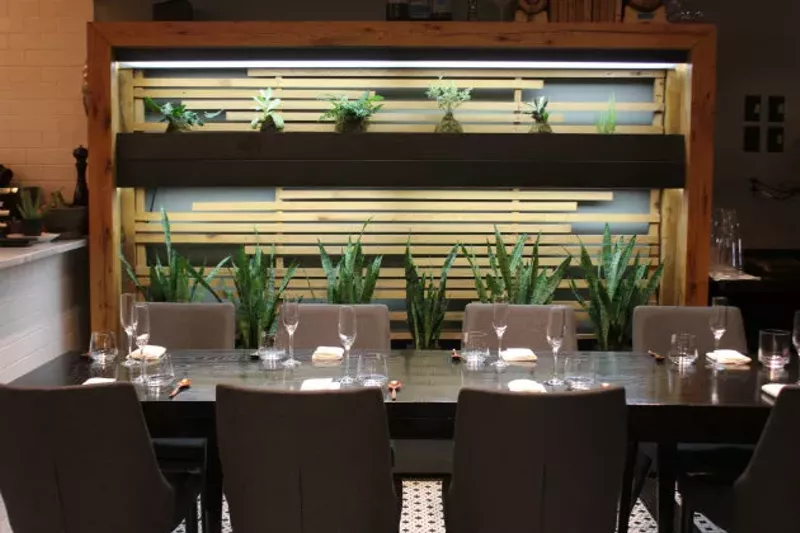 Cheryl Baehr
Privado has room for sixteen guests.
Cheryl Baehr
Artwork, like this Paul Klee print, is part of the Privado experience.
Cheryl Baehr
Privado's kitchen.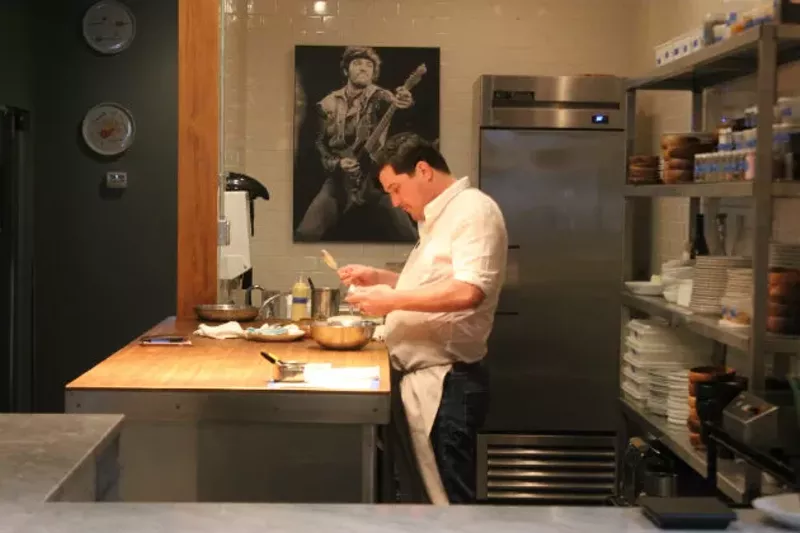 Cheryl Baehr
Mike Randolph and his sous chef, the Boss.

We are always hungry for tips and feedback. Email the author at [email protected]