COURTESY OF 1764 PUBLIC HOUSE
Cast-iron blackened redfish with dirty rice and sauce meunière
Open to the public last week,
1764 Public House
(39 North Euclid Avenue)
is the third restaurant in the Central West End-based Gamlin Restaurant Group portfolio, following SubZero Vodka Bar and Gamlin Whiskey House. Named in tribute to St. Louis' founding in 1764 by Pierre Laclede – a French immigrant to our sister city, New Orleans – the restaurant and bar showcases elevated Creole and St. Louis-style favorites.
Breakfast, lunch and dinner menus include recipes that executive chef Ryan Cooper and his team have been
honing
for a year and a half.
Three types of gumbo, finished tableside, appear on the menu next to Provel-laden pizza and St. Louis-style ribs. Traditional beef toasted ravioli is offered, as well as a unique twist — crawfish toasted
ravs
.
COURTESY OF 1764 PUBLIC HOUSE
Classic pink gin cocktail.
Other small plates include French onion dip with po'boy chips, old Vienna red hot wings, Louisiana hot wings, house-made sausages and a pretzel board.
Entrées lean more traditional with jambalaya,
braised
short rib Bolognese, cast-iron blacked redfish, grilled Cajun char crust
ribeye
and veggie étouffee.
Snack and sides include unique menu items like Cajun popcorn, fried spinach, cornmeal catfish poppers, waffle fries and candied fingerling sweet potatoes.
The cocktail menu focuses on classics, such as wine spritzes, the New Orleans favorite, hurricane, the Hemingway daiquiri and the iconic pink gin.
The restaurant is housed in the historic Forest Park Hotel, which was built in 1923 by the Koplar family, who also built the Chase Park Plaza, Powell Symphony Hall and a host of other landmark properties in the city.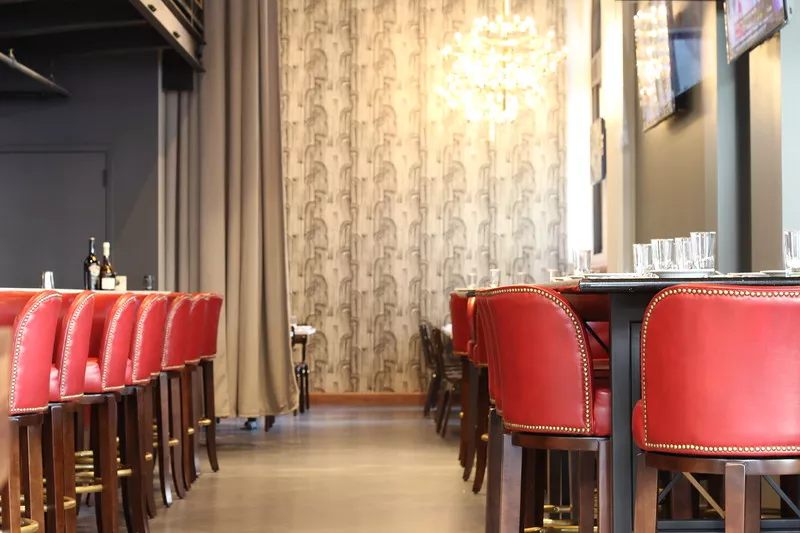 COURTESY OF 1764 PUBLIC HOUSE
The hotel had its heyday in the 1930s and
'40s,
when it was home to the Circus Snack Bar nightclub, which hosted notables from Louis Armstrong to Liberace. The building had been vacant for twenty years before the renovations that led to its opening as 1764 Public House, and the restaurant pays tribute to its vibrant years with an Art Deco-influenced modern style.
The restaurant's vibe is comfortable, meant to reach customers at an approachable price point, welcoming all, public house style, with the bar as the centerpiece. The bar will transform into a sports-forward space for end-of-season games. Co-owner Lucas Gamlin explains, "
The space
is meant to feel like an extension of customers' living rooms and neighborhood."
1764 Public House is open for breakfast, lunch, and dinner seven days a week. A holiday jazz brunch begins the week before Thanksgiving.
Scroll down for additional photos of the restaurant,
food
and drinks.
COURTESY OF 1764 PUBLIC HOUSE
Volpi muffuletta with Genoa salami, capicola, mortadella, provolone, olive tapenade and house-made giardiniera in a sourdough round
COURTESY OF 1764 PUBLIC HOUSE
Red hot nachos with sloppy joe-style beef, jalapeño cheese sauce and sriracha sour cream
COURTESY OF 1764 PUBLIC HOUSE
Louisiana sunburst salad with mixed greens, dried cranberries, toasted almonds,Stilton bleu cheese and a raspberry-port wine vinaigrette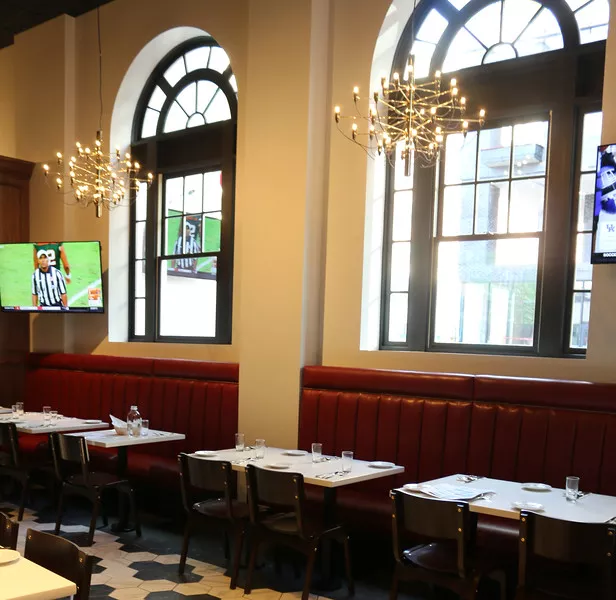 COURTESY OF 1764 PUBLIC HOUSE
Follow Sara Graham on Instagram and Twitter at @engagetaste. E-mail the author at sara@engagetaste.com.