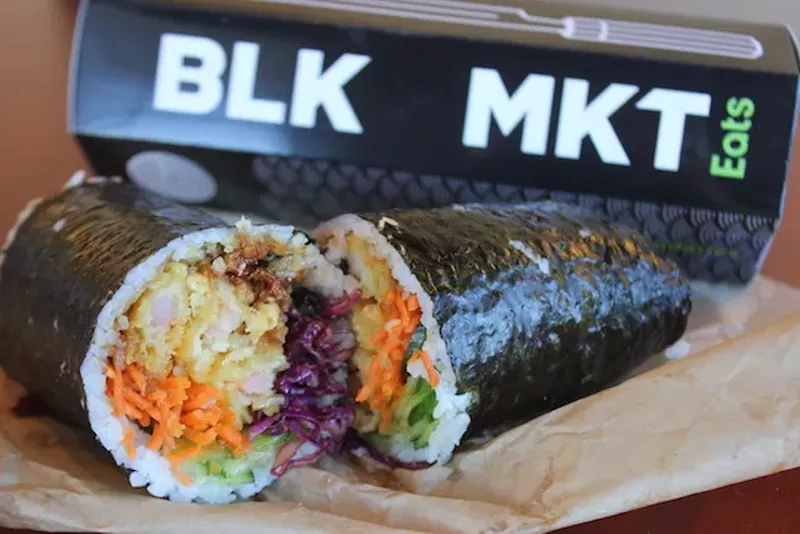 Glancing at the signature offering at
BLK MKT Eats
(9 S. Vandeventer, 314-391-5100)
, you might think you're looking at a sushi roll. After all, the julienned vegetables, rice and cuts of protein are all wrapped tightly in a thin sheet of nori, just like the Japanese-inspired treat.
But once you get one of these babies in your hands, you'll realize how wrong you were. These rolls don't have the radius of a silver dollar — more like a coffee cup. They're about the size of a Chipotle burrito, in fact, and assembled in much the same way. Rather than a sushi chef formally practicing his craft, BLK MKT Eats offers an assembly line of workers, placing orders with speed and precision.
It's a good thing they're fast. Since opening last week on the western edge of Midtown, BLK MKT Eats has been swamped with customers. On day one last Wednesday, they ran out of food. On day two, a line of customers was waiting when they first opened up for the morning — and the day ended with yet another sell-out situation. Clearly, the owners have tapped into pent-up demand, even in a part of a town with numerous lunch options.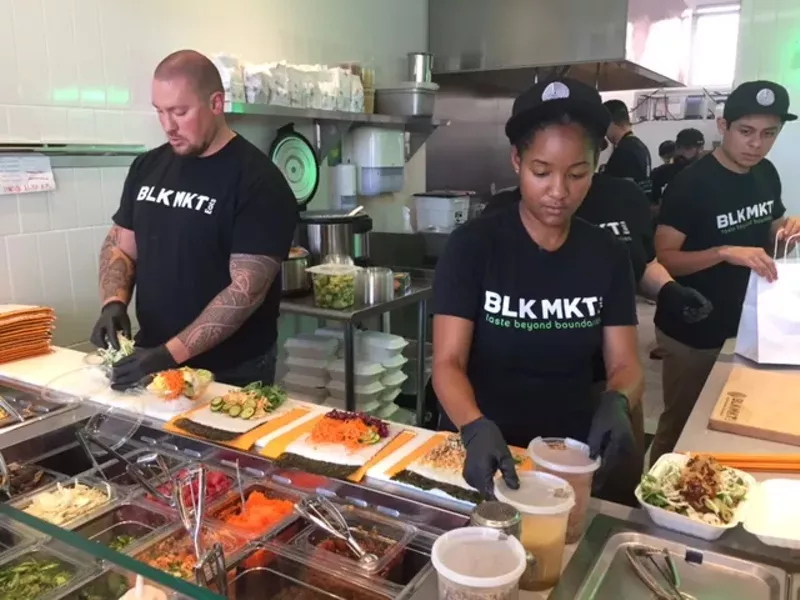 PHOTO BY SARAH FENSKE
Workers keep things moving during the lunch rush.
It's not just those giant "burrito-size sushi rolls." Cousins and co-owners Kati Fahrney and Ron Turigliatto offer three choices for every carefully considered combo: bowl, salad or roll. The only difference is whether you get your flavorful piles of fish, flesh and veggies rolled or served atop lettuce or rice.
Of the half-dozen options we tried, all were incredibly tasty, with bright flavors and perfectly chosen sauces. Try the Hawaiian-style "Shake Poke," which, in the bowl version, is a rice-based riff on the poke that West Coasters have been swooning for. Or the "Seoul Delicious," which combines grilled chicken with kimchi slaw, pickles, carrots, crispy shallots and gochujang mayo. It works in any of the three possibilities.
The menu also includes three different "nacho" options, for those who want to try a trio of combinations on top of wonton chips. These, too, are definitely not a purist's idea of nachos — one involves tuna poke, arugula, avocado and crispy shallots with a fiery sauce. Another is the nacho answer to the "Seoul Delicious" — it tops its wonton chips with all the killer Korean flavors of the same-named burrito/bowl/salad option.
PHOTO BY SARAH FENSKE
The "Shaka Poke" nachos feature fresh tuna and vegetables atop wonton chips.
The restaurant is designed for takeaway; there were just four stools and a single chair on the day we visited, although the communal table could clearly hold a few more. (Make that very few — if the place stays this popular, there's simply not many other places for customers to stand.) It's stylish, bright, light and seemingly perfectly designed to be replicated in dozens of other locations — a smart, tasty Chipotle or St. Louis Bread Co. for the 2017 era.
Our only complaint about BLK MKT Eats, in fact, is the busy corner it's located on. It's tucked between Kaldi's and Yiro/Gyro in the Gerhart Lofts complex at Forest Park and Vandeventer, and while the renovations to the lofts (which also provide a home for
Narwhal's slushie bar
) are a welcome addition to the neighborhood bordering Saint Louis University, the streets are already busy, with convenient parking in shorter supply than many St. Louis neighborhoods. BLK MKT Eats seems likely to squeeze the few spots in evidence even further.
PHOTO BY SARAH FENSKE
The "Seoul Delicious" bowl — just as the name promises.
The silver lining is that BLK MKT Eats' website promises that you'll soon be able to order online and get your food delivered — an intoxicating prospect. In fact, ever since gulping down our "Seoul Delicious," we've been refreshing our browser to see if delivery is an option yet. Yes, this is the restaurant we've been waiting for. The shame is that we're not alone in that.
BLK MKT Eats is open Monday through Saturday from 11 a.m. until they sell out. It's currently closed on Sundays.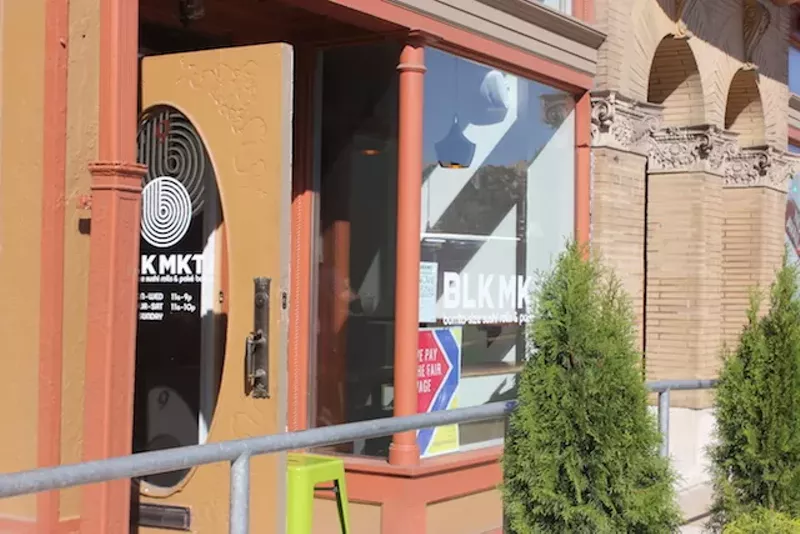 PHOTO BY SARAH FENSKE
BLK MKT Eats is located within a small storefront in the Gerhart Lofts.
We welcome tips and feedback. Email the author at sarah.fenske@riverfronttimes.com