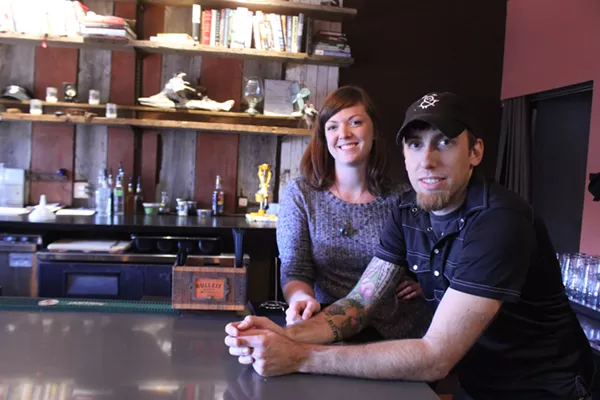 Melissa Buelt
Pig & Pickle's general manager Carina Flesch and chef/owner Ryan Lewis
At their previous restaurant in Springfield, Illinois, chef Ryan Lewis and general manager Carina Flesch sometimes struggled to educate customers about the concept of small plates.
"It was kind of a foreign concept there because no one else did small plates," Flesch notes. But at
Pig & Pickle Eatery
(5513 Pershing Ave., 314-349-1697)
, their new Southern-inspired concept in the DeBaliviere Place neighborhood, they've had no such trouble. "I've noticed a shift in that," says Flesch.
For chef/owner Lewis, small plates are a conduit to enjoying your time when you go out.
"I always think that food is meant to be shared, meant to be enjoyed, and not just meant to fill you," Lewis says.
Lewis began his culinary journey at eighteen. Originally from Bethalto, Illinois, he opened Driftwood Cocktail & Eatery in Springfield and ran it for three years before deciding to return to his roots in the St. Louis area. He felt like a good opportunity to make a change. He was looking for a spot in a residential neighborhood when he found the storefront that held
Atlas Restaurant for fourteen years
.
Melissa Buelt
A pickle display on a sideboard showcasing their pickled products.
Lewis and Flesch first met in late 2012 when they worked at a cafe together. When Lewis opened Driftwood in September 2015, Flesch joined the team as general manager. She now holds the same title at Pig & Pickle.
Rather than being separated by appetizers and main dishes, the Pig & Pickle menu is instead organized by the main ingredient, vegetables, chicken, pork, beef and seafood, and is categorized by gluten-free, vegetarian and vegan options.
Everything they offer has been sourced locally. (The only thing they don't make in-house? The bread for the French toast.) The pair say they were lucky to maintain relationships with a few producers they worked with previously in Springfield.
"That's another thing we kind of drive on ... having those relationships with the farmers and everything," Lewis says.


Melissa Buelt
Fried chicken 'n' biscuit: black pepper biscuit, hot sauce buttermilk and pickle chips
In conceiving the menu, Lewis says he gets an idea in his head and plays around with it. Lewis says he likes to use unusual cuts of meat in order to highlight something new. He's gotten proficient at butchering animals and makes a point of using the whole thing. Even the carcasses are used for stock.
"In the three years we were open at Driftwood, I was breaking down eight to ten birds a week," Lewis says.
If the customers understand that everything is made from scratch, they have a bigger appreciation for what they are eating, Lewis says.
"I've heard tables comment, especially recently, they have never eaten food like this before," Flesch says.

Pig & Pickle is open for dinner Tuesday through Saturday 4:30 p.m. until 10 p.m. Last weekend, they started serving breakfast on Saturday and Sunday from 10 a.m. until 2 p.m.

Scroll down for more photos of Pig & Pickle.


Melissa Buelt
Carrots: lemon tzatziki, mustard seed jam, scallion, preserved lemon salt and micro basil.
Melissa Buelt
The Edison lights are a popular feature hanging over the bar.
Melissa Buelt
Charles the pig was a gift from Driftwood regulars and now one of their closest friends, Bill and Rebecca, who were one of the few people that knew about the new restaurant before it was publicly announced.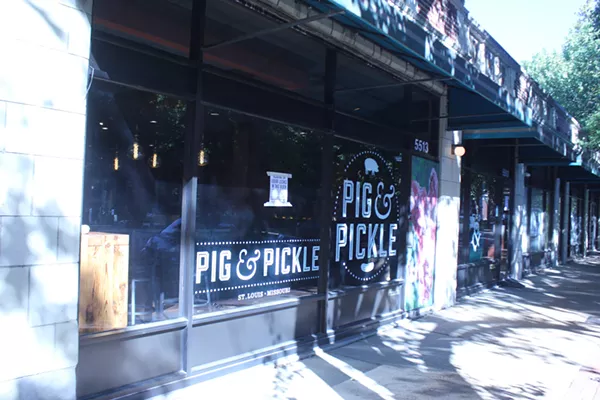 Melissa Buelt
Pig & Pickle opened mid-September.