CHERYL BAEHR
Grace Meat + Three offers two side items with each protein, or a third for an extra $3.
Fans of chef Rick Lewis' country-style cooking have reason to celebrate: Grace Meat + Three (4270 Manchester Avenue; 314-533-2700) is expanding to offer dinner service beginning next Wednesday, October 25.
Though it's only been open for a little over a month, Grace Meat + Three has already garnered national acclaim and has been continuously packed with diners eager to get a taste of Lewis's hearty food — so much, in fact, that the restaurant regularly sells out of signature dishes early into service.
That's even though the counter-service restaurant is currently open only from 11 a.m. to 4 p.m. Wednesday through Sunday. The expanded hours — until 8 p.m. Wednesday through Saturday and until 4 p.m. on Sunday, beginning next week — represent an attempt by Rick Lewis and co-owner Elisa Lewis to give their guests a chance to enjoy more of what they've already come to love.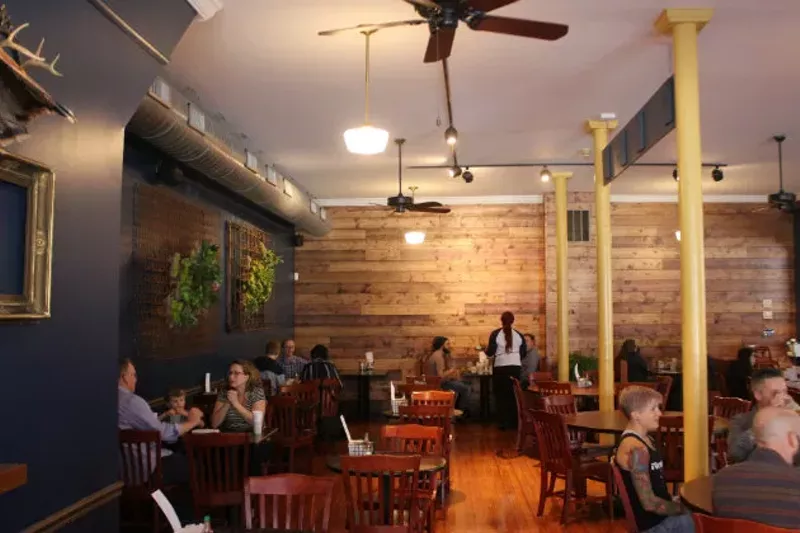 CHERYL BAEHR
Diners order at the counter and then servers bring by their platters.
Though they weren't averse to the idea of dinner service, the Lewises wanted to establish the restaurant as a lunch spot before taking on anything extra. "We originally decided to do lunches only because we had a solid team, and we wanted to put our best foot forward," Rick Lewis explains. "I think if you open as a lunch spot first it puts it in people's heads that you're not a dinner-only restaurant. Most places do the opposite and then it's hard to build a lunch crowd."
The inspiration for Grace's lunch concept was more than just logistics, however. As Rick Lewis explains, it is rooted in the food that has come to define his cooking style. "This is blue-collar cooking — the original farm-to-table, where cooking was about serving meals based on what was available directly from the field to the workers."
Though Lewis got his start in some of the city's most upscale kitchens — An American Place, Monarch — he admits that this country style of cooking appealed to him at an early age. His mother was an avid home cook, and his paternal grandmother, a cotton field worker from Missouri's bootheel, had a garden and cooked the sort of hearty meals that now make up his menu at Grace Meat + Three.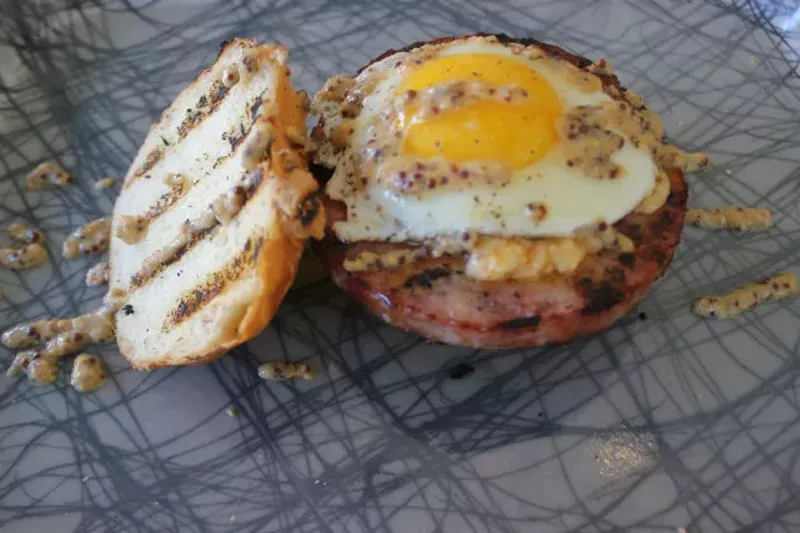 Cheryl Baehr
The housemade bologna sandwich is topped with an over-easy egg, pimento cheese and grain mustard.
Main dishes like fried chicken livers, roast beef and a sweet tea-brined turkey leg come with two side items, or can be made a "meat + three" for an extra $3. Sandwiches, including the thick sliced housemade bologna, are served with a pickle.
The menu will not change from lunch to dinner, and Lewis plans on keeping the main protein items the same for the autumn and winter. However, side dishes like cabbage, lima beans and squashes will replace the current late-summer offerings. He also plans to introduce a daily blue plate special that will reoccur the same day every week: "We'll be doing barbecue porchetta Fridays, smoked prime rib Saturdays and chicken pot pie Sundays."
"People call what we are doing 'Southern,' but I like to think of it as country or home-cooking," says Rick Lewis. "It's meat and potatoes and whatever vegetables we can find. To me, that's super Midwestern."
Click through for more photos of Grace Meat + Three.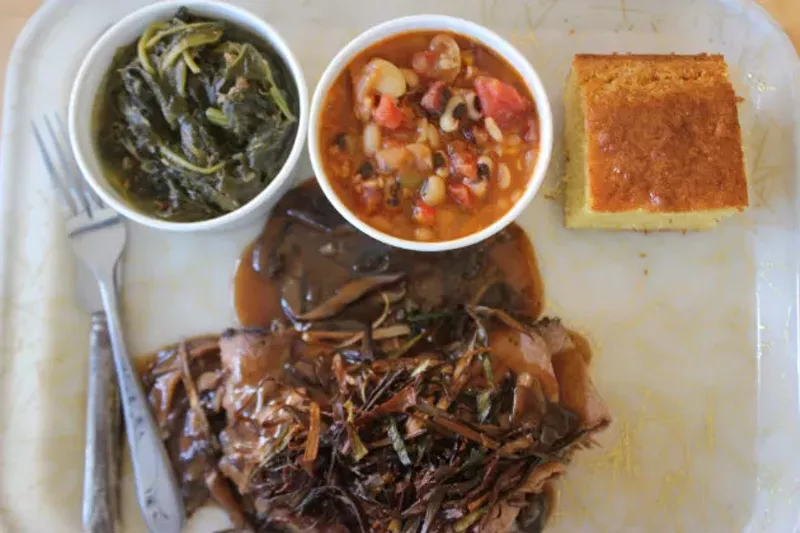 CHERYL BAEHR
Roast beef, a top seller, comes with marrow bone mushroom gravy and crispy leeks.
CHERYL BAEHR
The bar at Grace Meat + Three.
Cheryl Baehr
A wild turkey looks over the dining room.
Cheryl Baehr
Diners sit at either individual or communal style tables.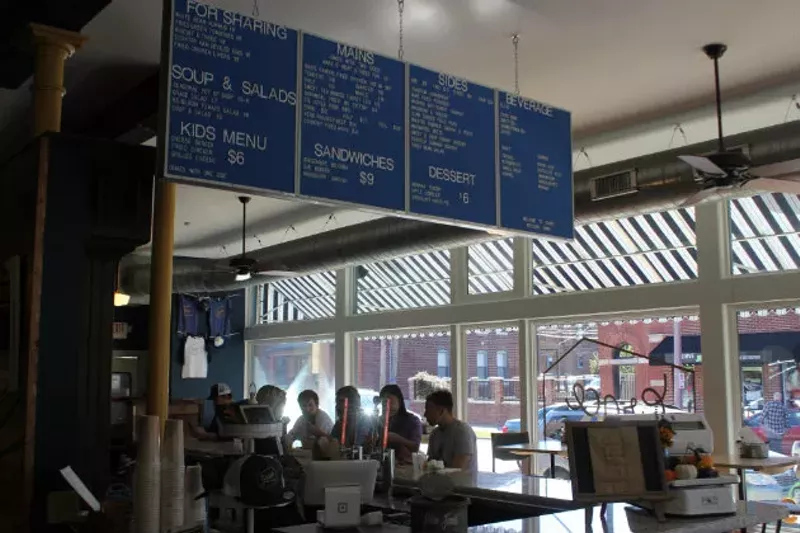 CHERYL BAEHR
Grace Meat + Three offers several country style mains and side dishes — if you get there before they sell out.
We are always hungry for tips and feedback. Email the author at cheryl.baehr@riverfronttimes.com.