PHOTO BY SARAH FENSKE
The Schlafly Pale Ale Burger comes topped with a molten beer cheese and an onion ring.
When John Rieker purchased Johnny's Restaurant and Bar this summer and announced he would reopen a new concept on site just a month and a half after its closure, his plan seemed wildly ambitious. Plenty of bar owners name their opening date — very few actually hit them.
Rieker did. He opened the fifth location of Harpo's (1017 Russell Boulevard, 314-696-2969) exactly 45 days after Johnny's final pour. The turnaround was even more impressive in light of the fact that Johnny's had called Soulard home for 24 years.
"We did a lot," Rieker says. "We did the whole bar over, built a whole new deck on the second floor. But we maintained our schedule."
Still, Rieker's discipline had its drawbacks. By pure coincidence, Harpo's first opened its doors in Soulard on September 15, the same day that former St. Louis police officer
Jason Stockley was acquitted on murder charges
. Protests broke out downtown and in the Central West End, with cops teargassing demonstrators (and even some diners).
PHOTO BY SARAH FENSKE
John Rieker.
"That day a lot of bars in Soulard closed at 6:30," Rieker recalls. "We stayed open." And while business was fairly quiet that night, the next day, a Saturday, they were slammed. They've been slammed every weekend since.
Rieker co-owns the Harpo's location in Chesterfield and says he welcomed the idea of bringing the local chain back within the city limits. (Its previous St. Louis location, in Laclede's Landing, closed in 1996.)
While things have been tense in the city in recent weeks, Rieker says he has no regrets. "It's an unfortunate thing, to say the least," he says. "But we've gotten time to work out the kinks — to get staff scheduled and get people hired." And every day, he notes, the place gets busier and busier.
For those unfamiliar with Harpo's sister locations, which also include spots under different ownership in Kansas City and Columbia, Missouri, the place is not just a place to drink — although you'll certainly see plenty of drinking. Harpo's also prides itself on its food. There's a surprisingly vast menu, with a long list of fish, salads and pasta dishes in addition to the expected bar fare. During happy hour, which runs from 3 to 7 p.m. daily, you can $2 off all appetizers, a great time to check out the wings or get an order of "Tiger Balls," New Orleans-inspired rice balls stuffed with pork sausage and "Southern spice." (Drinks are also super cheap during those hours: $5 for a jumbo well, $2.50 for domestic pints.)
"We take a lot of pride in our food," Rieker says. "We like to say it's the best sports bar menu in town."
PHOTO BY SARAH FENSKE
Frog legs are huge and meaty.
The bar feels totally at home in its new digs, which happen to be a very, very old house. The three-story building on Russell was originally a four-family flat, built 118 years ago, Rieker says. The building's provenance makes sense in light of some of the details that remain, including the two fireplaces upstairs sharing space with Golden Tee and Big Buck Hunter, and some gorgeous old stained glass on the staircase.
Those roomy three floors mean lots of places to settle in, whether it's for a DJ on Friday or Saturday night or an early weeknight dinner with the family. Unlike some Soulard competitors, Harpo's is open Sundays, with $11 buckets of domestic beer, as well as $5.99 half-pound burgers all day ... which might be a really economical way to check out that better-than-a-sports-bar menu.
Scroll down for more photos of Harpo's.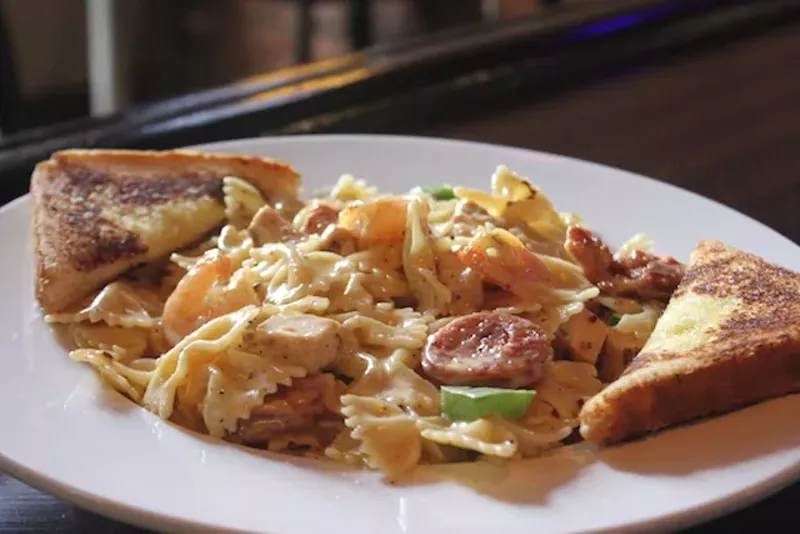 PHOTO BY SARAH FENSKE
The "Four Columns" pasta includes Andouille sausage, shrimp, chicken and peppers in a Cajun cream sauce.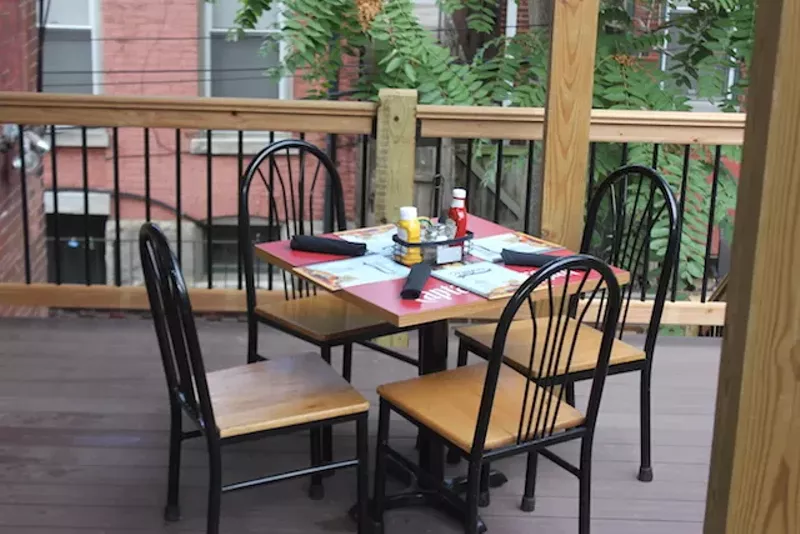 PHOTO BY SARAH FENSKE
A new second-floor deck provides seating.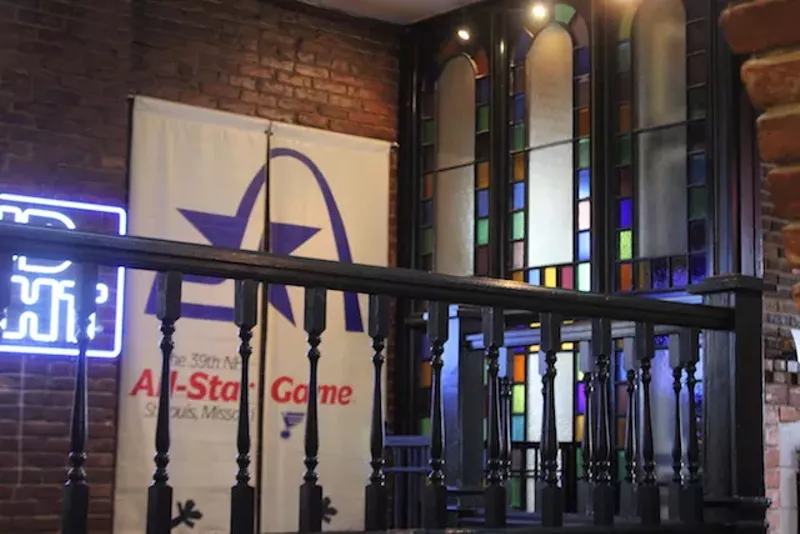 PHOTO BY SARAH FENSKE
Stained glass separates the second floor from the stairwell.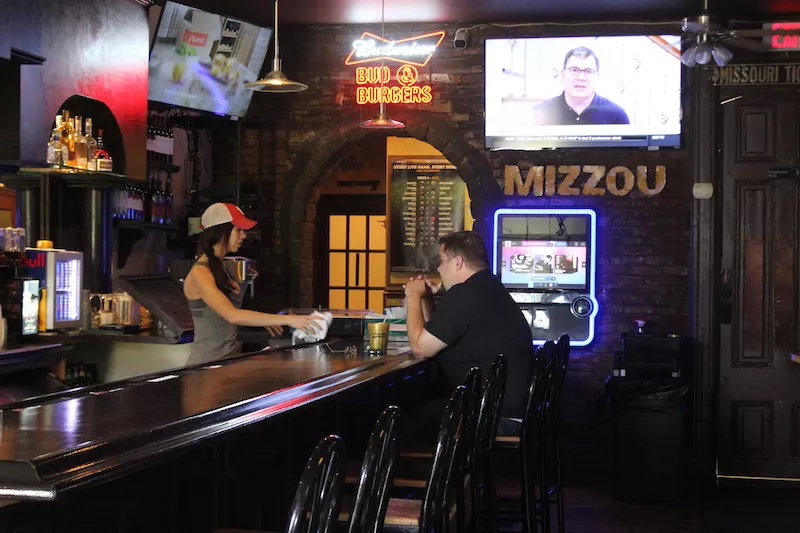 PHOTO BY SARAH FENSKE
Several huge flatscreens show the game.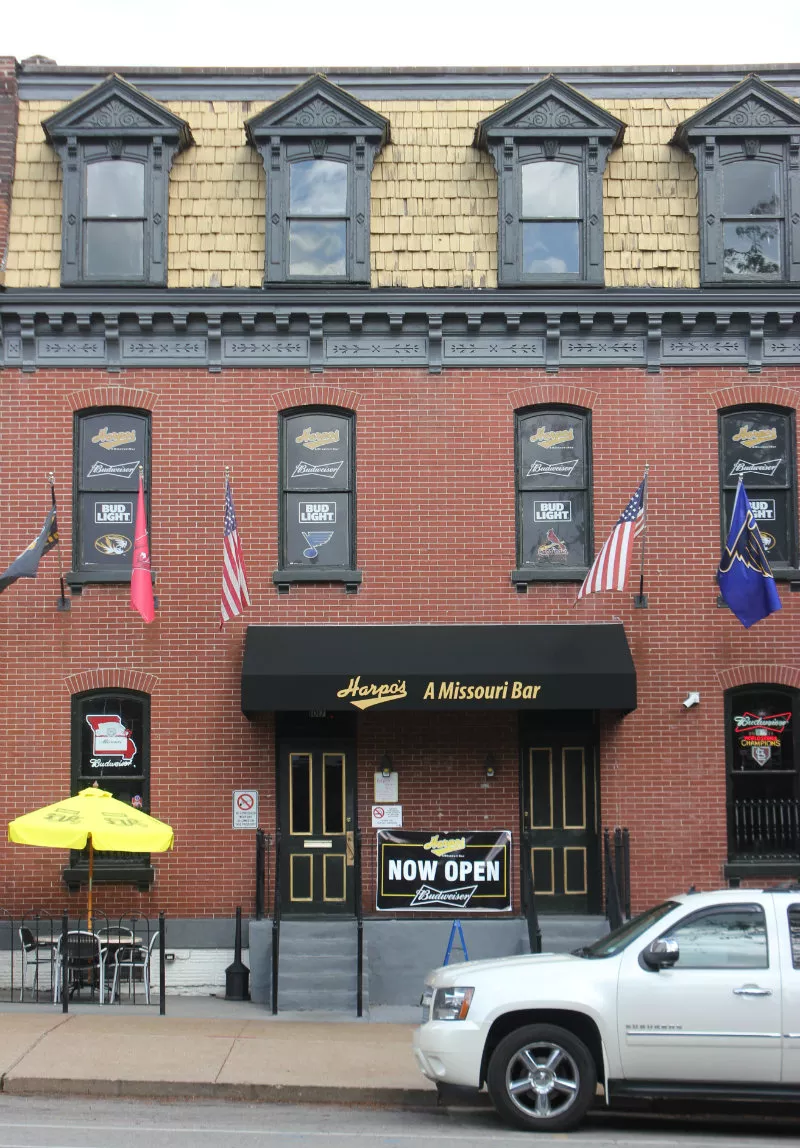 We welcome tips and feedback. Email the author at sarah.fenske@riverfronttimes.com