Photo by Lauren Milford
The workday sandwich with soft-boiled egg and greens on baguette.
If you're looking for a daytime spot in Maplewood, Living Room Coffee & Kitchen (2808 Sutton Boulevard, Maplewood; 314-899-0173), which opened with just coffee and pastries nearly three years ago, has since expanded to include full breakfast and lunch service.
The space originally housed a wholesale coffee business called Arthouse Coffee, but, says co-owner Nate Larson, "It's been dwarfed by the cafe, so we changed the name of everything to Living Room." The business also produces Bitt's cold-press coffee, which can be purchased at Living Room, as well as fellow Maplewood restaurant Southwest Diner.
It has been a slow process to go from a coffee place to a full-blown cafe, Larson says.
"When we first opened, we needed a space for people to come and taste our wholesale coffee, and we had been selling our coffee at farmers' markets, and people asked if we had anything to go with that coffee. So I taught myself to make this gluten-free peanut butter chocolate chip cookie that people really liked, and then I taught myself to make bread, and things kind of went from there."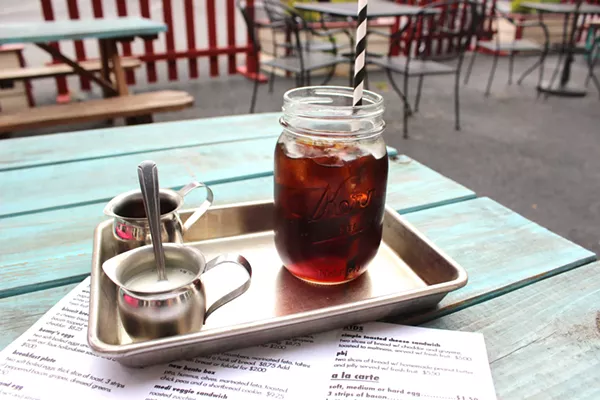 Photo by Lauren Milford
Bitt's cold press coffee.
Larson's partner is his sister Hannah, who does everything from make cakes to head up a job coaching program. Living Room has employed a number of people with disabilities, something the Larsons believe strongly in doing.
They've recently revamped their coffee program, hiring Justin Livon to be the front-of-the-house manager. Larson says that Livon has "invigorated the coffee program," adding, "People are raving again about our speciality drinks and cappuccinos."
Food is handled counter-service, with a small number of stools and tables inside. Several picnic tables with colorful umbrellas add charm to the patio, which is otherwise basically a glorified parking lot. There are child-size chairs and a kids' picnic table as well.
Breakfast menu options include a baguette sandwich with soft-boiled egg, peppered bacon, white cheddar and greens; a cheesy biscuit served with bacon, soft-boiled egg and melted cheddar; milk and cereal with local organic milk; granola jam parfait with house-made granola; and Elvis toast, peanut butter toast with three strips of peppered bacon and local honey.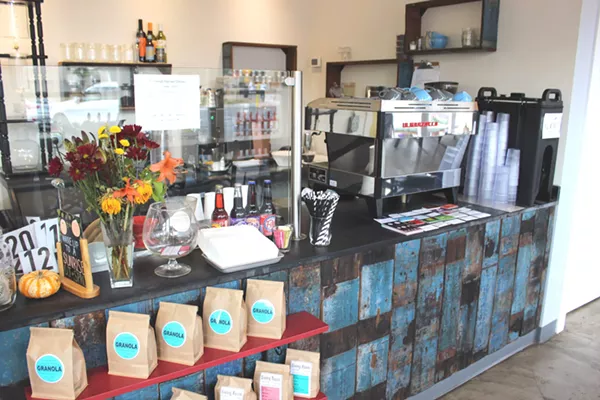 Photo by Lauren Milford
Living Room offers breakfast, lunch and occasional dinners.
The lunch menu features a panzanella salad with toasted chickpeas and gruyere; a Bento box with pita, hummus, olives, feta and a shortbread cookie; a Mediterranean chicken sandwich with tomato jam, mint yogurt sauce and feta on tomato focaccia; crispy falafel on house-made pita; and a smoked egg sandwich.
For the kids, there's a toasted cheese sandwich with cheddar and gruyere, or a PBJ with house-made peanut butter. Living Room also offers scones, biscuits, cookies and biscotti, plus occasional dinners, often in collaboration with other local restaurants like next-door's Bolyard's Meats and Provisions.
Living Room is open 7 a.m. to 3 p.m. Monday through Saturday, and 8 a.m. to 3 p.m. on Sundays.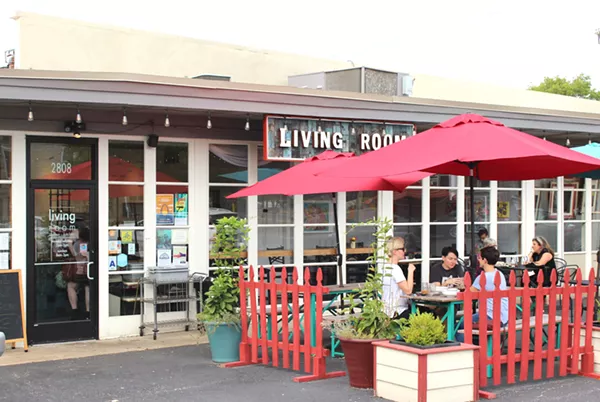 Photo by Lauren Milford
Living Room is located on Sutton Boulevard in Maplewood.