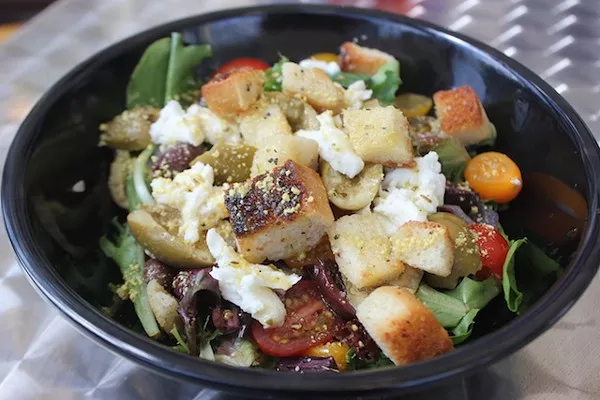 PHOTO BY SARAH FENSKE
Panzanella salad is one of the offerings at Cafe Piazza.
This month was chock-full of restaurant news, with a few sad closings and a fleet of celebratory openings. While we said
goodbye to Randolfi's
,
Mona's
, and
Crave
, among others, we got to say hello to a host of interesting new places from some familiar (and much-lauded) chefs. Dave Bailey now
has a pizzeria in Midtown
.
St. Louis Soup Dumplings
is now open on Olive. And Grace Meat + Three opened in the Grove.
Still looking for a reason to be happy?
Harpo's
is now bringing the party to Soulard, and
Bently's Pub & Grub
provides a new spot to drink in deep south city. Why not check out that patio before the chill of late autumn kicks in?
See also: Crave Has Closed Its Doors 'Until Further Notice'

See also: Cafe Piazza Now Brings Fast-Casual Pizza — and More — to Benton Park
Closings
African Taste Restaurant,
3731 Gravois Avenue, Tower Grove South
Crave
,
2605 Washington Avenue, Downtown West
Lubeley's Bakery
,
7815 Watson, Marlborough
Mona- an Italian-American Joint
,
5257 Shaw Avenue, the Hill

Patois Eatery & Social Lounge
,
2617 Washington Avenue, Downtown West
Randolfi's Italian Kitchen
,
6665 Delmar Boulevard, University City
Tilted Kilt Pub & Eatery
,
1566 Country Club Plaza, St. Charles
See also: Mona's in the Hill Is Closing This Sunday

See also: Hugo's Pizzeria Brings That Baileys' Polish to Midtown

Openings
Bently's Pub & Grub
,
7529 Michigan Avenue, Carondelet
Cafe Piazza Now
,
1900 Arsenal Street, Benton Park
Earthbound Beer
,
2724 Cherokee Street, Cherokee District
Extra Brut
,
16 S. Bemiston, Clayton
Grace Meat + Three
,
4270 Manchester Avenue, the Grove
Half & Half
,
220 W. Lockwood Avenue, Webster Avenue
Harpo's
,
1017 Russell Boulevard, Soulard
Hugo's Pizzeria
,
3135 Olive Street, Midtown
Pangea
,
3245 Rue Royale, St. Charles
Pig & Pickle Eatery
,
5511 Pershing Street, Skinker-DeBaliviere
St. Louis Hop Shop
,
2600 Cherokee Street, Cherokee District
St. Louis Soup Dumplings
,
8110 Olive Boulevard, University City
The Capital Grille
,
101 S. Hanley Road, Clayton
The Cut
,
2635 Cherokee Street, Cherokee District
Westport Social
,
910 Westport Plaza Drive, Maryland Heights