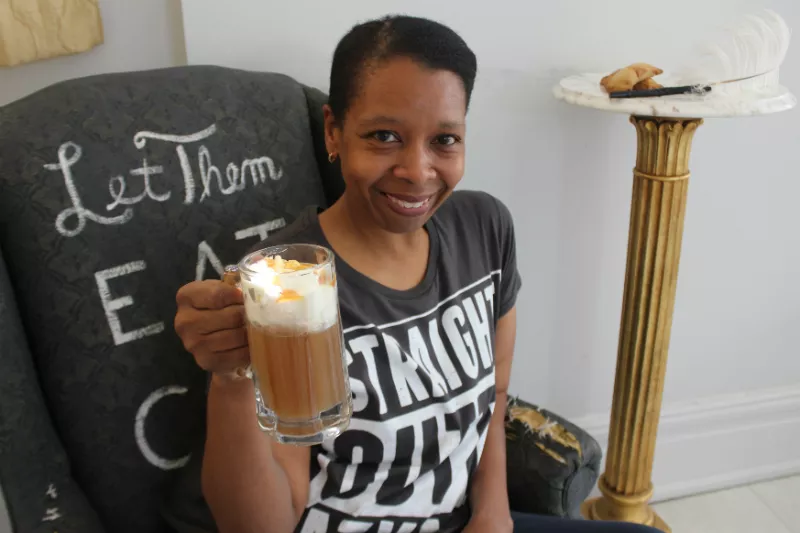 Allison Babka
Chef Simone Faure of La Patisserie Chouquette has a magical butterbeer recipe that's right up Harry Potter's alley.
Simone Faure of La Patisserie Chouquette (1626 Tower Grove Avenue, 314-932-7935) has a secret. Well, not so much a secret as a quiet badge of honor.
"I've always loved Japanese anime, zombies, vampires — anything that has a dark side, but has been totally romanticized in a way that's unnecessary and unnatural," laughs the accomplished pastry chef. "I think it's just in my DNA to have this weird side."
It's this "weird side" that also fuels Faure's love for Harry Potter, J.K. Rowling's fantasy book series that launched in 1997. Rowling's sprawling tale of three magical students battling an evil wizard spawned countless films, merchandise, fan fiction and cosplay. Twenty years later, there's still no end in sight.
"The world is bad-weird," Faure says. "But when it comes to fandom and anything that's comic-book related, mystical or magical, you can disappear in it. With the Harry Potter series, it's healthy because there are tons of lessons in it that can help you navigate the real world as well."
Allison Babka
Faure's "Straight Outta Azkaban" shirt fits in with her table of Harry Potter goodies.
"When it comes to Hogwarts and all of the ambitions that lie within that school, the motivations, the desires, the need for students to find something other than themselves, there's just so much darkness — even within the ones who think the very best of themselves, like Harry or Hermione," Faure continues. "There's a little bit of Draco in everybody and it's important to understand that and embrace that."
Throughout October, Faure will celebrate Harry (also known as "The Boy Who Lived") and his friends the best way she knows how — with food. For what she's dubbed "Pottermonth," Faure is turning her shop's popular Saturday afternoon tea sessions into magical feasts befitting a Sorting Hat ceremony.
Each weekend, Potter fans will dine on roasted rosemary chicken with apples, "quidditch quiche" (named for the book's soccer-type sport played on flying broomsticks), "Hagrid's rock cakes" (a favorite of the story's gentle giant) and more.
Read the complete menu here
and
find the Facebook event here
. Not surprisingly (the beloved patisserie and Harry Potter make for a potent combo), reservations are full, although you can add your name to the waiting list.
But fear not, because there's Pottermonth fun during the week, too, and no reservations are necessary for that. Visit La Patisserie Chouquette during regular business hours Tuesday through Friday for an array of treats any Potter fan will recognize: chocolate frogs, pumpkin pasties, treacle tarts and plenty of other goodies mentioned in the novels (keep reading for Faure's butterbeer recipe, which you can make at home or drink each day at the shop!).
Allison Babka
During Pottermonth at La Patisserie Chouquette, fans will recognize allusions to the Harry Potter novels and films.
There's a charitable side to Pottermonth, too. Faure encourages patrons to bring in new pairs of socks for "Dobby's Sock Basket." The hosiery collection honors the house elf that Harry and his friends freed in the books and will be donated at the end of the month to the Little Bit Foundation in St. Louis and to flood relief efforts in Texas.
Faure says that the shop will be decked out Hogwarts-style with plenty of magical accoutrements to play with. She's encouraging Potterheads to arrive in costume and to be prepared to talk about which of the four school "houses" the wise Sorting Hat would put them in: courageous Gryffindor (home to Harry and his besties), loyal Hufflepuff, logical Ravenclaw or ambitious Slytherin (where many of the villains end up).
She'll leave the Sorting Hat ceremony to others, though; Faure doesn't need it.
"I'm Slytherin, and I already knew before I was sorted," she laughs.
Turn the page for Faure's exclusive recipe for Harry Potter's butterbeer.
This October, Harry Potter fans can finally taste something they've craved for years —
butterbeer
. Faure has figured out how to create the popular beverage that's served the Hog's Head tavern and other wizarding locations in the
Harry Potter
novels, and she'll offer the popular beverage daily during Pottermonth at La Patisserie Chouquette.
Below, Faure shares her recipe for the cold soda, which tastes like fizzy butterscotch and contains no alcohol (though she recommends that adults add a shot of spiced rum to their own mugs for extra kick).
Pour one bottle (or more, if you're preparing for the Yule Ball) of cold Fitz's Cream Soda into a very chilled bowl or pitcher.
Add thick homemade or store-bought butterscotch to taste. Blend until the entire mixture is chilled.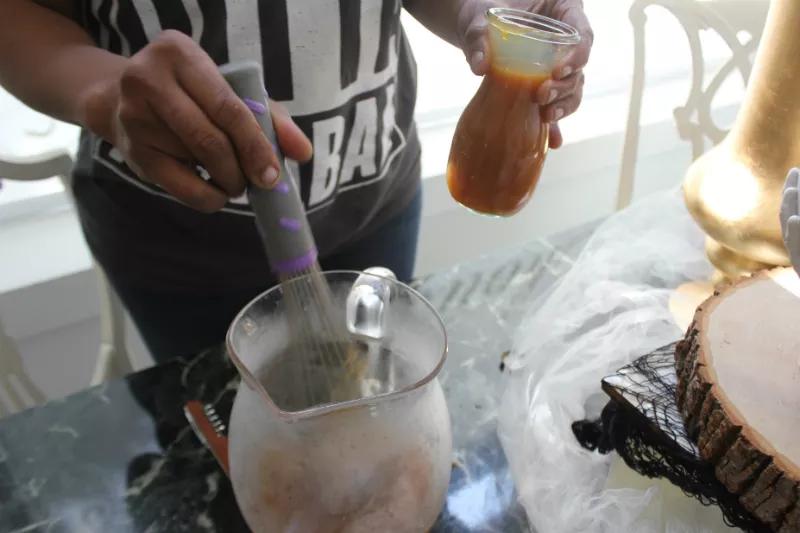 Pour the mixture into chilled beverage glasses or mugs. Top with homemade or store-bought whipped cream.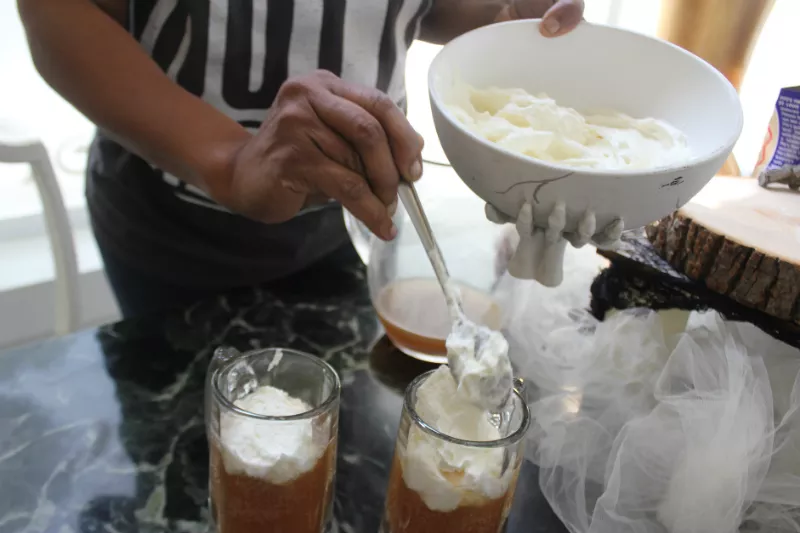 Drizzle with additional butterscotch and grate fresh cinnamon on top.
Drink as is, or use a straw to swirl the whipped cream and cinnamon into the butterbeer. Perform a Hogwarts-sanctioned refilling charm to keep enjoying the beverage all day.
Email Allison Babka at allison.babka@gmail.com or follow her on Twitter at @ambabka.