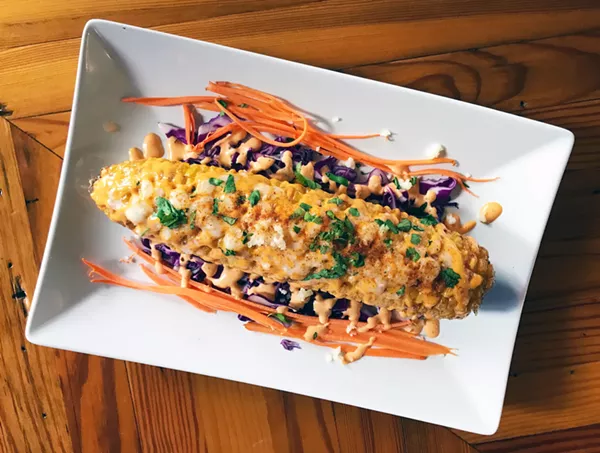 Deep fried Thai street corn with sriracha mayo, cheese and cilantro | Sara Graham
In May 2017, a Thai fusion spot called the Blue Pearl (2926 Cherokee Street) opened without fanfare in the popular Cherokee district. And if that date gives you some confusion, there's good reason for that. The Blue Pearl is also the name of a bar that sat at the exact same address for about a year, from 2015 to 2016. While the two concepts are unrelated, the new owners liked the name so much they kept it.
Co-owner Jesse James first conceived of the idea while working at Basil Spice on South Grand Boulevard. James put Thai sweet chile sauce on chicken wings and thought it was a hit. He enticed Basil Spice's owner Somying Fox to try it, and she agreed. The two began collaborating on a new Thai fusion venture together.
The Blue Pearl | Sara Graham
The Blue Pearl now serves small-plate dishes that meld Thai, Mexican (a nod to the restaurant's location) and soul food flavors.
The small menu starts with some fairly traditional dishes, such as egg rolls and fried shrimp rolls with sweet
chile
sauce, edamame and Rangoon with plum sauce.
South-of-the-border flavors shine through in a unique, deep-fried Thai street corn topped with sriracha mayonnaise, cheese and cilantro and a nachos platter topped with lettuce, Thai chile, fresh salsa and queso
blanco
.
James' wings, the restaurant's best-seller, are available with Thai sweet
chile
sauce, lemon pepper seasoning, barbecue or spicy buffalo, served with blue cheese or ranch dressing. More typical bar items — French fries, toasted ravioli and mozzarella sticks — round out the menu.
Unique, crinkle-cut tofu fries prove that James has not stopped innovating. He says, in fact, that "whenever an order comes in, I always make an extra plate for me." A changing list of specials, which has included barbecued jackfruit, allow him to keep the creative juices flowing.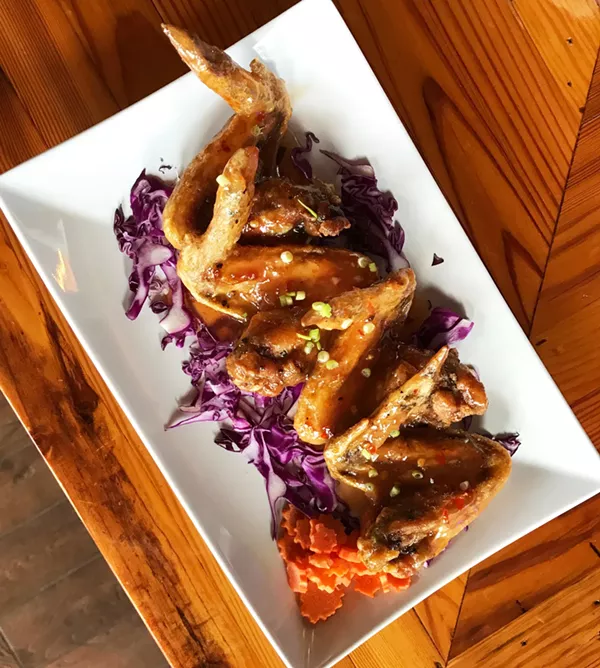 Chicken wings with Thai sweet chili sauce | Sara Graham
A full bar offers a few signature drinks — a blue margarita served with a flaming shot of Everclear and "the Pink Pearl," made with grenadine and pineapple juice, created in support of breast cancer research.
Fridays and Saturday nights feature a DJ. The restaurant also hosts "DJ Vibe" on Wednesdays, a night that welcomes other DJs and anyone who wants to learn the art.
Friday nights are often theme nights; recent themes include a '90s night, a white party and a glow in the dark party. Saturday nights feature a rousing drag show that starts at 10 p.m. "Two
dollar
Tuesdays" offer $2 rail drinks and "walking nachos" — Doritos with meat, cheese,
lettuce
and tomatoes served in a bag. Thursdays are open mic nights.
The restaurant retains features from the Blue Pearl's original owner Julie Sommers, who still owns the building and is passionate about sustainability. The floors are crafted from sustainably harvested wood. The bar top is made of reused wood slats, while the bar sides are made of old wood doors; doorknobs are used for purse hooks.
The original tin roof remains and even showcases a bullet hole from the days when a biker bar occupied the space.
Food is served until 1 a.m., and the bar closes at 1:30 a.m. Scroll down for additional photos of the menu and restaurant.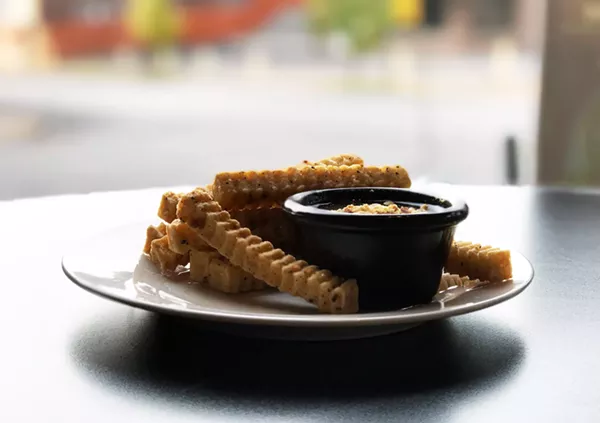 Tofu fries with sweet chili apple sauce | Sara Graham
Egg rolls with sweet chili sauce | Sara Graham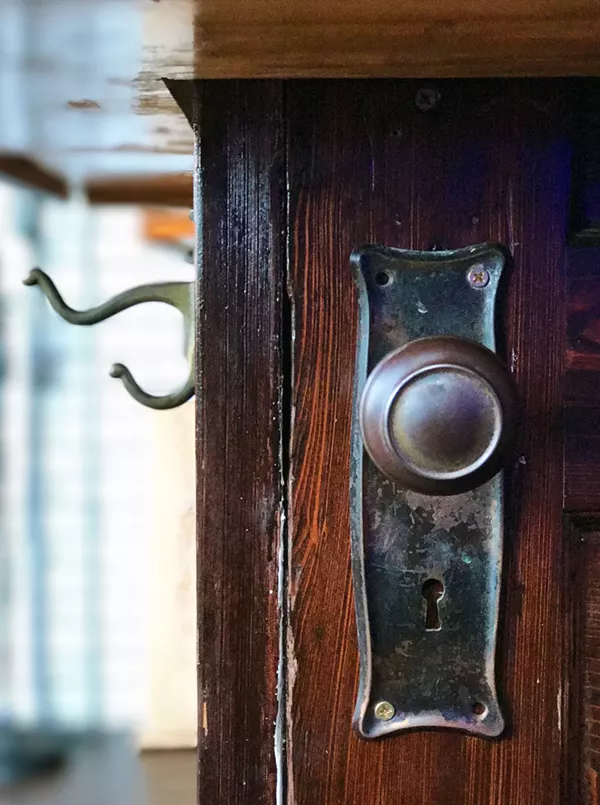 Pocket door and farmhouse sink | Sara Graham

Follow Sara Graham on Instagram and Twitter at @engagetaste. E-mail the author at [email protected]