Cafe Piazza Now
(1900 Arsenal Street, 314-343-0294)
, the restaurant that quietly opened its doors last week in Benton Park, may seem a bit confusing when you first walk in the door. After all, it's located in the former home of the Benton Park Cafe — but the space seems quite a bit smaller. And what happened to the bar?
The answer, as it turns out, is right there in the name. Cafe Piazza Now is the fast-casual arm of a brand-new restaurant with two parts — and it's open, well, now in one-half of the space, with an entrance currently on Lemp. Soon to come: Cafe Piazza, a full-service counterpart that will take up the other, with an entrance on Arsenal. (Eventually, the entrance on Lemp will be phased out.)
The two halves share not just owners and chefs, but also a kitchen, a prep space and even many menu items. Even the price point, says co-owner Tim Meinecke, will be similar if not the same. The only difference is the experience. At Cafe Piazza Now, customers can order at the counter for quick service. At Cafe Piazza, they can linger.
"You can have your fast-casual environment here, or you can hang out over there and mingle a little more," Meinecke says. "Or you can eat here and then go hang out over there." After all, that's where the bar is.
PHOTO BY SARAH FENSKE
Co-owner and chef Tim Meinecke, right, with sous chef Michael Stampfl. The concept's second sous chef, Sam Strech, is the son of RFT cartoonist Bob Stretch.
Meinecke got his start in the restaurant business as a busboy at Vito's Sicilian Pizzeria & Ristorante in Grand Center, and he owns his destiny to that high school job. After earning his degree in restaurant management from Mizzou, and running a restaurant in Lake of the Ozarks for two years, he rose through the ranks to become Vito's executive chef. Now his co-owner at Cafe Piazza is the eponymous Vito LaFata III.
Fans of Vito's will be delighted by the menu at Cafe Piazza Now, which offers Sicilian-style deep dish pizza as well as specialty pies, perfectly cooked in the state-of-the-art oven, which deploys both wood fire and lasers (yes, really) for a crust that's nothing less than perfect.
Paninis are available from 11 a.m. to 4 p.m., while a host of salads are offered all the way to close. If you're into breakfast, they have that too, with a handful of frittatas, paninis and breakfast pizzettes. After dinner, they intend to bring the gelato operation that previously flourished at Vito's in-house at Cafe Piazza; a case now occupies the front counter.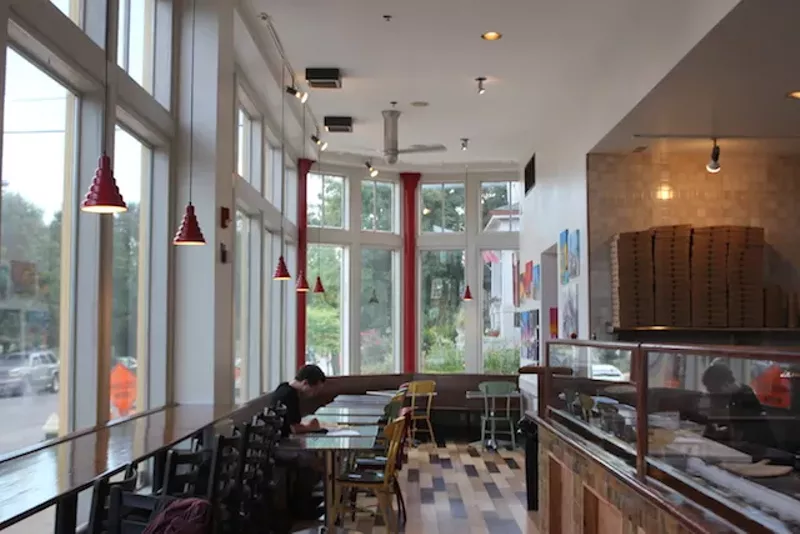 PHOTO BY SARAH FENSKE
Cafe Piazza Now has wide windows overlooking Lemp Avenue and a view of the glassed-in kitchen.
The restaurant has come together rapidly — especially in light of the fact that much of the renovations were done in-house. (In addition to giving the place a sharp new look, the team working on the project had to lift the 4,100-pound pizza oven through the window.) Construction didn't even begin until May 25. "I went from having the softest hands from washing them all the time in the kitchen to construction hands," Meinecke jokes.
But the work at Cafe Piazza Now nothing compared to what's going on next door at Cafe Piazza. There, artist Paco Rosic has been spray-painting an amazing St. Louis-focused mural on the ceiling, a la Michelangelo. Smaller details of Rosic's work are framed on the fast-casual side for those wanting to make a purchase.
For now, the partners hope to get Cafe Piazza open soon, and they continue to iron out the pre-grand opening kinks at Cafe Piazza Now. "We're new, and the concept is still evolving," says Meinecke. "It's like a piece of art — always in progress." Only this particular labor of love is a whole lot tastier.
Cafe Piazza Now is open from 7 a.m. to 10 p.m. Monday through Thursday, 7 a.m. to midnight Friday and Saturday and 7 a.m. to 9 p.m. on Sunday. Scroll down for more photos.
PHOTO BY SARAH FENSKE
Arancini, a special appetizer on offer earlier this week, offer rice, peas and cheese in Bolognese sauce.
PHOTO BY SARAH FENSKE
A killer panzanella salad offers three types of olives, fresh mozzarella and, of course, bread.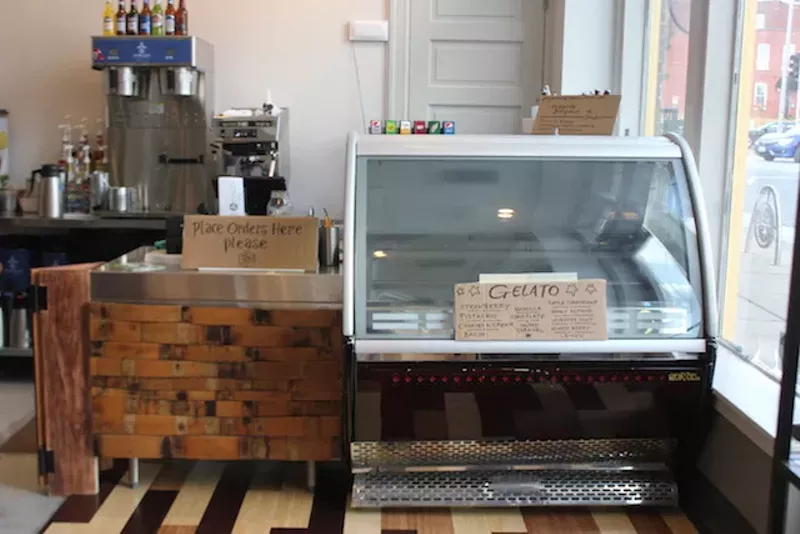 PHOTO BY SARAH FENSKE
Customers order at the front counter. Soon, they'll also be offering gelato.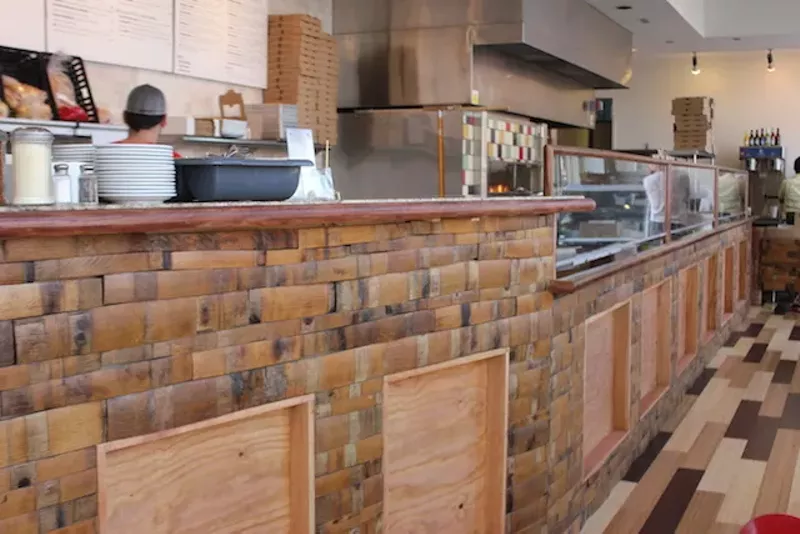 PHOTO BY SARAH FENSKE
The open kitchen runs nearly the length of the space. The half-wall is lined with old wine barrel staves.
PHOTO BY SARAH FENSKE
Artist Paco Rosic's art provides a colorful note.
PHOTO BY SARAH FENSKE
Not to give away too much of Rosic's mural on the other side of the cafe, but it's basically .... epic.

We welcome tips and feedback. Email the author at sarah.fenske@riverfronttimes.com