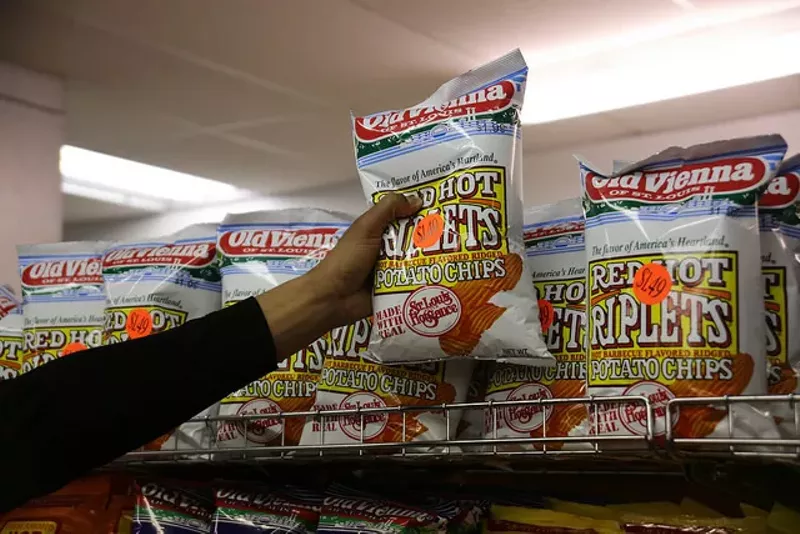 St. Louis' favorite potato chips are making a big push in the Windy City.
Red Hot Riplets, the marvelously spicy barbecue chips made by Fenton-based Old Vienna, arrived in the Windy City August 30, with an appropriately fiesty slogan: #BiteMeChicago. The cult faves are now being sold in the Chicago market, along with Hot Corn Chips and Hot Diggety's.
This is Old Vienna's first foray into the market, says Andy Doyle, the company's sales and marketing director. And so far, it's going gangbusters.
"We have had nothing but positive response from product sampling and samples we sent to the local radio stations," Doyle tells us.
Doyle says the new market is a partnership with an established chip company based there, CJ Vitners. The company has made
an interactive map
showing where the chips are available and promises to update it as more locations are added.
It's been a year of expansion for Old Vienna. Earlier this year, it introduced
Red Hot Riplets seasoning
— arguably the greatest innovation in snack food since Long John Silver invented
Krums
.
Doyle says the runaway success of the seasoning rollout led to the Chicago deal. "After seeing it take off the way it did gave us more brand awareness and a stronger following," he explains in an email. "We just felt like it was the right time to expand outside of St. Louis. With having a vehicle for distribution with Vitners, it just made sense."
"Sense" is right. Why on earth should St. Louis be holding back all this hot-and-sweet goodness for itself? So, yeah: #BiteMeChicago.
And after that, how about LA and DC and New York City?
We welcome tips and feedback. Email the author at [email protected]