Michelle Jones never meant to get into the food business. She just had a lot of time on her hands — and she loved to bake.
A few years ago, Jones was running an in-home day care, which for a time involved caring for just one six-month-old baby. The baby slept a lot — and so she found herself dabbling in cupcakes, brownies and other treats. "I had always been a full-time working mom," she says. "Suddenly I had an opportunity to do hobbies."
In time, that hobby drew a following, one even bigger than her babysitting skills. After selling custom cakes and other creations out of her north county home for years, Jones began to realize she needed a space of her own.
Earlier this year, her dream came true when she finally opened
Baby Kakez
(3305 Olive Street, 314-358-5880)
in a storefront just across the street from the Saint Louis University campus in Midtown. Previously a gym ("someone left behind a treadmill," Jones laughs), it's now a snazzy dessert shop that beckons passersby with windows looking out on Olive.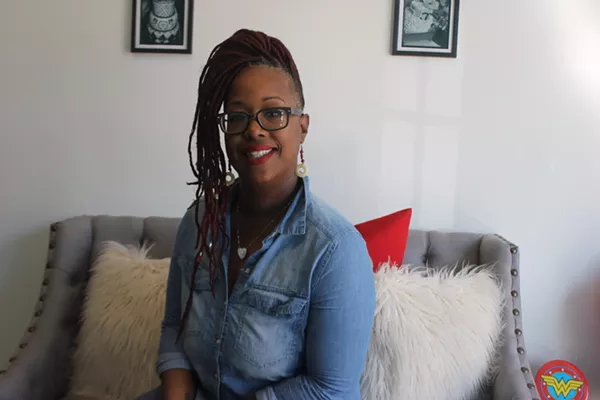 PHOTO BY SARAH FENSKE
Michelle Jones.
Baby Kakez' offerings — which include flavored popcorn, whole "kakes" and "kake slices," and creative cakepop bouquets — have developed quite a
following on Instagram
. Jones also makes elaborate candy apples and "Pretzel Nibs" — which the shop offered as a snack at the grand opening only to see them become a runaway best-seller. Basically, they're caramel-dipped chocolate-covered pretzels, only instead of the long pretzel rod at the core of lesser treats, these are chopped up for a perfectly proportioned snack. Baby Kakez sells seven for $3.
Jones runs the shop with her husband Gary, and laughs off the idea that running a business together might be stressful. "We've been married seventeen years," she says. "We've seen it all and done it all."
And now that doesn't just include sweet offerings. On Saturdays, they're now offering barbecue, which Gary smokes behind the shop. Offerings and prices vary depending on what's at the market. "Last week," Jones says, "we had salmon!"
PHOTO BY SARAH FENSKE
Gary and Michelle Jones designed and renovated the storefront themselves.
The shop offers stools and a settee for those who want to linger, but everything is available to go — a cupcake, a S'mores brownie or even, come Saturday, barbecue fish. In the future, Jones even plans to use her kitchen to offer classes.
"I kind of fell into it," she says of baking and cake-decorating. "If I introduce it to young ladies, it's something they can be passionate about too."
Baby Kakez is open Tuesday through Friday, 10 a.m. to 6 p.m. and Saturday from 11 a.m. to 6 p.m. Saturday barbecue is available beginning at noon.
Scroll down for more photos of Baby Kakez.
PHOTO BY SARAH FENSKE
Candy apples are elaborate — and delicious.
PHOTO BY SARAH FENSKE
S'mores brownies have graham cracker baked right into the crust.
PHOTO BY SARAH FENSKE
Lemon-berry cupcakes have lemon icing and strawberry glaze.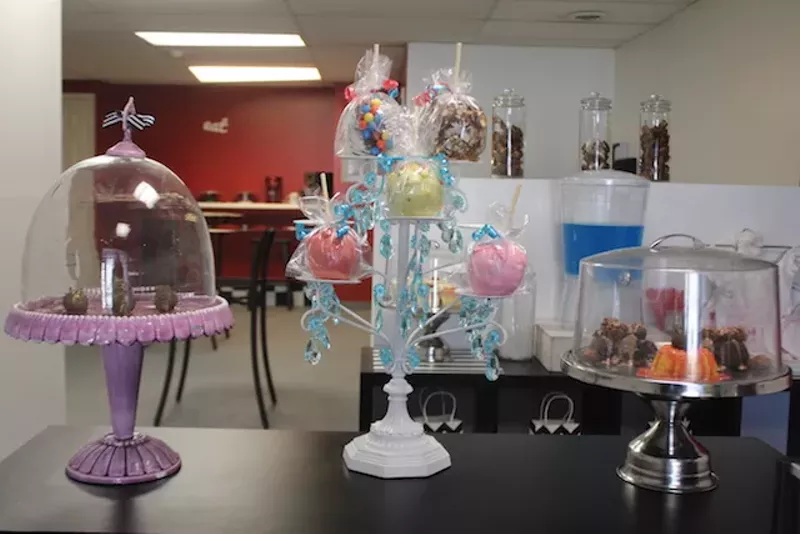 PHOTO BY SARAH FENSKE
Customers can survey treats at the counter or special order a custom creation.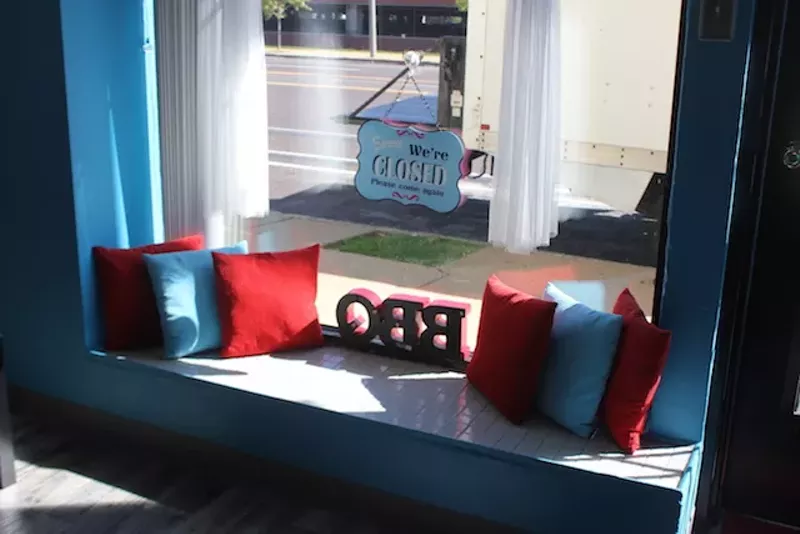 PHOTO BY SARAH FENSKE
BBQ Is offered beginning at noon on Saturdays.
We welcome tips and feedback. Email the author at sarah.fenske@riverfronttimes.com