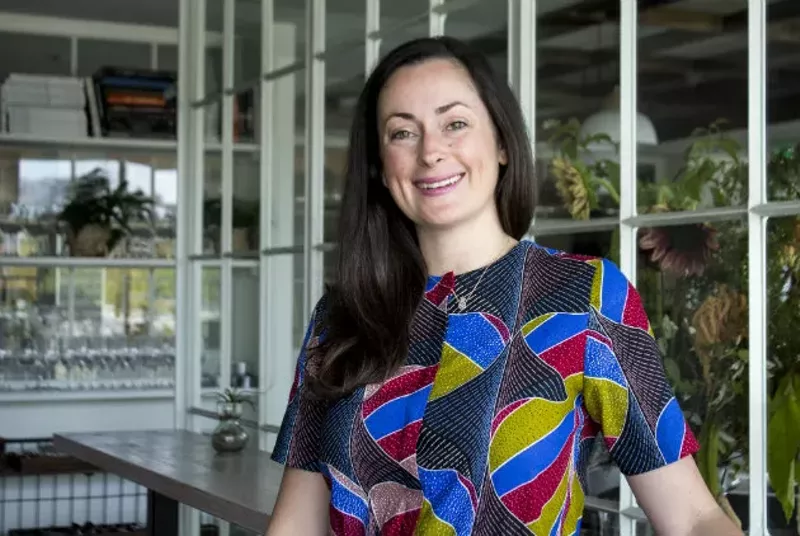 Sara Bannoura
Tara Gallina makes service a noble art at Vicia.
When Tara Gallina of Vicia (4260 Forest Park Avenue; 314-553-9239) was in college, she had big plans for her career that had nothing to do with the restaurant industry.
"I was a broadcast journalism major at the University of Central Florida, with big plans to be the next Katie Couric," Gallina laughs. "I realized toward the end of the program that it wasn't what I wanted. What 21-year-old knows what they want to do?"
While she was in school, Gallina worked at what she describes as a "super cheesy" chain restaurant, but she never seriously considered it as a career path. Instead, she found herself working for non-profits and then in human resources for a startup in Orlando. There, she quickly rose through the ranks and eventually found herself running the department, though her professional success did not equate to personal happiness. "I found myself in over my head in something I had no intention of getting into in the first place," Gallina explains. "I had no idea how I got there, and had this moment in my early twenties when I was unhappy with how it had all gone."
Gallina had always enjoyed cooking, so she dealt with her professional dissatisfaction by turning to the kitchen and starting a food blog. In time, she realized that she was spending more time working on the blog than on her job. As she began asking herself how to realign her priorities, the answer became clear: She should go to culinary school.
Gallina decided to enroll in the French Culinary Institute (now the International Culinary Center) in New York, figuring it would be a ten-month stint. However, an internship at the renowned Blue Hill at Stone Barns changed those plans. "I moved there for a six-month internship and it changed my life," says Gallina. "It was like going to graduate school for fine dining and sustainable agriculture. It's the hardest thing I have ever done in my entire life, but it sparked something in me that I'd always been looking for."
At Blue Hill, Gallina quickly became key player in several facets of the restaurant, but it was the service element that really caught her attention. "Blue Hill is a magical place where dining is about storytelling," Gallina explains. "It's so much more than waiting tables; it's creating an experience for someone, and that's what really captured me in a big way."
As Gallina rose to become the restaurant's service captain, something — or rather someone — else captured her as well: chef Michael Gallina. The pair fell in love, married and decided to return to Michael Gallina's native St. Louis to open a place of their own. In just five months, that restaurant, Vicia, has garnered national acclaim, including recognition from both Eater and
Bon Appetit as one of the year's best new restaurants
.
Though much credit for Vicia's success can be attributed to what goes on in the kitchen, Gallina is equally proud of what goes on in the front-of-the-house, even though it's an aspect that often gets overlooked. When asked why she thinks this is the case, Gallina has some ideas. "I think it's systemic. For so long service jobs have been thought of as a stepping stone for people who are trying to do something else," she explains. "Not a lot of people view this type of work as a long-term career. There's a perception associated with it. Telling your mom you're going to grow up and be a restaurant manager doesn't have the same cachet as telling her you want to be a doctor or a CEO."
Gallina is trying to change this perception, however. She believes that as more people set the standard, professional service will be considered a viable career path. "We need more champions in our industry to help drive this change," she says. One way to do that is to create a culture where everyone feels driven to be at their best and is committed to providing the best hospitality they can. "When you have a culture like that, you feel it everywhere and feel everyone committed to those goals," Gallina says. "I feel like that is what we are creating here."
Gallina took a moment to share her thoughts on the St. Louis dining scene, her guilty pleasure and her St. Louis food crushes — just don't tell her husband.
What is one thing people don't know about you that you wish they did?
That I'm actually a trained chef myself! I started off in the industry by going to culinary school in New York City and tried my hand at many different aspects of the food industry before falling in love with service. I have been, and always will be, passionate about cooking.
What daily ritual is non-negotiable for you?
Walking our dogs Abby and Louie. They are the cutest little things, and spending time with them in the morning before we leave and when we get home makes everything OK.
If you could have any superpower, what would it be?
To be in two places at once.
What is the most positive thing in food, wine or cocktails that you've noticed in St. Louis over the past year?
I've haven't been in the St. Louis industry for too long, but the overall positive thing that I've noticed since moving here is the support restaurateurs and chefs have for one another. I have been blown away by the respect people in the industry show in good times and bad. Competition will always be there, of course, but we also recognize that a great dining culture needs to have great options, and it's a lot more fun to share in that than to be negative and antagonistic.
What is something missing in the local food, wine or cocktail scene that you'd like to see?
More attention to people who have made service their true profession. If we can promote and highlight front of house professionals in the same way we do chefs, it would help drive our city (and industry) to put an even greater emphasis on great service. We need more leaders dedicated to teaching and cultivating young talent and show them this can be a great career path. Service can be sexy too!
Who is your St. Louis food crush?
(Other than my husband!) it would have to be a collective combination of Sean Netzer, Ted Wilson and Brian Lagerstrom of Union Loafers. That restaurant has felt like a home to me since we moved here. They have created a place that truly nourishes you from stomach to soul.
Who's the one person to watch right now in the St. Louis dining scene?
My girl Jen Epley, assistant general manager at Vicia. She is a rock star. She pours her heart and soul into everything she does and is crazy knowledgeable about wines. She has taken the opportunity to lead our beverage program and turned it into so much more. From staff education to telling the story of the wines to our guests on the floor, she has really blossomed as a service professional and found her place. The sky's the limit for her.
If you weren't working in the restaurant business, what would you be doing?
Writing about food. I went to college for journalism and really love and respect great food writing. I'd love to be able to tell stories about our industry through print or TV.
What service practice is never allowed in your restaurant?
The word "no." We always strive to meet our guests' needs in whatever way we can. I have taught our team from day one that, when in doubt, we say "yes" first and figure out a way to solve the problem together.
What is one thing you'd like to see change in dining culture?
I wish that guests felt more empowered to share their feedback with restaurants in person rather than over the internet. Culturally, we have moved away from a time when people could answer the question "How did you enjoy everything?" honestly. It's so easy to vent our frustration after the fact on social media. As restaurant owners, we would love nothing more than to be told what didn't work right for a guest and be given a chance to correct it than find out after the fact and be left powerless. Our jobs are to do our best to create a great experience for people. When we fall short of that we want to know how we can do a better job so we can keep you as a customer. I know nobody likes confrontation, but you'd be amazed at what a restaurant will do to make you happy if you just let them.
What is your after-work hangout?
The patio at Vicia. Or when we're hungry, Taste Bar or Mission Taco Joint in the Central West End.
What's your food or beverage guilty pleasure?
Pizza, always.
What would be your last meal on earth?
I don't think I could really pick one dish, but I know it would have to be around a table with my husband, my family and our dogs, sharing a great bottle of wine and just enjoying each other's company.
We are always hungry for tips and feedback. Email the author at cheryl.baehr@riverfronttimes.com.