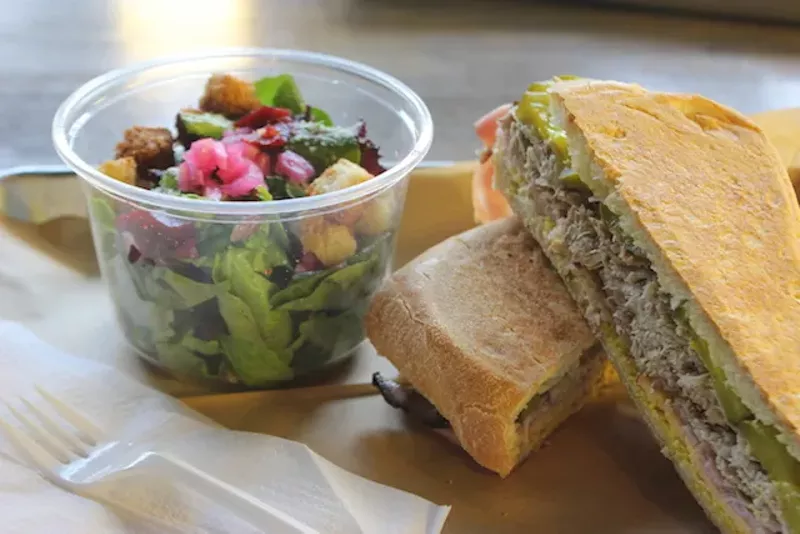 PHOTO BY SARAH FENSKE
The "Cubano" sandwich with a side salad is among seven sandwich offerings on the current menu.
Like many kids raised in Missouri, Derek Schulze didn't want much to do with Missouri once he got old enough to control his own destiny. He went to Chicago for college, then moved to northern California and managed an agricultural operation. And then he moved back to Chicago.
But the vision he had for a business — a restaurant that relied on hydroponic farming — just didn't seem to make sense in Chicago. Schulze and his partner, Maia Spertus-Melhus, came close to getting it off the ground, but they just couldn't make the expenses pencil out.
His family, which owns a farm in Warrenton, Missouri, urged him to consider St. Louis.
"My family kept telling me it was a good spot for innovation and entrepreneurship," says Schulze. "I didn't believe that."
But he kept an open mind, and he ended up liking what he was seeing. Last October, Schulze moved to St. Louis. Last month, he opened
Red Oak Eats 'n Treats
(1330 Washington Avenue, 314-339-5070) —
the hydroponically connected cafe he long dreamt of opening, only now it's a block from the City Museum in downtown St. Louis.
The spot, which was most recently home to the
short-lived gluten-free eatery A2 the GFCF
, was a turnkey operation, which held big appeal for both Spertus-Melhus and Schulze.
"It was a blank canvas in many ways," Schulze says.
They did everything themselves, swapping the former cafe's bright white aesthetic for gorgeous blue walls and old-timey trinkets and old seed bags — many of them from the Schulze farm in Warrenton.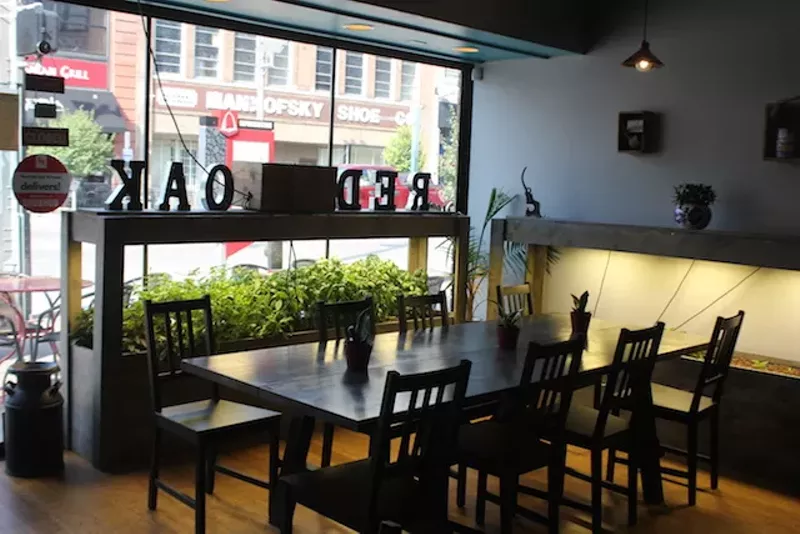 PHOTO BY SARAH FENSKE
Hydroponic greens grow in the windows. Trinkets from Schulze's grandparents farm decorate the walls.
And that's not the only thing from the Schulze farm. The beef in the "Home Style" meatloaf sandwich? That comes from a cow raised by Schulze dad. The sweetcorn in the "Corn Belt" salad? That's from corn grown in Schulze's mom's garden — "My mom just planted way too much of it," he says.
Other things have traveled an even shorter distance to make it to your plate. See those lettuce beds next to your table? They're actually growing right there, yielding ten percent of the restaurant's total. Some herbs in their hydroponic operation have been even more successful. "We have never once had to buy basil, even though we use it in a lot of places," Schulze says proudly.
But while Red Oak's goal is to grow as much of its own food as possible — and Schulze has big ambitions for a rooftop garden and/or warehouse space to grow much, much more — the price points have been kept affordable. Nothing on the menu is more than $10.50. Sandwiches all come with chips (upgrade to a side salad for an additional $2) and are substantial, with Alpha Baking bread anchoring a variety of meats, cheeses and freshly plucked herbs.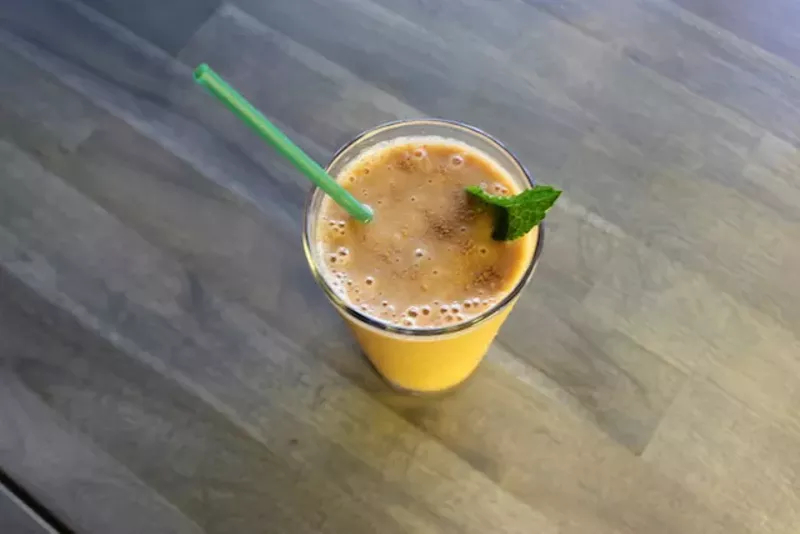 PHOTO BY SARAH FENSKE
The "Carrot Cake" smoothie includes bananas, carrot juice, dates, vanilla, cinnamon and nutmeg.
Try a "dog" for even cheaper — G&W hot dogs and sausages can be ordered Chicago-style, classic or even as a "Lou Dog," with Maull's BBQ sauce, Provel and Red Hot Riplets on a pretzel bun. None will set you back more than $5.75, chips included. Or try breakfast; there's a whole menu of both sweet and savory options, as well as a quartet of smoothies.
Schulze says he's been pleased with business so far. They're getting a sizable lunch crowd and a lot of travelers straight from the City Museum. And they're listening to their guests.
"We added ice cream to the menu yesterday," Schulze says. "We had to!"
Red Oak Eats 'n Treats is open Monday through Friday from 7 a.m. to 5 p.m. and Saturday and Sunday from 8 a.m. to 4 p.m. Scroll down for more photos.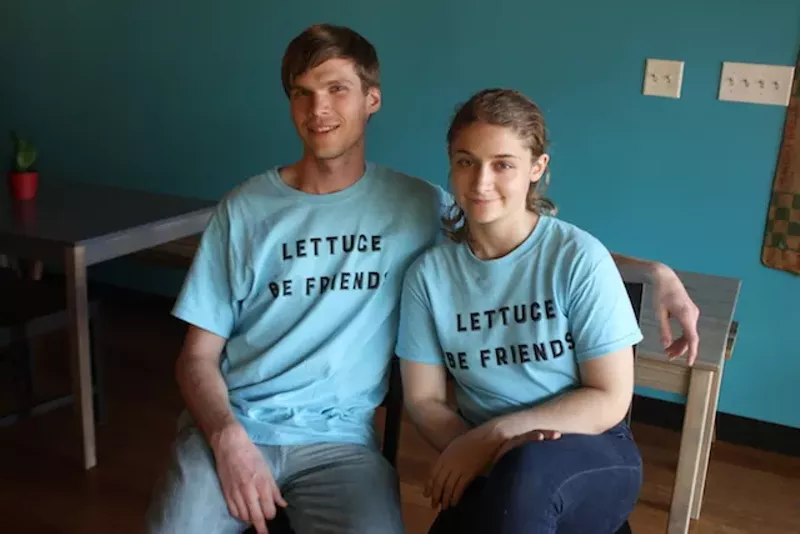 PHOTO BY SARAH FENSKE
Partners Derek Schulze and Maia Spertus-Melhus moved here from Chicago.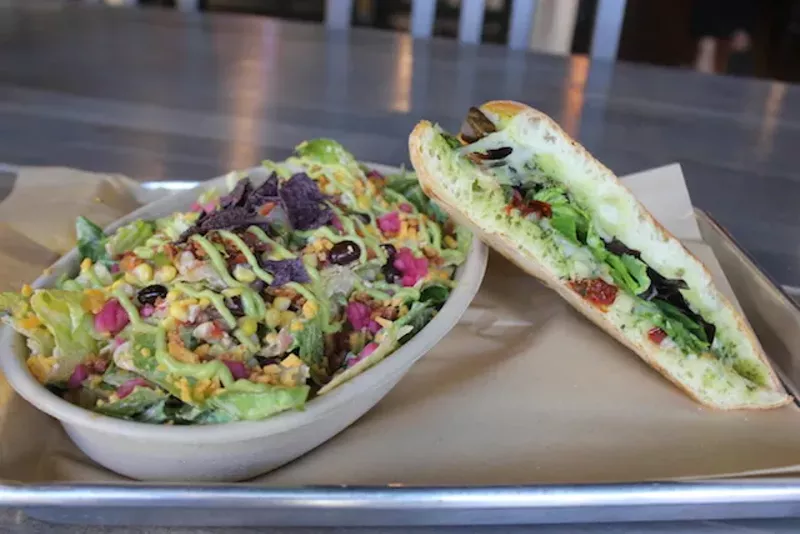 PHOTO BY SARAH FENSKE
The "Corn Belt" salad features sweetcorn grown by Schulze's mother; the basil in the Caprese sandwich is grown right in the store.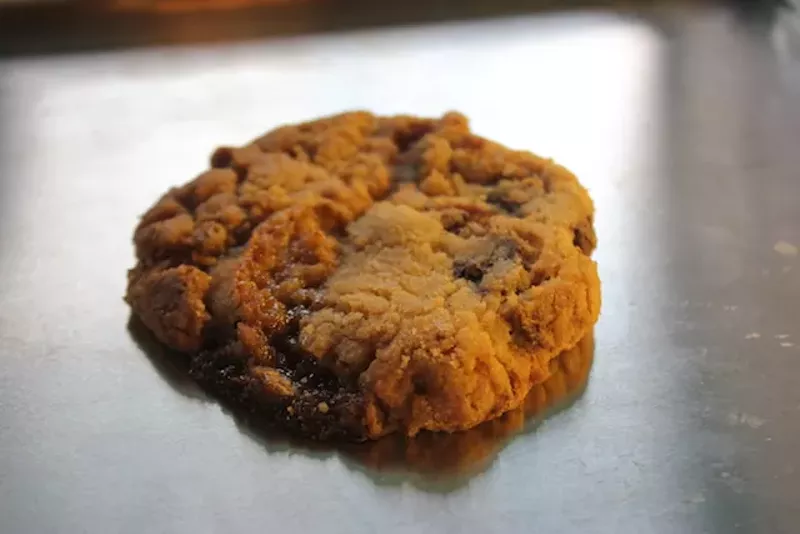 PHOTO BY SARAH FENSKE
Hungry? Try a cookie.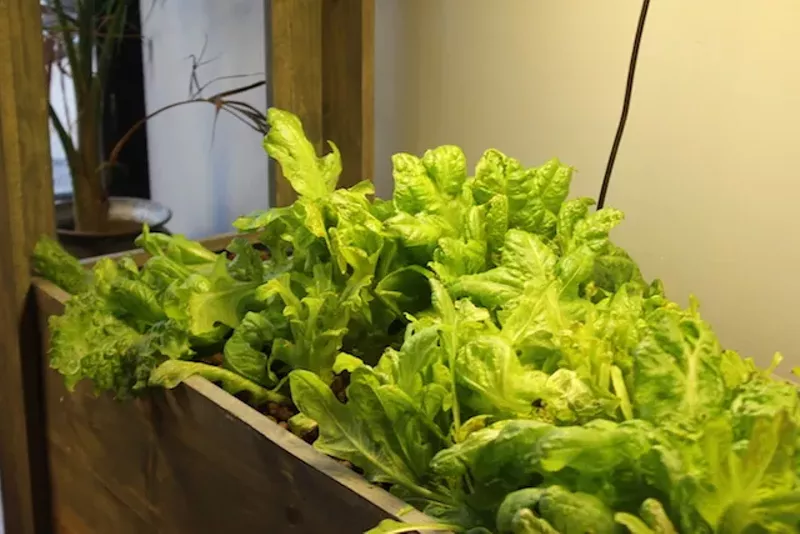 PHOTO BY SARAH FENSKE
Beds of lettuce keep the restaurant in greens.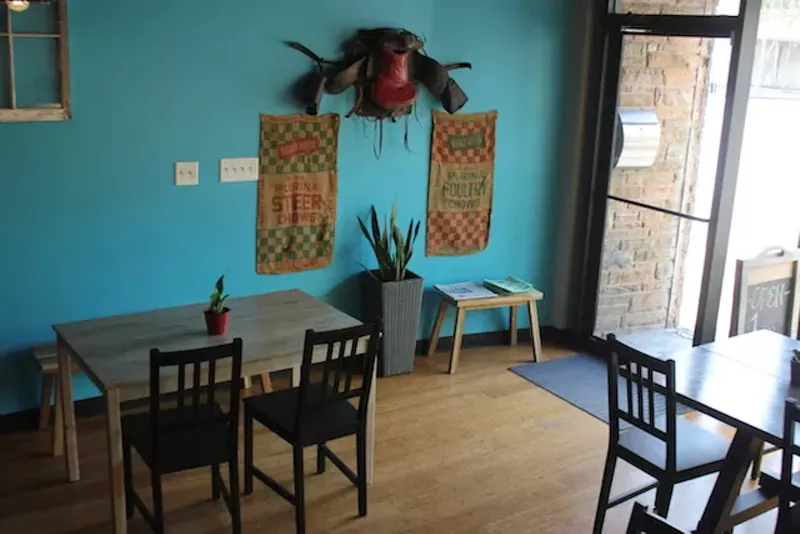 PHOTO BY SARAH FENSKE
Feed sacks decorate the walls.
PHOTO BY SARAH FENSKE
Customers order at the counter.
PHOTO BY SARAH FENSKE
The restaurant is located in the former home of A2 the GFCF, at Wash Ave and 14th Street.
We welcome tips and feedback. Email the author at sarah.fenske@riverfronttimes.com