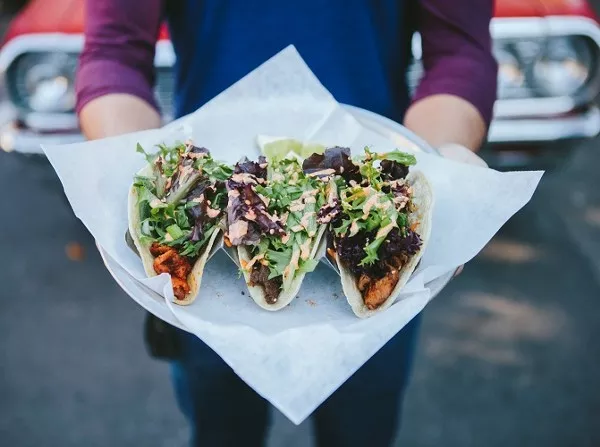 Photo by D.W. Johnson.
Seoul Taco.
If you love Seoul Taco and you live in west county, this is your lucky day: Another outpost of the Korean-Mexican eatery has just been announced for Chesterfield.
Owner David Choi announced today in a press release that he plans to open a new location this fall at 46 Four Seasons Shopping Center, just off Olive Boulevard and North Woods Mill Road. This will be the fifth location for the growing St. Louis-based restaurant chain, which also has locations in Chicago, Columbia and Champaign, Illinois, as well as a food truck.
And while you'll still be able to get the Korean-inspired tacos, burritos, quesadillas and nachos you love, there will be a bit of a difference in the interior of the Chesterfield location: it will be the first one that is home to work by both St. Louis and Chicago-based artists. Choi is again working with Chicago's Alex Morales of Smartmouth Design to create Seoul Taco's signature street-art inspired interior, but this time David Stavron of St. Louis-based Shellback Iron Works will design the furniture.
Choi said in a statement that he's looking forward to bringing Seoul Taco to Chesterfield.
"I was born and raised in Chesterfield and am a proud graduate of Parkway Central High School," Choi says. "Opening this store is a homecoming for me, I've excited to get back to my roots and have Seoul Taco become a part of the Chesterfield community."
The first Seoul Taco opened in the Loop in 2012.