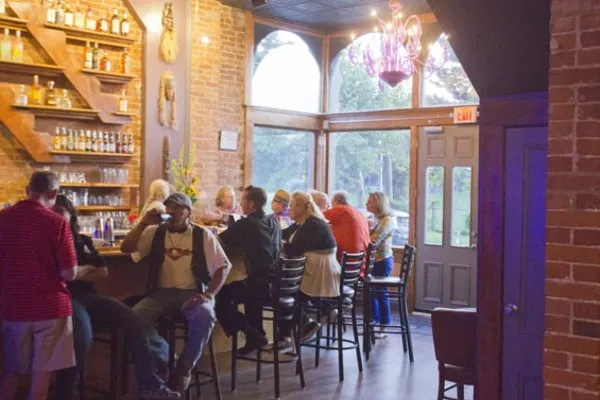 PHOTO BY SARAH FENSKE
Howards in Soulard opened in May 2015 after a gut rehab to the old Hi-Way Bar.
If you want to get one last drink at
Howards in Soulard
(2732 S. 13th Street, 314-349-2850)
, better act fast: The bar is closing its doors after service tonight.
In a
Facebook post this morning
, the bar's owner indicated that Sunday service would be its last.
"We have both a sense of pride for what we've accomplished, and also regret that we can't keep going... To those we have let down, we are so sorry for your disappointment. We are heart-broken about it too. For those who are proud of what we accomplished, Thank You. We are so grateful for the appreciation and support that made Howards in Soulard an award-winning, 28-month reality."
The bar opened in May 2015 after owner Judith Howard personally supervised a full gut rehab of the space that had previously held the Hi-Way Bar. That bar, which was open from 1969 to 2009, had been closed for years when Howard purchased the property and put blood, sweat and tears into a gorgeous remodel. In addition to cosmetic repairs,
she put in new sewer, gas and electric, as well as a new roof
.
The bar offered a low-key hangout for neighborhood residents resistant to the frat-tastic feeling of some nearby establishments. It also offered a great spot to hear live music, with
performers taking the stage three nights a week
, as well as during brunch on the weekends.
In the Facebook post, Howard writes that the bar will be listed for sale in the coming weeks. "We look forward to the next small business who decides to move in and serve our friendly neighborhood," she writes.
Her complete Facebook post is below:
We welcome tips and feedback. Email the author at sarah.fenske@riverfronttimes.com