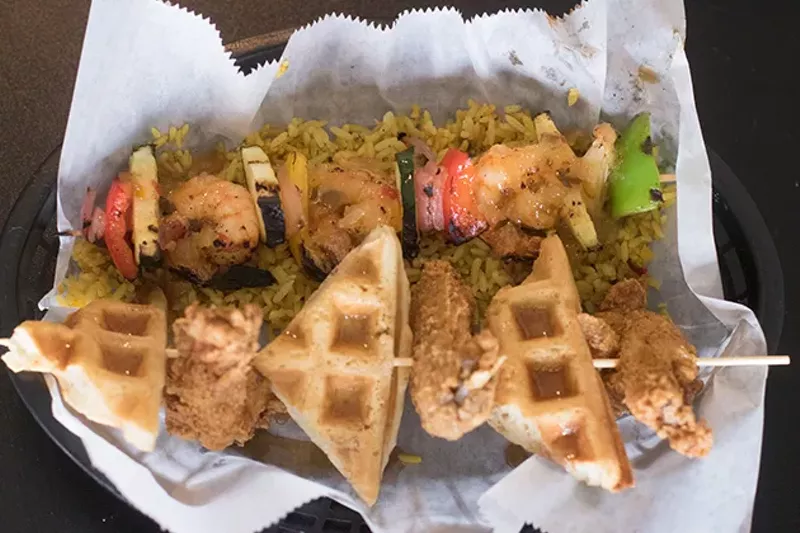 PHOTO BY TAYLOR VINSON
The "Chicken and Waffle" kabob, accompanied by a shrimp and veggie version.
Stix and Ice
(35 Florissant Oaks Shopping Center, Florissant), which opened in late May in Florissant, is a bar, family restaurant and a hang-out spot like no other. Its specialties: kabobs and daiquiris.
Owner Erika Wilkes is a marketing,
business
and technology teacher at Jennings Senior High by day. She says the inspiration is simple: "We found that you can get a kid to eat almost anything on a stick. That's where the name came from."
The restaurant's origins lie in the role that Wilkes' home plays as the "neighborhood house," the spot where kids come to eat and play while the adults talk with a spiked lemonade in hand. Stix and Ice
aims
to be a place where anyone can come to eat, have a drink, listen to the music they like, take pictures in the photo booth and smoke hookah, all under one roof.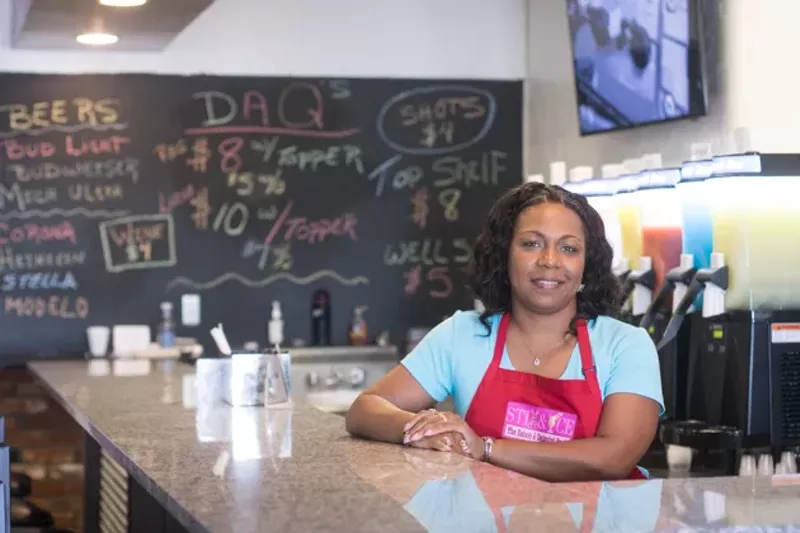 PHOTO BY TAYLOR VINSON
Erika Wilkes, Stix and Ice owner
The place offers house-made kabobs, with two skewers over a bed of seasoned rice for $8. Chose between chicken, shrimp, beef, and/or veggies. Specialty kabobs, like the customer favorite "Chicken and Waffles," which comes drizzled with syrup, are $9.
The
daiquiri
menu consists of drinks like "the Atomic" (grape, rum, tequila, vodka), "the Royal Hulk" (sour apple, apple whiskey with Crown Apple) and "the Angry Smurf" (blueberry, vodka). Non-alcoholic flavors are available, too. Add a shot to your
daiquiri
known as a "topper" to get the full effect. Drinks are $8 for the small or $10 for the large.
PHOTO BY TAYLOR VINSON
"Royal Hulk" daiquiri with Crown Apple topper
The customer service is the cherry on top. Erika Wilkes considers Stix & Ice "a Wilkes family-run business," and makes sure to help everyone feel at home. She often comes out of the kitchen to speak directly with guests about their experience and how the restaurant can work to make things better. Customers have even helped add to the menu. "We had someone that created a drink," she says. "They wanted every single flavor in one cup. We said OK." Now that drink is called "the Rainbow."
The space,
which is located in the Florissant Oaks Shopping Center strip off Lindbergh, is a warm and inviting atmosphere with large windows and a spacious layout.
Stix and Ice
is
open for lunch noon to 11 p.m. Tuesday through Thursday, noon to 1 a.m. Friday and Saturday and noon to 10 p.m. on Sunday. After 9 p.m., it's adults only.
Happy hour, held from 5 to 7 p.m., includes $4 mini kabobs and all drinks and spirits $1 off, as well as two-for-one well drinks. Stix and Ice also offers a loyalty card, in which customers receive a free daiquiri after six purchased ones.
Says Wilkes, "This is your spot. It's what you make it. You can change the juke box station. You can skip ahead if you don't like what's on." It's truly her goal to make everyone feel like Stix and Ice
is
their ultimate chill spot.