PHOTO BY SARAH FENSKE
A "bing" stuffed with ham, cucumber, egg, tomato and lettuce.
The newest restaurant to open in the Loop,
Bing Bing
(567A Melville Avenue, University City; 314-669-9229)
, has done zero advertising. It doesn't have a sign out front. And even if it did, it's hard to imagine anyone would see it — its small storefront,
previously home to Moya Grill
, is just far enough from the bustle of Delmar to miss out on pedestrian traffic.
But clearly, partners Yong Liu and Yijun Chen are doing something right: At lunch time, the place has been packed, with a host of Chinese students eager for a taste of home.
Bing Bing is unique in the St. Louis area in that it offers crepes — savory Shanghai-style crepes, stuffed with everything from fried fish to barbecue pork. In China, they are called
jianbing
, or
bing
for short, and as Eater.com reported in 2016, they
are taking the U.S. by storm
. Specialty bing restaurants have popped up in New York, San Francisco and Portland, Oregon.
In fact, that profusion has already affected Bing Bing. Liu and Chen printed their first set of menus with a different restaurant name, Mr. Bing, before realizing they needed to avoid confusion with the shop of the same name in New York City. But for ex-pats eager for a taste of home, word of their concept has spread quickly.
"All the Chinese, they've been really excited," Liu says. Still, he's not getting ahead of himself: "It's a new thing in St. Louis, so a lot of people might not even try it." After just a few weeks of business, he and Chen are almost done with a new menu that will increase the number of non-bing options — in addition to the half-dozen appetizers on the menu, you'll be able to order Japanese-style skewers and four different types of soup.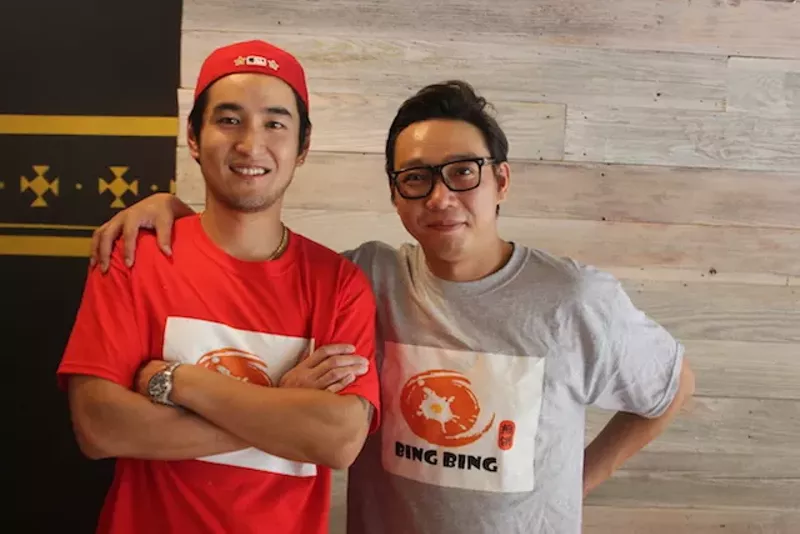 PHOTO BY SARAH FENSKE
Chef Yijun Chen, left, and business partner Yong Liu.
The restaurateurs have both been in the area for more than a decade. Liu, who also works as a hairstylist, came with his family from the Hong Kong area. Chen, whose family owns a Chinese restaurant in Fenton, is from Shanghai.
Liu says he first tasted bing on a recent trip to Shanghai and was blown away. He's in charge of the front of the house; Chen, who serves as the restaurant's chef, has a longer history with bing. "He's eaten them since he was a child," Liu says.
In addition to a series of appetizers, Bing Bing offers creative beverages, including Aurora tea that comes from the butterfly pea flower. The pretty iced drinks come with two colors; customers are instructed to give the sealed glass a few good shakes to mix things up. Or you can try salted lemon tea or Thai tea, served in a charming lightbulb-shaped vessel.
The place is largely unchanged since its days as Moya, with a clean, stylish look and counter service. The striking murals on the wall suggesting Ethiopian women, however, have now been joined by a maneki neko cat on the counter. Diners excited about the neighborhood's new restaurant should cross their fingers that it will bring good luck.
Bing Bing is open seven days a week from 11 a.m. to 9 p.m. Scroll down for more photos.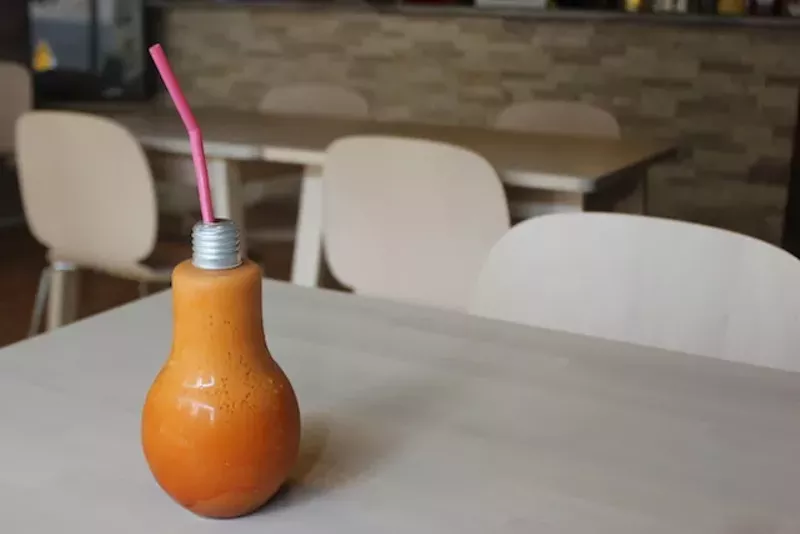 PHOTO BY SARAH FENSKE
Thai tea is served in a container shaped like an lightbulb.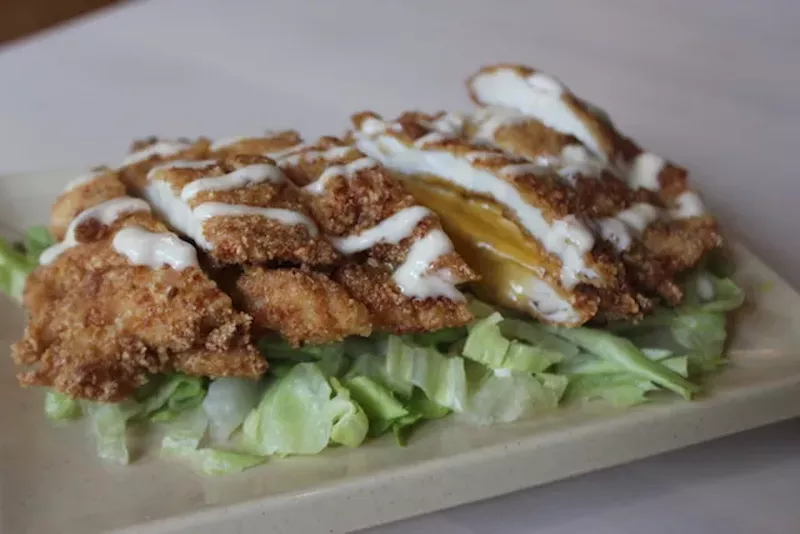 PHOTO BY SARAH FENSKE
"Volcano Chicken," one of the most popular appetizers, is fried chicken stuffed with American cheese.
PHOTO BY SARAH FENSKE
Pork kushiage, or skewers, are a new addition to the menu.
PHOTO BY SARAH FENSKE
Aurora teas, such as the passion fruit shown here, are meant to be shaken.
PHOTO BY SARAH FENSKE
Diners order at the counter and a server brings food to your table.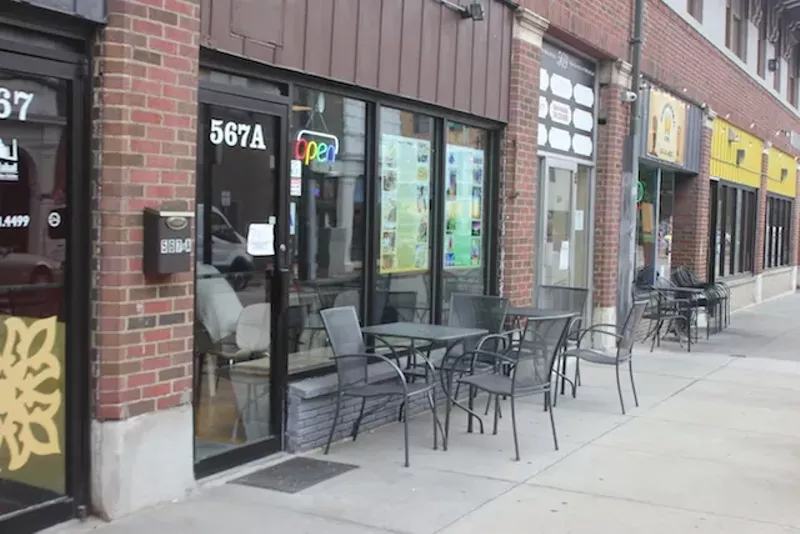 PHOTO BY SARAH FENSKE
The sign isn't up yet, but Bing Bing has taken over the spot that previously held Moya Grill.
We welcome tips and feedback. Email the author at sarah.fenske@riverfronttimes.com