Photo by Mabel Suen.
Toasted Ravioli at Dado's Cafe.
St. Louis' signature foods are about to get their moment of fame on a national television show.
On Friday, September 8, cable and satellite channel INSP will air an episode of
State Plate
highlighting the foods of St. Louis. The show, now in its second season, features host Taylor Hicks as he travels across America uncovering the people and stories behind each state's "iconic" foods.
If Hick's name sounds faintly familiar, it just might be — Hicks won the fifth season of
American Idol
. According to a press release, the Missouri episode follows the performer as he "tastes his way across Missouri on a quest to assemble a place of the state's most iconic foods." And guys, it sounds pretty darn dramatic.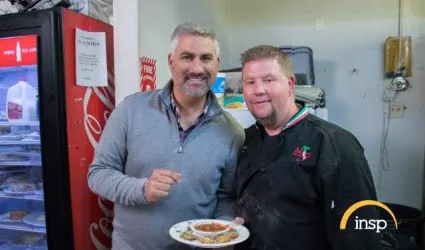 Photo courtesy of INSP.
State Plate host Taylor Hicks poses with Lance Ervin of Mamma's on the Hill — and a plate full of toasted ravioli.
The episode will start with Hicks venturing to "one of the oldest Italian neighborhoods in St. Louis, where they prefer their ravioli toasted" (don't they realize that we
all
prefer our ravioli toasted?). Hicks then "crashes a cook-off" to find the best barbecue pork steak, followed by his learning "the secret" to pork and beans, whatever that means. It's all topped off with Hicks experiencing the glory of gooey butter cake and a waffle cone with ice cream.
"It's a heaping helping of the Show Me State's most historic and delicious foods," the release declares.
The summary doesn't outright say if Hicks ever makes it to Kansas City — or any other Missouri city for that matter — so we're not sure how deep into Missouri he truly goes. But hey, with all the iconic food worth trying here,
who needs to go any further
?
You can see the episode for yourself 8 p.m. ET. For more information about
State Plate
, visit
INSP.com
.