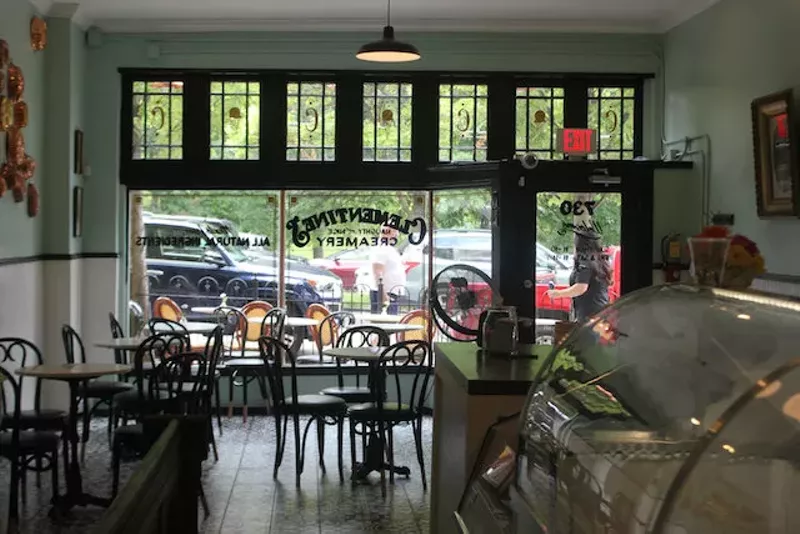 On July 4, Tamara Keefe opened the second outpost of
Clementine's Naughty and Nice Creamery
(730 De Mun Avenue, Clayton; 314-858-6100)
— a storefront in the leafy De Mun neighborhood, alongside the De Mun Oyster Bar, Sasha's Wine Bar and other local favorites.
Eager customers flocked to the ice cream shop. But on July 5, Keefe keyed in to the store to find every restaurateur's worst nightmare — the air conditioner had broken. Unable to handle the demands of the creamery and its customers, it will need to be replaced.
But only a sadist (or maybe, considering the potential for profit, a masochist?) would keep the doors shut to an otherwise fully functional ice cream parlor on a hot week in July. On Friday, Keefe and her staffers were making do with smaller units and fans.
"We have no choice," she says.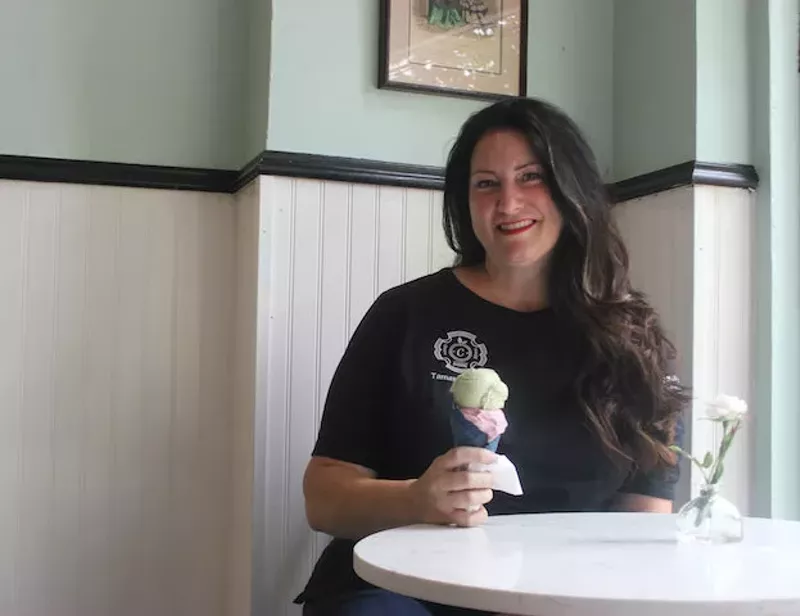 PHOTO BY SARAH FENSKE
Tamara Keefe.
The good news is that the new shop remains cool enough to enjoy a frozen treat, and the parlor is a gem. It's as good-looking as its older sister, which opened in Lafayette Square in 2015 — and significantly bigger.
The place is formerly a beauty salon, but you'd never suspect those humble roots today. White wainscoting pairs with soft blue-green paint, while black provides sharp accents. Large windows look out on De Mun, with Parisian-style sidewalk seating in a street-facing patio outside and another handful of tables inside.
As at the Lafayette Square flagship, customers can choose from naughty (meaning boozy) scoops like soju melon, maple bourbon and summer shandy or nice (meaning alcohol-free), including gooey butter cake, Madagascar vanilla and "Salted Crack Caramel." Keefe has built a big following by offering ice cream that's significantly creamier than her competitors, with an average of sixteen to eighteen percent butterfat. And yes, it's just as good here as at the original location.
So if you're in the De Mun area, you might as well drop by and see what the fuss is about. Get a scoop to eat on that lovely sidewalk or a pint to take with you. And hey, unlike at the Lafayette Square original, you have the option to dine inside, too. Until that A/C system is replaced, though, don't expect the temperature to be Arctic frigid. Hey, wouldn't you rather have Clementine's open and serving up ice cream?
PHOTO BY SARAH FENSKE
Eventually, flavors will be listed on a chalkboard behind the counter, just like its sister store.
PHOTO BY SARAH FENSKE
Flavors are either naughty or nice.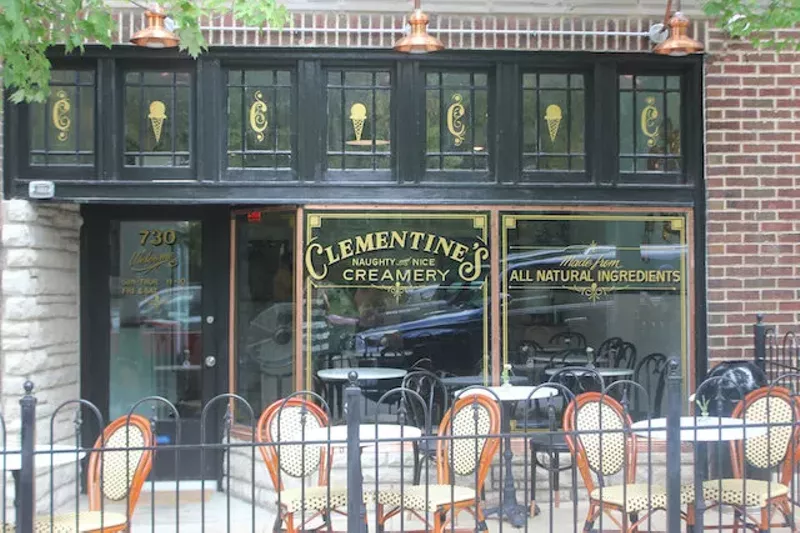 PHOTO BY SARAH FENSKE
Seating faces the street, as in Paris.

We welcome tips and feedback. Email the author at sarah.fenske@riverfronttimes.com