A rainbow of fresh-pressed juices at The Juice | Sara Graham
The Juice (2640 Cherokee Street) is bringing fresh-pressed vegetable and fruit juices to the Cherokee district. Co-owned by longtime friends John Randall, Carter McKee and Steve Miles, the bar also offers frescas, a small food menu and late-night hours.
The concept was inspired by the plethora of juice bars and juice trucks in Los Angeles. And after a friend introduced him to the unique culture of the Cherokee Street neighborhood, Randall knew it was the ideal location.
"It's a beautiful place," he described. "It's an incubator for new ideas. The supportive community is also very conducive to do-it-yourself projects. People really help each other out here. It's also so much more colorful than other parts of St. Louis with the Latino culture and food."
The juice menu features carrot, beet, cucumber, celery, orange, apple, grapefruit, pineapple, lemon and lime juices – available individually, in combination and with the addition of ginger, wheatgrass, pressed turmeric, fresh greens, guarana, spirulina, chia seeds, hibiscus, matcha or pea or whey protein. Twelve or sixteen-ounce options are available.
Described by Randall as a lighter alternative to the heartier juice menu, aqua frescas — which combine fruit, sugar and water — are available in raspberry and cantaloupe.
A short food menu includes the bar's signature item – a unique spin on the traditional gyro, only made with a sweet crepe. Other options include hearty bagel sandwiches (try a caprese, a salami melt, or an egg and cheese with sausage, bacon or ham) and dessert crepes with whipped cream and almonds (strawberry and raspberry jam, banana and Nutella and strawberry banana split). "The breakfast-all-day offerings fill the need for a neighborhood diner," explained Randall.
Halal gyro crepe with tomato, tzatziki and feta | Sara Graham
Not only will you deliver a shot of nutrients to your system, you can also feel good about cocktail hour. Randall's vision was to offer something different than traditional juice bars. The addition of alcohol allows the space to transform into a bar scene atmosphere in the evenings.
The menu includes a dozen cocktails that help you navigate a likely unfamiliar world of juice and spirits combinations, as well as a build-your-own option for the more adventurous.
The concept has been open since May 1, and Randall says business has been good, especially on the weekends: "It's better than we anticipated." The juice bar already has a loyal following of regulars that come in several times a week to grab fresh juices to go.
The Juice is open Monday through Saturday from 10 a.m. to 1:30 a.m. and Sunday from 10 a.m. to midnight.
Scroll down for additional photos of the menu and location.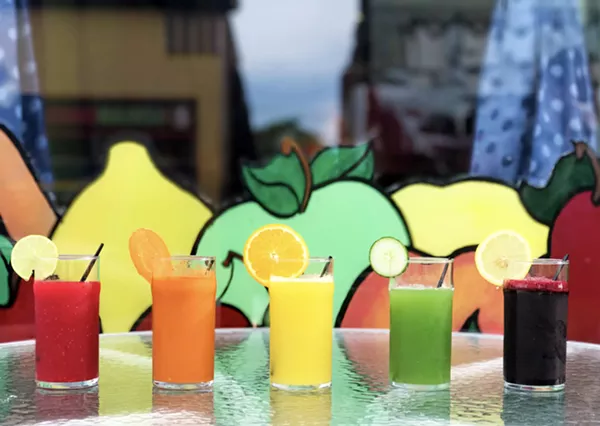 A rainbow of fresh-pressed juices at The Juice | Sara Graham
Salami melt with provolone cheese, cherry peppers and mustard on a pretzel bagel | Sara Graham
<!—————StartFragment—————>
Follow Sara Graham on Instagram and Twitter at @engagetaste. E-mail the author at sara@engagetaste.com.