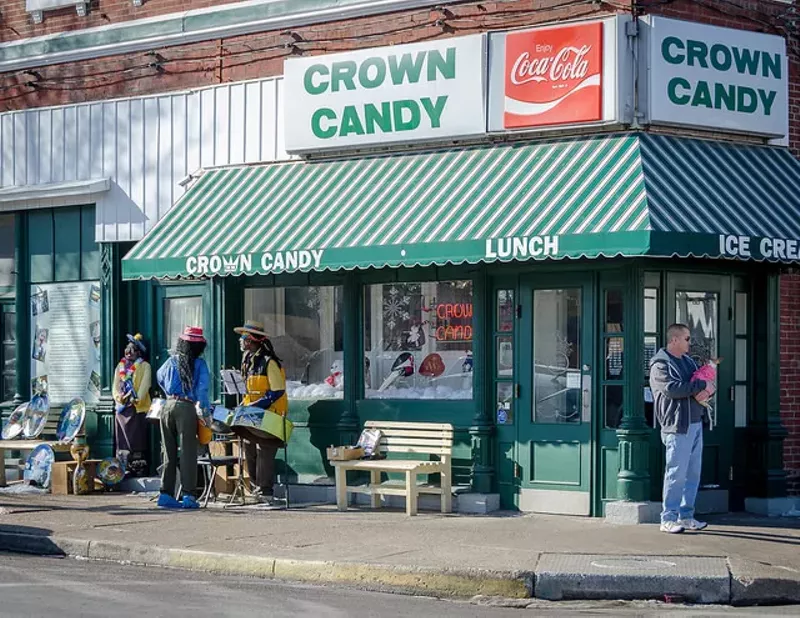 PHOTO COURTESY OF FLICKR/KEITH YAHL
Crown Candy Kitchen: A must-visit in St. Louis.
If you want to eat well in Missouri, you'd better be prepared to spend a
lot
of time in St. Louis.
That's the gist of the
Food Network's lengthy, and well-researched, roundup of "What to Eat in Missouri."
The gallery, published yesterday, praises more than two dozen great options in the St. Louis dining scene — from cheese curds at Taste Bar to
"the Darkness" croissant at La Patisserie Choquette
to the pizza at, yes, Imo's. Other highlights include Ted Drewes' frozen custard, toasted ravioli at Salt + Smoke, bacon-fried cornbread at Reeds American Table, the hot salami at Gioia's Deli, the smashed burgers at Carl's Drive-In (yum!) and even beloved local snacks Red Hot Riplets and Vess Soda.
But we were left wondering one thing: Where the heck is Kansas City?
Indeed, of the
32 things the Food Network recommends in Missouri
, a whopping 29 are in St. Louis and its immediate suburbs. The only things noted elsewhere in the state are the burnt ends at Joe's and the cinnamon rolls at Stroud's, both Kansas City classics, and then the goat cheese made by Baetje Farms near Ste. Genevieve. The Food Network may not have meant its list as a sick burn, but let's face it: Upon inspection, it certainly feels that way.
Now, there are two ways to look at this.
A) St. Louis' dining scene is so superior to Kansas City's, there's simply no reason to pay more than bare-bones lip service to our neighbor to the west.
B) The Food Network mavens began their scouting trip in St. Louis and found so many wonderful things, they were simply too full to keep traveling.
Feeling charitable, we're going to go with (B). Really, once you've gorged on everything from Hen of the Woods mushrooms at Publico to rabbit at Sidney Street Cafe to the "Mother Clucker" at Byrd & Barrel, do
you
feel like a long drive?
Viewed that way, this St. Louis-focused listicle is no dis to Kansas City, much less Springfield or Columbia or St. Charles or even Sikeston and its famous throwed rolls. It's just a matter of finding every last thing you'd
ever
want to eat in one compact metro area .... a problem we locals live with every day. Take it from any gourmand in St. Louis: It's hard to be surrounded by food this fabulous.
We welcome tips and feedback. Email the author at sarah.fenske@riverfronttimes.com