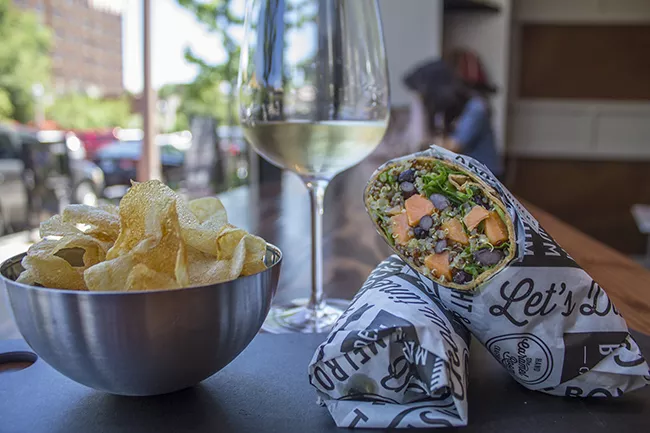 SARA BANNOURA
Handcrafted by Bissinger's quinoa wrap comes with a side of chips or fruit.
For ten years, Bissinger's storefront on Maryland Plaza has been the city's go-to spot for dessert and a drink. You could mosey on in after dinner and have a chocolate martini or a slice of torte, a glass of wine or a trio of truffles. Everything centered around the St. Louis-based chocolatier's signature product.
Last week, Bissinger's reopened as a more flexible dining spot:
Handcrafted by Bissinger's
(32 Maryland Avenue, 314-367-7750)
. You can still get the chocolate fondue or the double-chocolate bread pudding. The difference is that now you can have a sandwich — and still eat your cake, too.
The cafe is just the latest addition to Bissinger's growing empire. In 2014, the chocolatier opened one special event space (the Caramel Room) and acquired another (Lumen). It formed a new company, 23 Blocks City Catering, to handle the food for both spaces, and hired acclaimed chef Nick Miller, formerly of Harvest, to run it. Now 23 Blocks is providing food at Handcrafted as well. (Savvy Surroundings did the facelift on the space.)
Amanda Bradham-Little, the vice president of marketing + events for 23 Blocks, says customers have been enjoying the cafe's newfound versatility. "They're loving the food, loving the atmosphere, and loving that breakfast is back in the Central West End," she says. "With other restaurants shuttered that filled that need, it's now a great place to swing by and grab coffee, and something to eat too." Options include nitrogen-infused cold brew coffee, quiche by the slice or, yes, a Bissinger's chocolate croissant.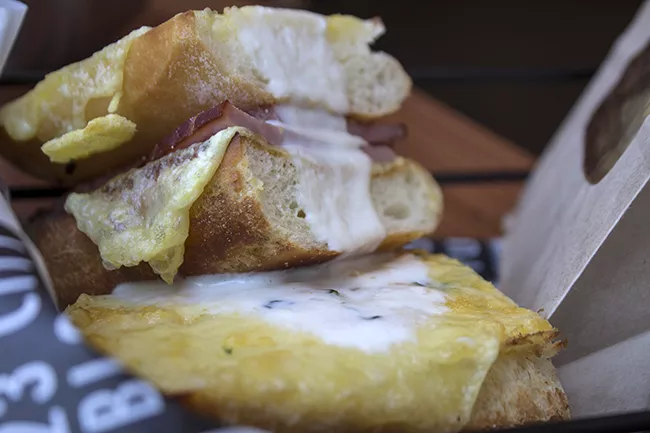 PHOTO BY SARA BANNOURA
The Croque Monsieur is topped with melted gruyere.
At lunch, a host of coffee drinks are joined by sandwiches, salads and soups. A half-sandwich and half-salad lets you pick your combination for $12.
The menu is tightly curated. The Croques Monsieur and brisket sandwich are both options for meat lovers, while vegetarians will opt for the quinoa wrap, which is filled with arugula, black bean, micro cilantro and sweet potato in addition to the newly stylish grain. Quinoa reappears in the quinoa kale salad, which also stars roasted peppers, cucumbers, pickled shallots and feta. A Cobb and garden vegetable salad serve as options for the less adventurous. After 4 p.m., you can order from a menu of shareables, including flatbreads.
But the biggest innovation at Handcrafted may well be the wine wall. A selection of 24 bottles are connected with self-service taps, allowing visitors to try two, four or six-ounce pours without needing to involve a server. Bradham-Little marvels at the wide variety of options, laughing, "We built a wall!" She adds, "I love putting the guest in control of their own wine destiny."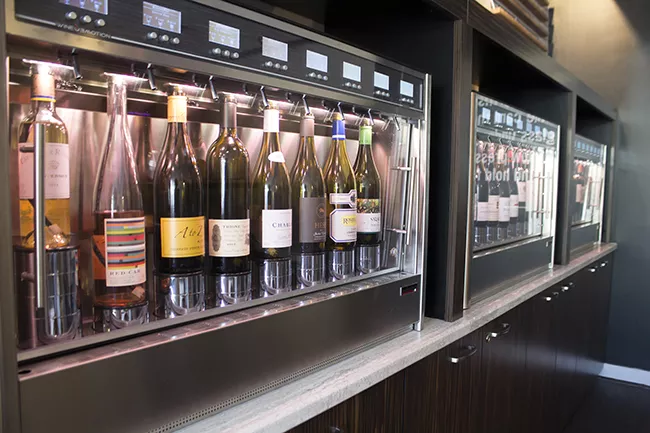 PHOTO BY SARA BANNOURA
Twenty-four bottles are connected to a self-pour system.
Handcrafted is now open daily, with hours from 7 a.m. to 11 p.m. Monday through Thursday, 7 a.m. to 12:30 a.m. on Friday, 8 a.m. to 12:30 a.m. on Saturday and Sunday from 10 a.m. to 10 p.m.
Scroll down for more photos.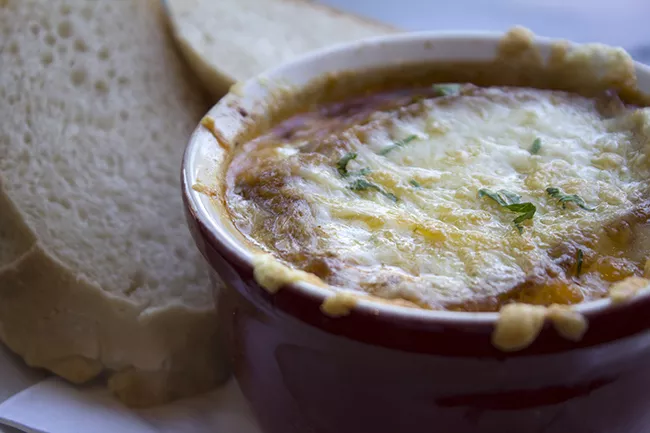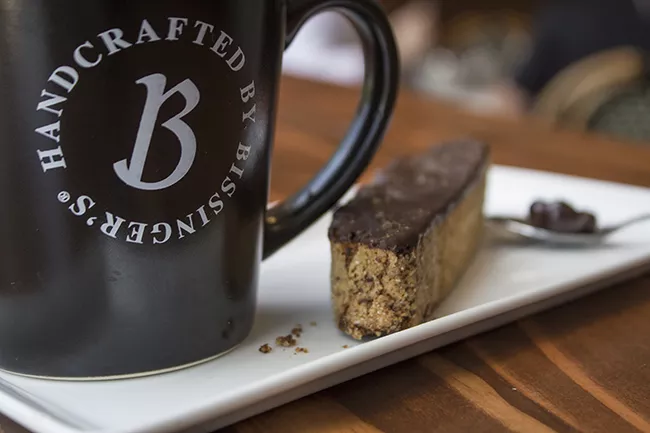 We welcome tips and feedback. Email the author at sarah.fenske@riverfronttimes.com