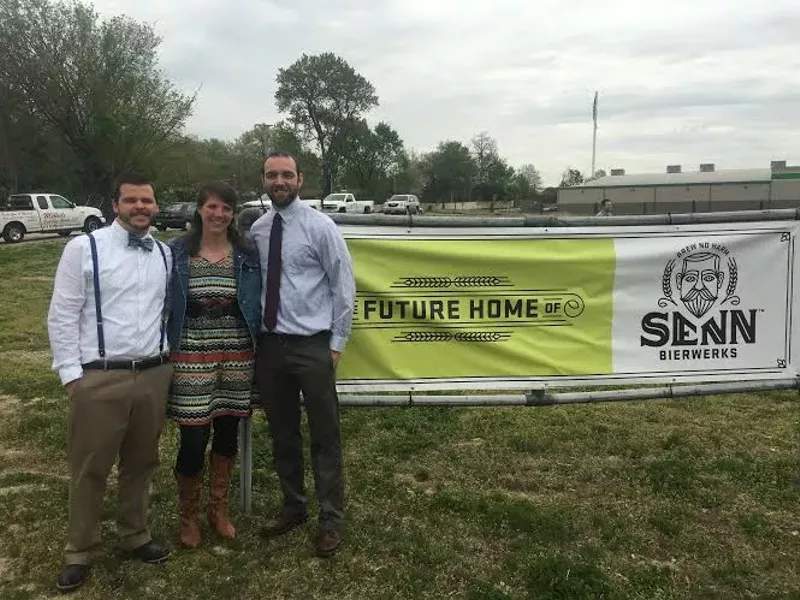 Cheryl Baehr
Senn Bierwerks founders (from left to right) Dustin Chalfant, Kristen Chalfant and James Hellmuth.
Senn Bierwerks, which planned to open a brewery, tasting room and restaurant in University City's Olive Link district in the spring of 2017, announced yesterday that the project will not go forward. The announcement was made via the brewery's
Facebook page
.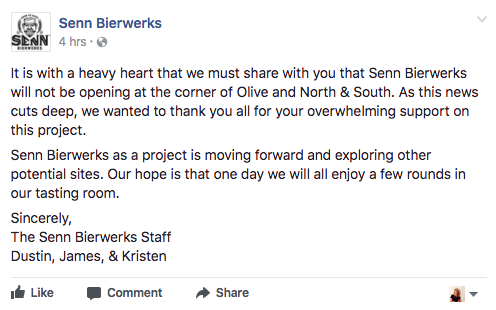 The
RFT
's Cheryl Baehr spoke to Senn's principals Dustin Chalfant, Kristen Chalfant and James Hellmuth at a
2016 press conference
announcing the location of the brewery. At the event, University City Councilman Rod Jennings Sr. praised the planned brewery as "a catalyst for the neighborhood."
The trio have not given up, however. Their announcement stressed that the project is "moving forward and exploring other potential sites."
The brewers didn't explain why they'd abandoned the site. As recently as April, partner Dustin Chalfant suggested to the City Council that the project was still a go — telling City Council they'd recently closed on the property. The partners had planned a 2,500-square-foot production facility as well as a 2,500-square-foot tasting room. Chalfant told the council that site plans had been submitted; after six to eight months of construction, they should be ready to go.
News of the closing was first reported by the
Post-Dispatch
's Ian Froeb.