PHOTO BY SARAH FENSKE
Bruschetta may feature smoked salmon or roasted garlic and red peppers.
The first thing that may surprise you about
Charleville Brewing Company & Tavern
(2101 Chouteau Avenue, 314-241-4677)
is just how big it is. Heading east on Chouteau from Jefferson, the low-slung building you spy out of the corner of your eye just before the massive complex housing Vin de Set and PW Pizza might look small, even vaguely industrial.
Appearances, clearly, are deceiving. Turn onto 21st Street, and you'll see not only the length of the building, but also its private parking lot and sizable patio. And that's only the beginning: Inside you'll probably be struck anew. The restaurant is 5,000 square feet, with a seven gallon brewing system and a light, bright room that can easily seat 100.
The brewpub, officially located in Downtown West but literally on the edge of Lafayette Square, is a spinoff of
Charleville Vineyard & Microbrewery
, which has operated in Ste. Genevieve since 2003. But the people behind this venture aren't country folk who've stumbled into the big city. Not only have Jack and Joal Russell been selling their beer in St. Louis longer than most of the area's craft breweries have been in existence, but they've also opened their St. Louis restaurant and brewpub in partnership with some of the savviest restaurateurs in the city:
Paul and Wendy Hamilton
.
It was the Hamiltons who brought Charleville to this location, previously home to a truck parts company, says Tait Russell, who is the son of Charleville's founders and director of operations in St. Louis. Charleville had long distributed in St. Louis, but as the craft beer craze began to grip the city, with seemingly new breweries coming online monthly, it became harder to compete. While the Russells considered themselves part of the St. Louis market, the market no longer felt the same way. To keep from getting boxed out, the family started thinking about putting down St. Louis roots.
"We'd been looking at a few other spots in Midtown and the Grove," he says. But when they approached the Hamiltons to see if they'd be interested in partnering on the food component, the whole thing came together much more quickly. "It was a great, serendipitous meeting," Russell recalls. "They said, 'There's a building we're thinking about buying — would you want to go look at it?'"
That building was basically next door to the couple's restaurant juggernaut, which now includes not only PW Pizza and Vin de Set but also the 21st Street Brewer's Bar and the Moulin events space (the Hamiltons also own Eleven Eleven Mississippi, which is right down the street). But proximity to the rest of the empire wasn't the only appeal, Russell says. "Right when we walked in, I said, 'This could work,'" he recalls.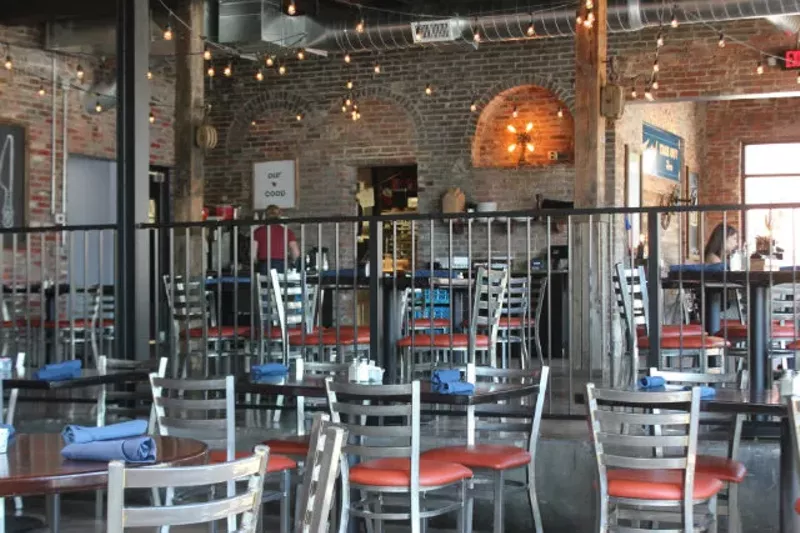 PHOTO BY SARAH FENSKE
Exposed brick and industrial-style ductwork give the room a rugged look.
After renovations to open up the space and add big windows facing Chouteau, the room more than works. It manages to be both attractive and completely unintimidating — perfect for a business lunch but also a beer after the game or dinner with the family.
Russell says that's exactly the goal. "I want it to feel like anyone is welcome to come," he says. "I don't want it to be snooty or snobby or turning people off because they're new to beer. We want everyone to be able to find something they like."
Unlike other breweries in town, that "something" isn't just beer. Charleville also serves its own wines, which may be a pleasant surprise if you associate Missouri grapes with overly sweet varietals. They also serve a limited selection of booze, which stemmed from a desire to serve bloody marys at brunch but has since grown to include a curated list of local spirits.
There's also a full menu — not just bar snacks, and not just sandwiches and salads, but a selection of creative bruschettas, hand pies and a half-dozen "big ole plates," which are just as described. Ranging in price from $13.99 to $15.99, they include your choice of side and hearty servings of options that include a smoked fried half-chicken and a bacon-wrapped meatloaf. Vegetarians may be thrilled to discover a great option for them, too: A crispy cauliflower latke, topped with a terrific green goddess sauce, roasted red peppers and wild mushrooms.
The Hamiltons' executive chef, Ryan Luke, is in charge here too; Matt Allsup, who was previously sous chef at Eleven Eleven Mississippi, now runs the kitchen day-to-day under Luke.
PHOTO BY SARAH FENSKE
The crispy cauliflower latke is a fried cake combined shredded potatoes and cauliflower.
For dessert, you could try an individual apple pie, which is pleasantly crumby and served delicious warmed, topped with ice cream for $6.99. Or you could just drink your calories. The Russells started brewing on site last week, and the smell of hops is pungent in the air.
Unlike most brewers, though, they aren't facing a learning curve. The seven-barrel system in St. Louis is the same one Charleville previously used in Ste. Genevieve. They upsized years ago to a 30-barrel system to keep up with demand, Russell says, but the smaller system is well-known to them, and one they're happy to be back to using.
"That's our workhorse," says Russell of the larger system at the Ste. Genevieve flagship. Of St. Louis, he notes, "This is our playground." Friendly and filled with something for everyone, Charleville Brewing Company & Tavern just might become yours, too.
Charleville is open seven days a week, beginning at 10 a.m. Saturday and Sunday and 11 a.m. on weekdays. The kitchen is open until 9 p.m. weeknights and Sunday and 10 p.m. Friday and Saturday, with bars hours until 11 p.m. on weeknights and midnight on Friday and Saturday.
Scroll down for more photos.
PHOTO BY SARAH FENSKE
An L-shaped bar dominates sits to the side of one of the seating areas.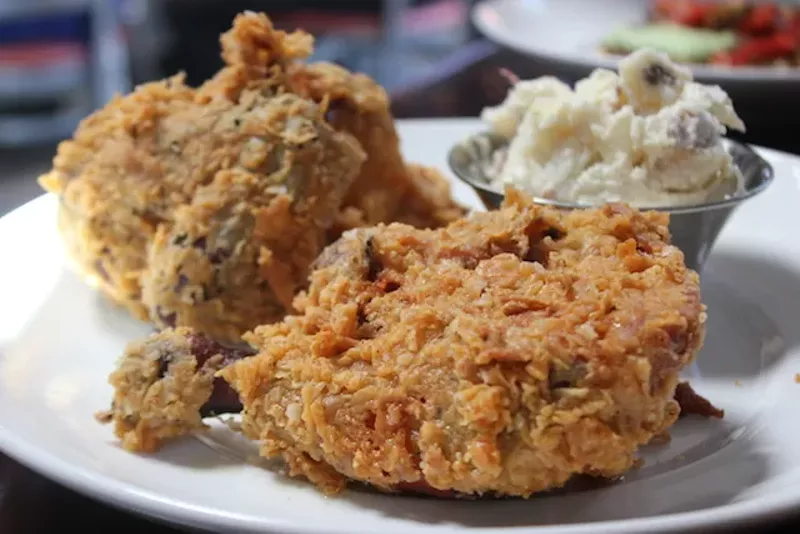 PHOTO BY SARAH FENSKE
The smoked fried half-chicken comes with a side of your choice. Try the bacon-potato salad.
PHOTO BY SARAH FENSKE
A chopped baby romaine salad comes dressed in creamy ranch.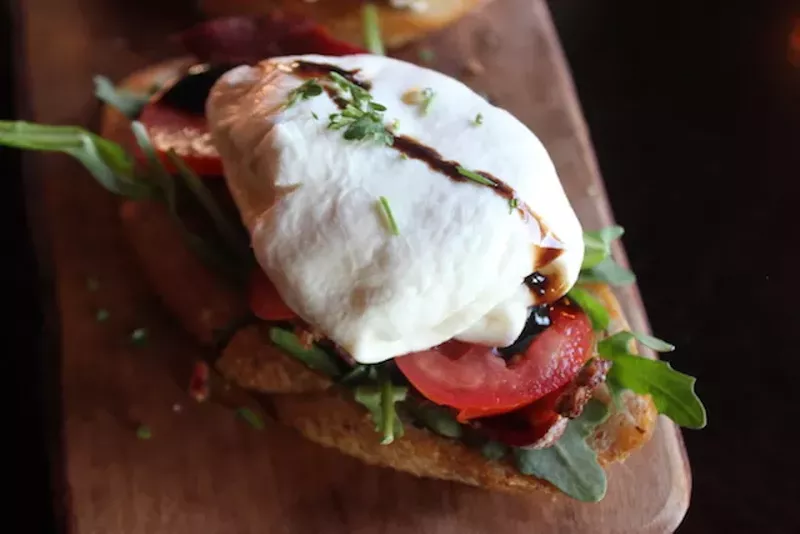 PHOTO BY SARAH FENSKE
You'll have to knife-and-fork your burrata-topped bruschetta, but that's OK.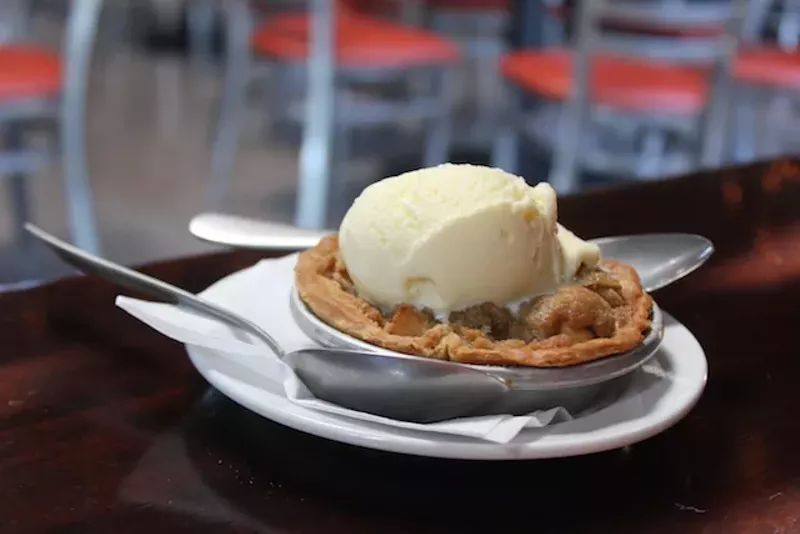 PHOTO BY SARAH FENSKE
Apple pie, a la mode of course.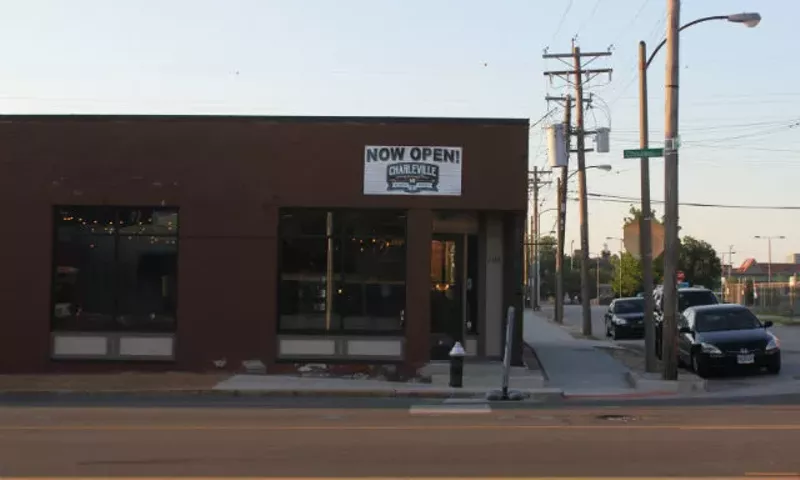 We welcome tips and feedback. Email the author at sarah.fenske@riverfronttimes.com