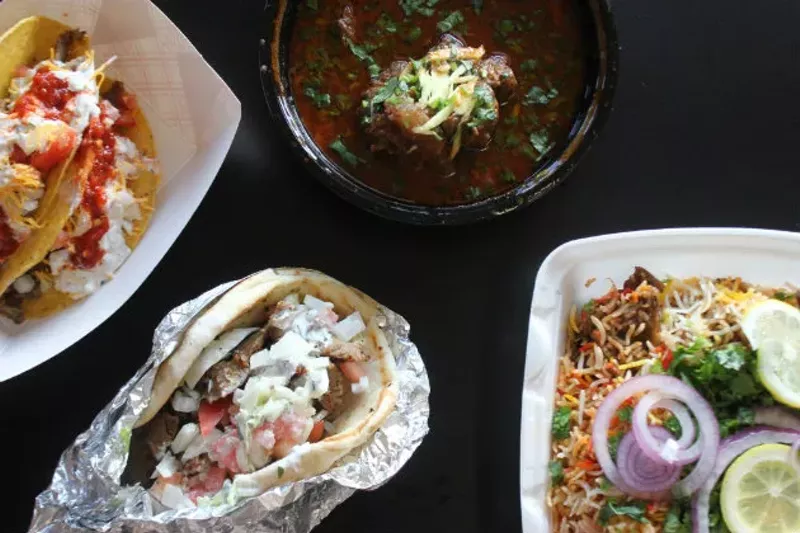 Cheryl Baehr
Mideast Market isa hidden gem in Ballwin.
A man clad in khakis and a purple gingham shirt reaches out to embrace owner Rashed Kazmi. It's an exchange the owner of
Mideast Market
(14345 Manchester Road, Ballwin; 636-230-7010)
experiences on a daily basis. "This man is killing it with his food," the man exclaims to no one in particular as he heads to the counter to order his usual: vegetable samosas and chicken karahi, with fresh jelebi for dessert.
The man's enthusiasm is emblematic of many of Mideast Market's customers. Since 2011, the south Asian and Middle Eastern grocer has been earning their loyalty, with a tiny cafe where Kazmi and his team of cooks serve up an eclectic selection of homemade Pakistani, Afghan and Middle Eastern fare. A hot bar of several types of grab-and-go samosas, chicken rolls, and pakora greet customers as they approach the order counter. For those with an extra minute, the cooks can whip up the sort of delicacies typically reserved for sit-down restaurants.
The market's biggest draw, however, is its mammoth gyro, overstuffed with tender beef and lamb, chunked off a vertical spit into thick pieces. Gyros are dressed to order with an array of condiments ranging from the traditional lettuce, tomato and tzatziki to several different Pakistani hot sauces.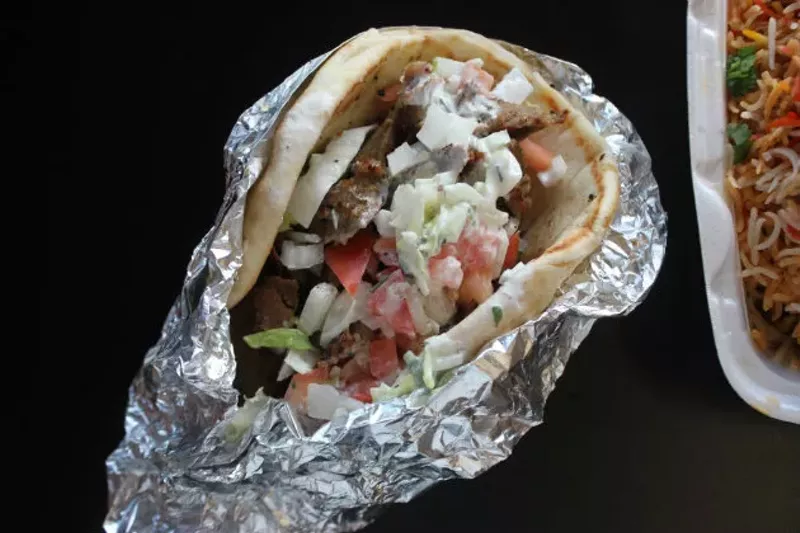 Cheryl Baehr
Many say that Mideast Market's gyro is the best in town.
A casual passer-by would have no idea that such a feast is being served out of the humble international market. The store itself, which sits in a Ballwin strip mall just west of 141, isn't easy to spot from Manchester, owing to its westward facing position. And if the store seems out of the way, the cafe is positively hidden. Even a regular market-goer might not spot the small takeout counter, tucked away in the back corner of the space.
Kazmi started running the grocery story in the late 1990s. He admits that he initially had no plans to open his own restaurant. However, his customers frequently asked for prepared foods, and the entrepreneur sensed an opportunity. Now, seven years after he first started serving food, the cafe has blossomed into a full-fledged catering business.
The
menu
has a little bit of something for everyone. In addition to kebabs and specialties from the subcontinent, you can get burgers and fries, tacos and even vegetarian spring rolls. All the meat is halal, making this that rare place in town offering halal chicken wings.
Still, gyros remain the draw, and Kazmi is happy to tout them as his claim to fame. He's even started using the gyro meat in tacos, a nod to his eclectic culinary sensibility.
No matter how you make order them, though, these gyros are indeed good enough to inspire shouts of joy — or at least a big bear hug for Kazmi.
Cheryl Baehr
Gyros are dressed to order.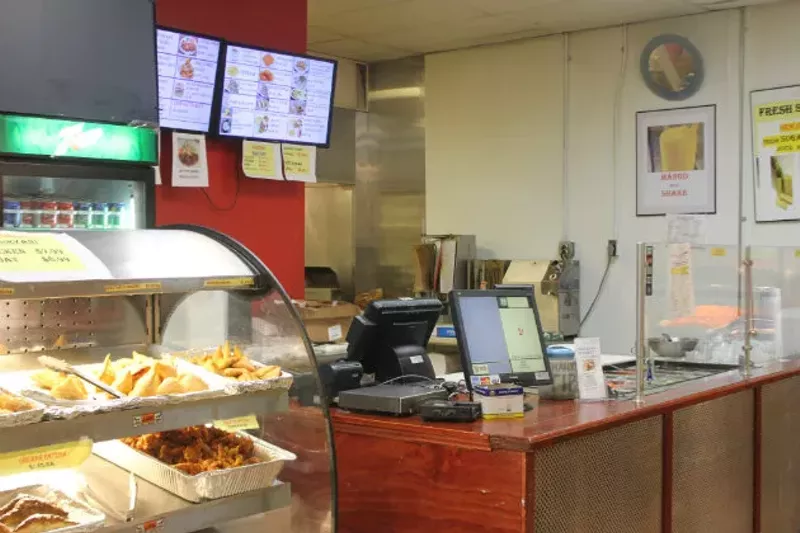 Cheryl Baehr
The cafe is located in the back corner of the grocery.
Cheryl Baehr
Rashed Kazmi, owner of Mideast Market.
We are always hungry for tips and feedback. Email the author at cheryl.baehr@riverfronttimes.com.