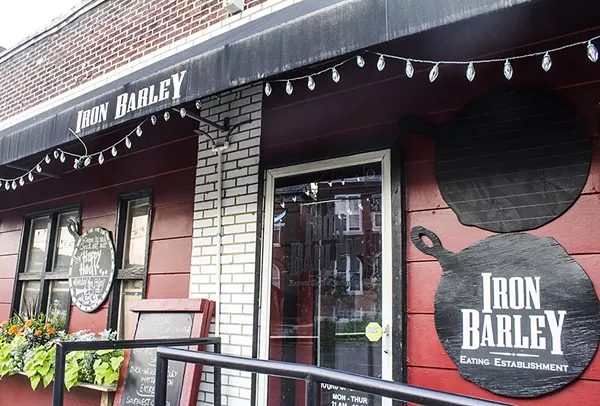 Iron Barley
(5510 Virginia, 314-351-4500)
will be leaving south city.
The much-loved down-home spot, famous for its appearance on
Diners, Drive-ins and Dives
and its huge, hearty portions,
announced today on Facebook
it will be vacating the spot on Virginia it's called home for more fourteen years for a much bigger restaurant in Jefferson County.
The new location, 3367 High Ridge Boulevard, is in High Ridge, Missouri. That's about 25 minutes south of its current digs — well past Fenton on Highway 30.
Owners Tom and Gen Coghill wrote on Facebook that the new spot was three times the size, with parking for seventy cars.
They wrote,
Fourteen years ago we poured our hearts and souls into the Iron Barley steadily investing back into the business to help us serve you better. Fourteen years ago we were told "you can't do that the neighborhood will never support you."

We have proven them wrong. A lot of great friendships have been made, many of which we feel to be our second families.

We plan on operating the 5510 Virginia Ave location thru the middle of August and hopefully are open in mid-September as: "Iron Barley's High Hog Ridge" located at: 3367 High Ridge Blvd High Ridge MO 63049. We will be searching for someone to breathe new life into our 5510 Virginia Ave location.

The RFT has bestowed numerous awards on the restaurant in its fourteen years, including "Best Sammiches" and "Best Decor." (Speaking of "sammiches," how could anyone not marvel at the "Ballistic Elvis Sammiche": American cheese, strawberry preserves, sliced bananas, peanut butter and red pepper flakes.)
Wrote then-critic Ian Froeb in 2010, "Iron Barley is the sort of restaurant where the first dish you eat there will likely become your favorite. You want to cling to that moment when you realize something so straightforward — so homey — can hold its own against more highfalutin' fare."
The relocation news was
first reported by Feast Magazine
.
We welcome tips and feedback. Email the author at sarah.fenske@riverfronttimes.com