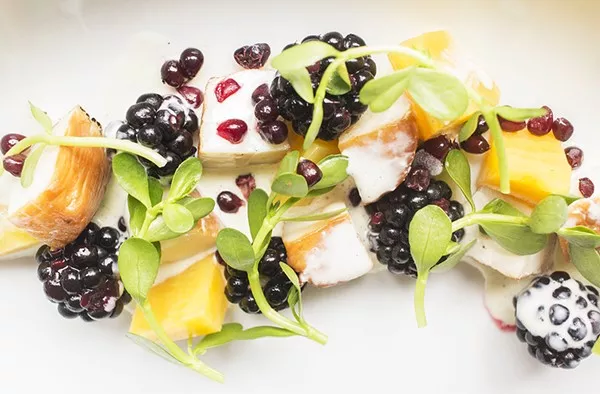 PHOTO BY MABEL SUEN
Vista Ramen's smoked scallops. Because St. Louis food is more than t-ravs and ribs — and Vista Ramen is more than ramen.
Forget what
Mike Piazza said about Italian food in St. Louis
. And forget about those famous former residents who allege
we're all about fried food and ranch dressing
. St. Louis is actually one of the most underrated food cities in America, according to
a new Buzzfeed listicle
, and this is an appraisal we're going to shout from the rooftops.
The website's list, "12 of the Most Underrated Food Cities in America," gives St. Louis some serious props, along with cities including Providence, Rhode Island; Traverse City, Michigan; and Boulder, Colorado.
Perhaps best of all? The write-up doesn't fall back on the old cliches about "great Italian food in the Hill" and "down-home barbecue slathered in sauce" (
we're looking at you, Zagat
). Instead,
it nicely sums up some high points of our current dining scene
:
Often considered a smaller Chicago, St. Louis is an exciting place to visit — especially for food-focused travelers — where you'll find everything from historic steakhouses and barebones barbecue joints to new ethnic eateries like Seoul Taco and Vista Ramen. Farmhaus and Elaia are two spots that serve elegant, locally grown dishes in a casual, homey atmosphere. And since you came to St. Louis for the BBQ, the ribs and burnt ends at Sugar Fire Smoke House and Pappy's won't disappoint. And of course, nothing keeps you cool in the St. Louis heat like Ted Drewe's frozen custard.
Vista Ramen, Seoul Taco, Farmhaus, Elaia ... these are all great picks (and Sugarfire and Pappy's? Naturally! Even a
blind squirrel
can find nuts that amazing).
But at the risk of sounding churlish (and seriously, Buzzfeed, great list!), we do have two small bones to pick.
First, a "smaller Chicago"? Really?!?
Second, call us pedantic, but y'all think it was a man named Ted
Drewe
who started that frozen custard amazingness??? It is not Drewe-apostrophe-s;
it's Drewes, dammit
. Show some respect!

We welcome tips and feedback. Email the author at sarah.fenske@riverfronttimes.com