David Kirkland and Juan Chavez | photo provided by Turn
Grand Center's newest restaurant,
Turn
(3224 Locust Street, 314-240-5157)
, is inspired by several elements in chef and owner David Kirkland's life. As chef and manager of Café Osage since it opened in 2008, he had grown accustomed to the hyper-fresh, just-harvested produce and herbs from Bowood Farms. Dishes and drinks changed often according to what was ripe that day.
"Turn," thus, refers to the turning of the seasons, as Kirkland's new kitchen again sources from local farmers and producers for farm-to-table fare that also supports local businesses. "I loved what I was doing at Café Osage, but I was ready for the next thing, my own thing," Kirkland says.
"Turn" also offers a nod to Kirkland's love of records. Its clever logo suggests a turntable, with the "t" as the playing needle. One wall of the restaurant includes a piece of art created with some of Kirkland's favorite record album covers. And the restaurant's square-shaped menu includes an "A Side" (breakfast) and a "B Side (lunch)," calling to mind album liner notes.
And finally, "Turn" also references Kirkland's twist on American traditional cuisine. This is Kirkland's first solo restaurant, and his playful approach to its name is carried through to his fresh and eclectic menu. Explains Kirkland, "This menu is inspired by things I couldn't do at Café Osage and biscuits and arepa, foods my wife and I love." At Turn, Kirkland is able to experiment, go off book, and respond to seasonal and even weekly produce availability.
In fact, before formal menu planning had even begun, Kirkland already knew its first item — biscuits and gravy. The house-made biscuits are topped with a gravy flavored with sage and turkey sausage. Also on the menu is a biscuit flight that offers four different biscuits with seasonal house-made jam, honey and butter. The arepa, a grilled corn cake with chorizo, over-easy eggs, cheddar, avocado and chili verde, is already a customer favorite.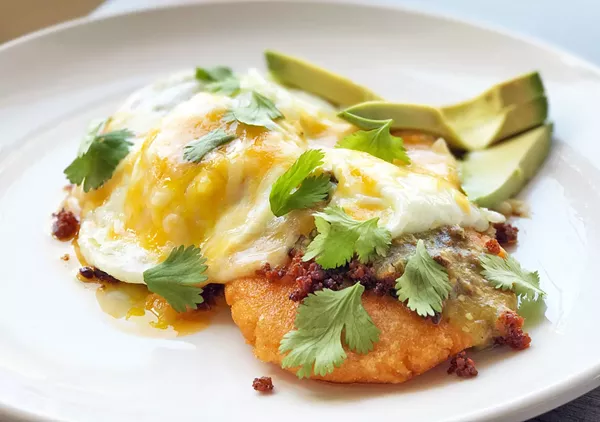 Arepa - a grilled corn cakes with chorizo, over-easy eggs, cheddar, avocado and chili verde | Sara Graham
The menu also includes an inventive cocktail list that features a diversity of spirits, fresh juices and cold-brew tea.
Turn is located in .ZACK, the new performing arts incubator launched in 2016 by local philanthropists Ken and Nancy Kranzberg in Grand Center's historic Cadillac building. Kirkland also runs a full-service catering company on the building's fourth floor, David Kirkland Catering.
The restaurant is open for breakfast and lunch Tuesday through Saturday from 8 a.m. to 3 p.m. and from 9 a.m. to 3 p.m. on Sunday. Vegetarian options are available.
In the works is a monthly weekend dinner popup series that will run Thursday, Friday and Saturday. Kirkland will partner with a new chef each month in a collaboration that will yield a completely unique menu every time. The first event will feature chef
Samantha Pretto of the Dark Room
.
Scroll down for additional photos of the menu and location.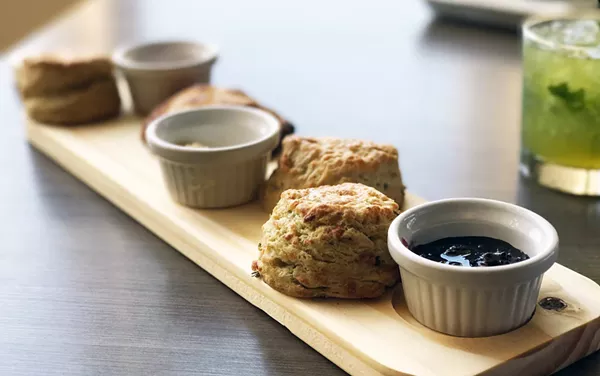 Biscuit flight with lemon lavender, poblano white cheddar, buttermilk and honey-dropped biscuits, house-made jam, honey and butter | Sara Graham
Grilled salmon sandwich with fennel aioli, greens and pickled seasonal vegetables | Sara Graham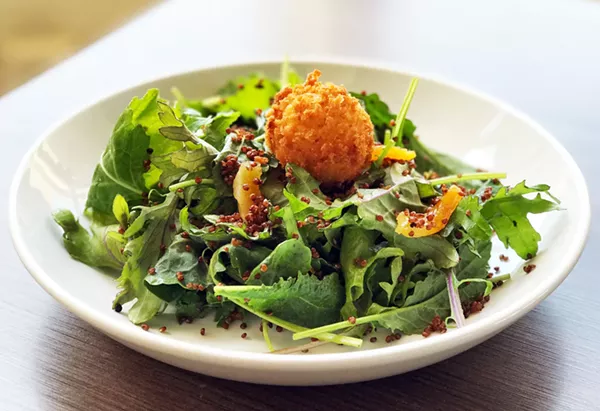 Quinoa kale salad with dried apricots and a Baetje Fams goat cheese medallion | Sara Graham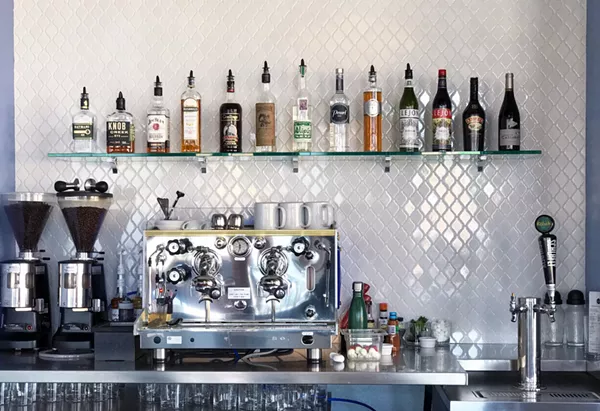 Follow Sara Graham on Instagram and Twitter at @engagetaste. E-mail the author at sara@engagetaste.com.