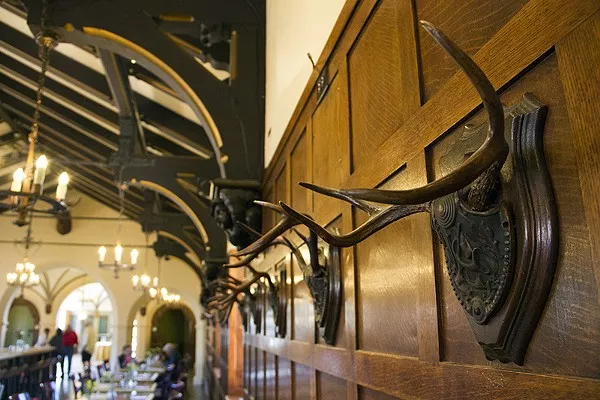 PHOTO BY DANNY WICENTOWSKI
Das Bevo Bierhall has brought German food back to the Bevo Mill.
It's been a very busy month within the St. Louis restaurant scene. Some long-awaited projects finally made their way across the finish line in south city — with both Lemmons and the Bevo Mill now enjoying spiffy new relaunches as
Lemmons by Grbic
and
Das Bevo Bierhall
, respectively.
Pizza Head
has rapidly become a destination for slices and beer on South Grand, while two bars open in familiar homes in Soulard. (Lynch Street Tavern has taken over the old Fleur de Lilies, which was previously Sage; Soulard Stable has replaced Sonny's.) Oh, and if you like your coffee with a side of bike repair, U. City now
a place for that
— with
tacos soon to supplement
the deal in a subdivided space next door.
We did lose a few favorites this month, with Grapeseed saying farewell, PaPPo's packing up in Midtown and the Red Shack deciding not to go on without co-founder Larry Lampert,
who passed away earlier this month
. RIP, Larry.
Our complete list is below. Did we miss anything? Let us know in the comments.
See also: Pizza Head Is Now Packing Them in on South Grand



See also: PaPPo's Pizzeria Has Closed in Midtown
Closings
Grapeseed,
5400 Nottingham, Southampton
PaPPo's Pizzeria,
3690 Forest Park Avenue, Midtown
Patrick's Westport Grill,
342 W. Port Plaza, Maryland Heights
The Red Shack,
6401 W. Park Avenue, Dogtown
See also: Das Bevo Bierhall Is Open — and Looking Better Than Ever

See also: Cursed Bikes & Coffee Opens This Week in U. City
Openings
Charleville Brewing Co.,
2101 Chouteau Avenue, Downtown West
Cursed Bikes & Coffee,
7401 Pershing Avenue, University City
Das Bevo Bierhall,
4749 Gravois Avenue, Bevo Mill
J's Pitaria,
5003 Gravois Avenue, Bevo Mill
Lemmons by Grbic,
5800 Gravois Avenue, Bevo Mill
Lynch Street Tavern,
1031 Lynch Street, Soulard

Pickles Deli,
200 N. Broadway, Downtown
Pizza Head,
3196 S. Grand Boulevard, Tower Grove East
Scarlett's Cabaret,
5841 Bunkum Road, Washington Park, Ill.

Soulard Stable,
1026 Geyer Avenue, Soulard
Tapped,
7278 Manchester Road, Maplewood

Turn,
3224 Locust Street, Grand Center
The Juice,
2640 Cherokee Street, Cherokee District
See also: Tapped Brings 38 Taps — and Self-Pour Technology — to Maplewood