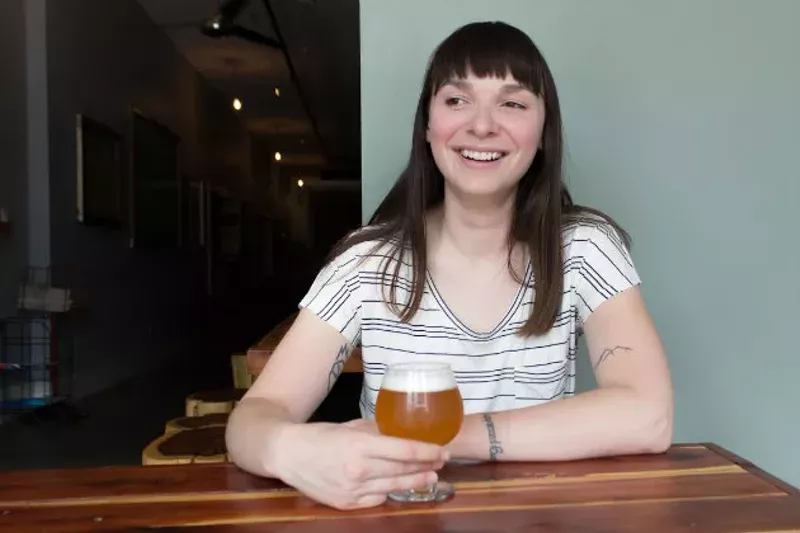 Sara Bannoura
Rebecca Schranz of Earthbound Beer.
Before opening
Earthbound Beer
(2710 Cherokee Street, 314-769-9576)
, Rebecca Schranz had never made a single beer. In fact, when co-owner Stuart Keating approached her with his business idea, she was on doctors' orders to avoid alcohol entirely.
"When Stuart and I met, I couldn't drink because I was misdiagnosed with an illness and wasn't consuming any alcohol," Schranz explains. "He was with me when I had my first drink of whiskey after learning that I was misdiagnosed. Three months after that, we signed the papers on the brewery."
For Schranz, becoming a brewer was an unexpected path. After graduating college with degrees in psychology and anthropology, Schranz got an internship working in environmental policy. There, she met Keating, and they became friends, keeping in touch after her internship ended.
Schranz was considering graduate school when Keating came to her with the opportunity to help him and another friend, Jeff Siddons, open what would become Earthbound Beer. "I realized that opening a brewery is an opportunity that only comes around once in a lifetime," Schranz explains. "Grad school is something I can always come back to when I'm 50. Besides, a lot of my friends are finishing grad school and having no luck in the job market."
Learning to brew required a lot of reading, research and experimentation. At first, Keating taught her the ropes as Schranz observed and pitched in. However, when the partners bought a building, Keating handed the brewing operation almost entirely to Schranz. "I was reading or shadowing and then it was sink or swim," recalls Schranz. "I mess up a lot. I always joke that when I hear a home brewer say that they've never made a bad beer, I know they're a bad brewer. You have to mess up. That's the only way you figure out how to make good beer."
Now, as she heads Earthbound's brewing operation, Schranz reflects on the different path her life has taken and her unexpected turn as a brewer. "This has afforded me so many more opportunities than I would have had," Schranz says. "At the end of the day, if the place burns to the ground I''ll be OK and go back to where I was going to go. But I really don't want that to happen."
Schranz took a break from the brewery to share her thoughts on the St. Louis food and beverage scene, why brushing her teeth is her favorite "me time" and why she is both sad and honored to be compared to a potato.
What is one thing people don't know about you that you wish they did?
Being the "face" of Earthbound is the hardest part of the job for me. Being social and engaging with a number of people day to day, and especially at events, is taxing on all levels. The guys had to teach me how to make small talk when we opened because I was so clueless as to how to interact with folks. I'm much better at it now, but it still takes a lot out of me.
What daily ritual is non-negotiable for you?
I can't go to bed without brushing my teeth. Even my drunkest self brushes before bed. It's a quick moment to zone out or process the day or make faces in the mirror where I can't be pulled away to do something else. It's a tiny sliver of time just for me.
If you could have any superpower, what would it be?
I would love to have the ability to make people stop talking on demand. Overtalkers are my kryptonite.
What is the most positive trend in food, beer, wine or cocktails that you've noticed in St. Louis over the past year?
I'm super into out-of-towners showing up for food and drink tourism. It's about time folks started visiting us for our culinary scene. I see a lot of people coming through with the sole intention of visiting breweries for three days, but they also know where to eat without needing a local's recommendation. I'm tickled any time someone tells me their visit to St. Louis was prompted by the desires of their bellies.
What is one thing missing or that you'd like to see in the St. Louis food and beverage scene?
We talk a whole lot about dudes and a whole lot about fancy places when we talk about St. Louis' food culture. Don't get me wrong, they and it are great. However, I would love to see more ladies while I flip through the local foodie publications. I would also like to know more about the underrated mom-and-pop shop two miles from my house instead of hearing about the same obviously wonderful restaurant every month. I want to read a whole piece on Lynne Truong of Bahn Mi So #1. Now, that would be a captivating piece.
Who is your St. Louis food or drink crush?
I have a big ol' soft spot for David Kirkland, who just opened Turn. I first met him while he was at Cafe Osage, and he was so damn friendly, pleasant and encouraging each time I ran into him. I need to catch up with him. Oh, and Ari Ellis [Kounter Kulture, Bolyard's Meat & Provisions]. We used to get high in basements together, and now she's a force to be reckoned with. I only wish her the absolute best.
Who's the one person to watch right now in the St. Louis food and beverage scene?
I'm excited to see what Abbey Spencer does at Third Wheel Brewing. I'm so pleased they handed her that brewhouse and told her to have fun. Not only is she one of the most vocal champions of women in beer, she super knows her stuff. I never thought I would say this, but I'll have to go to St. Peters to check it out when they open later this year.
Which ingredient is most representative of your personality?
After much debate, I am both sad and honored to report that I am most like a potato. I'm totally dependable when you need me. I can be gussied up or be left plain and simple. My saltiness only makes me better. But I'm always a comforting friend.
If someone asked you to describe the current state of St. Louis' food and beverage climate, what would you say?
I think St. Louis' scene is at its best right now, and I don't believe it will be slowing down anytime soon. In some cities there are just too many options for the same thing. Here we have a couple of this and a couple of that, which means everyone is putting forth their best to be the spot which ultimately brings you through the door. Even though a level of competition is motivating our actions, the folks immersed in the culinary and drink scenes are friends, and I see and feel the support every time I walk through the door of a remarkable amount of quality establishments.
Name an ingredient never allowed in your brewery.
No extracts. No syrups. Well, vanilla extract is okay. But nothing else. I will chop, juice, puree, or grind every herb, spice and fruit or vegetable that goes into the beer. We don't take shortcuts because you can taste them. Beer is already time- and labor-intensive so the extra work for something as essential as a key flavor is something I will always agree to do.
What is your after-work hangout?
The crew and I end up at Whiskey Ring quite a bit due to its location, super staff and owner-of-a-small-business prices. I also regularly frequent the Royale. My husband and I end up at Yaquis on Fridays. Mostly, my couch is pretty great and where I most imagine myself after work.
What's your edible or quaffable guilty pleasure?
I end up at Side Project a lot. I don't feel too guilty about it, and it's always a pleasure. I've known a lot of the ladies behind the bar way before we were in beer. I can go there and shoot the shit while also working on some "research and development." On my way home I typically stop by Taco Bell and pick up a cheese quesadilla, which is the actual answer to my guilty pleasure.
What would be your last meal on earth?
A PB&J, a bag of Red Hot Riplets, and the Golden Beet Porter from Scratch Brewing Company. Delicious.
We are always hungry for tips and feedback. Email the author at [email protected]