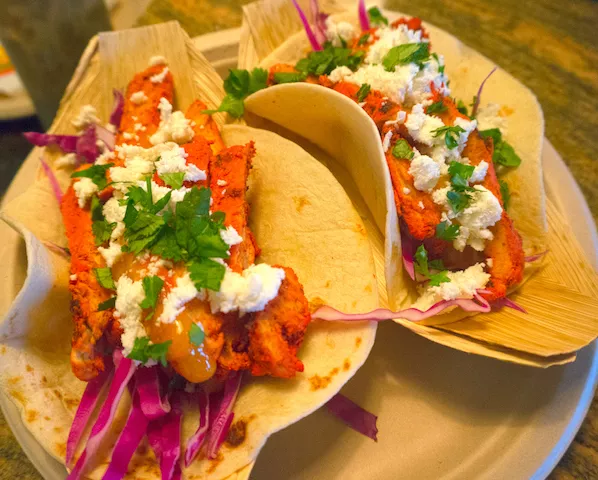 COURTESY OF TACO BUDDHA
The chicken tandoori tacos offered by Taco Buddha's catering operation.
Last week,
Cursed Bikes & Coffee opened its doors
on the corner of Pershing and Jackson, in the spot that previously held restaurants Perjax and Bici Cafe.
But the cafe/bicycle shop isn't the only business planning to use the space. A counter-service taco shop called Taco Buddha has sublet what previously served as the secondary dining room for past tenants in Cursed's space — and it plans to open as a standalone restaurant at 7405 Pershing as early as late June.
Kurt Eller, who will be running Taco Buddha with his partner Erin McCracken, says the spot will serve breakfast and lunch on Thursdays and Friday, with those two meals plus dinner service on Saturday. Then, in October, they plan to extend their hours to open six days a week, and serve dinner every night.
The menu? Tacos, plain and simple. "It's a fusion of different food from all around the world, served in the vessel of a taco," Eller says. That will mean both tacos with Asian flavors — a chicken tandoori taco with mango chutney salsa, a Thai street beef taco — and the classic breakfast tacos beloved in Texas. There will also be a strong influence from New Mexico, where Eller's family has a home and where he visits frequently. Expect to see many tacos incorporating Hatch chiles, which are prized for their smoky back heat.
"Every chance I get, I bring back a carload of green chiles," says Eller of his trips out West.
Himself a native Texan, Eller moved to St. Louis eleven years ago from Austin, leaving the restaurant industry behind (among other concepts, he co-owned the well-known venue La Zona Rosa) for corporate life. "I thought I'd totally gotten out of the restaurant business," he says.
But it's hard to ever
really
quit the best job you ever had, and so three years ago, Eller found himself commissioning a custom taco trailer with a mobile kitchen. Under the
Taco Buddha
name, he's been taking catering jobs — mostly weddings, he says.
He lives just a few houses away from the space at Pershing and Jackson, and when he realized it was open yet again, he ended up talking to Jeff Gerhardt, the owner of Cursed Bikes & Coffee. Gerhardt isn't cooking anything on site, just serving coffee, smoothies and pastries baked elsewhere. And that's when the two men realized their plans could fit together perfectly.
So Eller is taking the entire kitchen and setting up an order counter and dining room out of a space previously just used for overflow. He says it doesn't need extensive renovations — as he and McCracken get ready to open, they're just adding a counter and giving it a new look. Surprisingly, just that smaller space will have room to seat 25 inside, with room for another 25 on the patio, he says.
And if that sounds like a perfect place to wile away the hours, stuffing your face with breakfast tacos while the aroma of roasted Hatch chiles wafts through the air, well, you're not alone in thinking that. Eller says he will be going for a full liquor license — the better to serve his signature margaritas with.
Still, the food will be key. "We just want to give people really good tacos," he says. "That's what it boils down to."
We welcome tips and feedback. Email the author at sarah.fenske@riverfronttimes.com