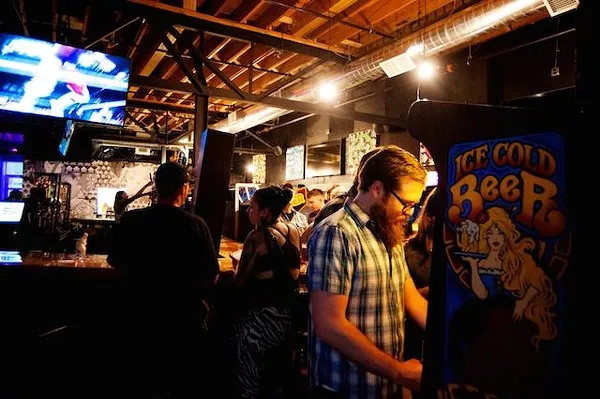 BETSY RUDICIL/COURTESY OF UP-DOWN ARCADE BAR
Patrons enjoy Up-Down's Minneapolis location.
Up-Down Arcade Bar has been granted a liquor license for 405 N. Euclid Avenue in the Central West End, but both the details — and a possible appeal of that decision — are still in flux.
The city's hearing officer, Tom Yarbrough, said he will take two weeks to survey the particular area and the concerns of the neighborhood, and will attach some conditions to the license. But, he said, Up-Down has satisfied the city's requirements and is good to serve alcohol.
The decision wasn't without contention.
Yarbrough made his decision after a hearing this morning that stretched nearly two hours, much longer than the fifteen-minute block of time scheduled for the case. Bystanders packed into the room included not just neighbors,
who sought to block the license
, but a host of supporters from other local businesses as well as residents who want to see the concept open.
Yarbrough based his decision strictly on one question: Had Up-Down's owners gathered signatures from the two necessary groups mandated by city ordinances? (That's 51 percent of homeowners and 51 percent of a combination of renters and business owners, for those keeping track at home.)
The totals came down to the wire. In both cases, Up-Down submitted petitions in excess of the requirements. But after the city completed its investigation, which involves everything from eliminating duplicates to knocking on doors to verify signatures, the Iowa-based chain only
just
made it over the finish line. It needed 69 signatures from tenants/business owners and got 70, and needed 41 signatures from property owners, and got 41. If opponents could knock out one homeowner's signature, or two tenant/business signatures,
all the bar's efforts over the last three months
would be for naught.
It fell to Liz Heller, the longtime Central West End resident leading the protest against the license, to take her best shot. But though Heller, who is also an attorney, raised numerous detailed objections, the bar's lawyer, Albert Watkins, fought back, and Yarbrough ultimately overruled Heller on all of them. The signatures stood.
Up-Down, however, won't be opening right away. Owner Josh Ivey says he basically stopped construction when it became clear the neighbors' concerns might be enough to stop the project. Now they're looking at a matter of months before they can open their doors.
And their legal work might not be over, either. Reached by phone later this afternoon, Heller said she planned to work with the city to get conditions included in the license that make the bar more acceptable to neighbors. But she didn't rule out an appeal — saying it may well make sense to ask for a hearing in the coming months that focuses more broadly on the neighbors' concerns.
"We'll certainly look at what the rules are in regards to an appeal of this decision," she says. "We believe the officer disregarded clear evidence that people counted as signatures should not have been so."
Watkins tells the
RFT
that his clients aim to do everything they can to render an appeal unnecessary. "At the end of the day, they're going to be neighbors," he says. "They want a good relationship."
But at the hearing, at least, Heller shot down the idea. "I've lived in the Central West End my whole life," she said. "I know what's best for this neighborhood. At the end of the day, Mr. Watkins goes back west — I guarantee he goes west of Skinker. But we will live and breathe the problems this business will bring on."
The testiest exchange at the otherwise mostly technical hearing came between Heller and Up-Down's landlord, Pete Rothschild,
who was quoted in an RFT story about the controversy in March
as saying, "These people belong in nursing homes, not the Central West End." Heller brought up the comment, and Rothschild asked for the ability to respond.
"My wife Donna and I have our life savings invested in properties on those four corners," he said, stressing that he wouldn't do anything that harmed the neighborhood. "But if the orthopedic shoe fits, then you need to wear it."
Rothschild also said he'd apologized for those remarks in a letter dated April 5.
We welcome tips and feedback. Email the author at sarah.fenske@riverfronttimes.com