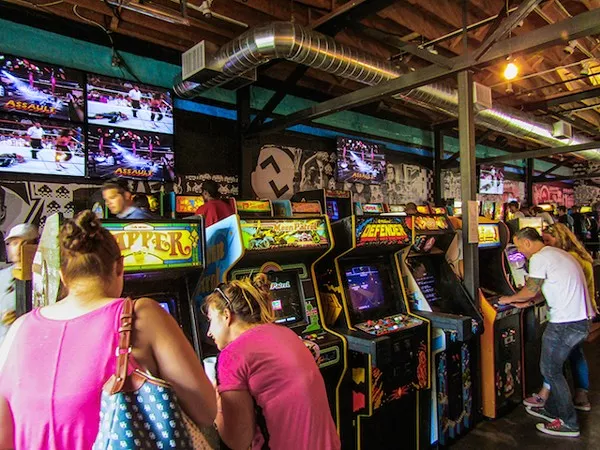 DAVID HAYDEN/COURTESY OF UP-DOWN
Customers enjoy Minneapolis' Up-Down Arcade Bar.
It's been almost four months since Up-Down Arcade Bar signed a lease to move into the former home of Herbie's Vintage 72 in the Central West End — but there hasn't been can of paint opened or a nail pounded as April has turned to May.
Instead, owner Josh Ivey has been working the neighborhood's doorbells as strenuously as a politician, seeking to persuade nearby residents and business owners to give his concept a chance.
"I had a lot of meetings over coffee, and even meetings where I sat in someone's home and talked for two hours," Ivey says with a laugh. "At first it felt like an uphill battle, but by the end, well — I know just about everybody in the neighborhood now. I don't think door-to-door salesman is in my future, but it was actually not a bad time."
The reason for all the politicking? A formal challenge from neighbors seeking block Up-Down's request for a liquor license. Ivey needed 51 percent of property owners and 51 percent of a combination of registered voters and business owners to sign the petition in support of his license — and for awhile, it wasn't looking good.
But last week, they officially made it over the hump, with the city certifying Friday that Up-Down had enough signatures to earn a formal hearing at City Hall. This Wednesday, May 17, both supporters and opponents will testify in front of the city's liquor commission, beginning at 10:30 a.m.; by that afternoon, the bar's fate will likely be clear.
"It'll be interesting, because we stopped work on the building for the last month and a half," Ivey notes, referencing the time when it looked like the bar might not survive the neighbors' opposition. "I'm hoping we can get back to work."
Pretty much the one, and only, complaint
that neighbors have about Up-Down Arcade Bar is right there in the fourth and final word in its name: bar.
Up-Down has locations in Des Moines, Minneapolis and Kansas City, and, by all accounts, a good track record in all three. But while the owners intend to serve pizza in its St. Louis location, Ivey has acknowledged that the concept's profits come not from food, but from the craft beer patrons consume as they play games.
The neighbors are used to a certain level of noise and traffic that would be unthinkable amongst similarly priced mansions in Des Peres or Chesterfield. This is, after all, the Central West End — a walkable neighborhood and a nightlife destination. Mission Taco Joint, Pi Pizzeria and Dressel's Pub pack in diners without complaint from the neighbors.
But while neighbors say they have no problem with people coming to their backyard to eat
and
drink, some are insistent on one point: They don't want them coming there to drink. And an arcade bar felt like a bridge too far — a place, they told the
RFT
, that could bring a younger crowd to a nightlife type setting.
Others say that's not at all the case, and that these homeowners have an outdated view of who plays arcade games. As Adam Tilford, co-owner of Mission Taco Joint, told the
RFT
in April, "People coming to bars like this aren't looking for a late-night party thing. They're 25 to 40-year-olds — people like myself. They want to go out to dinner at a nice place, play video games and have a couple beers. And this is the perfect neighborhood for that."
At heart, some people wonder if the real problem with the arcade bar is that it's neither Herbie's, the beloved restaurant that long occupied Up-Down's proposed St. Louis home before relocating to Clayton last year, or its original occupant, Balaban's. Many nearby homeowners are a bit older than Up-Down's target demographic; Herbie's was more their style than an arcade bar.
PHOTO BY JENNIFER SILVERBERG
Herbie's held down its block for eight years.
Pete Rothschild, who owns the building in question, says he gets it. He loved Herbie's, and he not only met his wife at Balaban's, but saw his son married there.
But he's convinced he's bringing the neighborhood a great new tenant.
"Most neighborhoods would be doing summersaults for a chance to have a business like Up-Down," Rothschild says. "I understand that a few of my neighbors are nervous since the corner of Euclid and McPherson has been mostly unchanged for over 30 years, but almost everyone that I've spoken to is excited for the vitality that this will bring. Like a lot of people over 50, I wish in some ways that time could go backwards or at least stand still, but where's the fun in that?"
As for Ivey, he's already committed in writing to a long roster of modifications desired by the neighborhood. The courtyard patio he's planning to build will now be enclosed and closer to the alley than McPherson. Patio speakers will be turned off by 10 p.m. on weekdays, with security always on site after 5 p.m. He's also promised to never offer deep discounts on drinks — and to provide family hours once a month to allow neighbors with kids a chance to visit.
He's hoping everything he's offering will be enough to sway the city's excise commissioner — and maybe even get some neighbors down to the hearing to speak in his favor.
"There was definitely some opposition out there, but there were also a lot of people willing to listen," he says. "We feel like we've definitely made some friends."
We welcome tips and feedback. Email the author at sarah.fenske@riverfronttimes.com