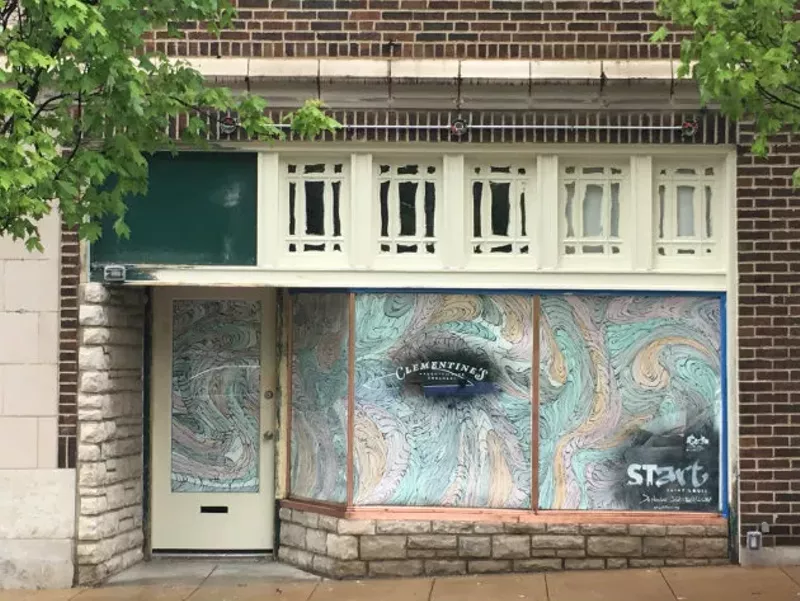 Photo by Elizabeth Semko.
Clementine's De Mun location, which is slated to open next month.
If you like your ice cream both naughty and nice, you're going to like this piece of news: Clementine's Naughty and Nice Creamery (1637 S. 18th St., 314-858-6100) is expanding, with a shop now planned for 730 De Mun Avenue.
Owner Tamara Keefe hopes to open the new location in June, leapfrogging a previously announced second location in the Southampton neighborhood. Located in a former hair salon in the same block as De Mun Oyster Bar, the De Mun shop will be twice as large at the original in Lafayette Square, Keefe says. It will also have a patio out front and, of course, Clementine's signature charm.
The microcreamery, which sells small batch, all-natural ice creams, has been wowing customers with its naughty (boozy) and nice (non-alcoholic) flavors since opening its flagship store in 2015. Keefe says she always anticipated expanding, however — and St. Louis obviously has wanted it, too.
"St. Louis has been so supportive, and they've asked us to expand continually ... people just demanded it," Keefe says. "They wanted it."




De Mun isn't the only neighborhood that can anticipate a Clementine's location, either. The Southampton location, planned for 4715 Macklind, is still in the works, though it won't be open this summer. Another location at the Foundry is scheduled to open in June 2018, and Keefe says a Maplewood location is also in the works. Additional shops could be added in the future, including in St. Louis County if Keefe can find the right neighborhood, location and feel.
"It is an independent shop, so we need to be in neighborhoods where people are going to support independent businesses," Keefe says. "That's really important."

While you still have about a month before Clementine's De Mun location opens, the storefront is already a sight to see. While Clementine's prepares for its opening, the windows are covered — and tagged with art by Gecko, a well-known St. Louis street artist. Clementine's is a sponsor for St.ART, an upcoming street art festival highlighting art like his and promoting healing for the city of St. Louis.

"They're bringing in all these nationally renowned street artists into St. Louis for an exhibition later this year, and so it was to announce that, and show that we're supporting that, but also have this cool artist come do our windows so people could anticipate our opening in De Mun," Keefe says.

To apply for a position at the De Mun location, contact Keefe at jobs@clementinescreamery.com.