Image via MicroFest/Facebook
Drink some beers at MicroFest to help the children.
Sometimes, the children need you to have a few beers.
St. Louis Microfest, set for Friday and Saturday in Forest Park, is one of those times. The 22nd-annual craft beer festival's offerings include live music, cooking demonstrations and a "Brewer's Olympics" obstacle course. Sample as many of the beers — 600 from more than 125 brewers — as you like, knowing your weekend drinking will help kids at Lift for Life Gym.
Microfest is the program's biggest fundraiser. Lift for Life picks up kids every day after school and drives them to the gym at the corner of 14th Street and Cass Avenue in the Carr Square neighborhood. On any given afternoon, 40-60 boys and girls, ages eight to eighteen, fill the place. They lift weights, plow through homework, take dance classes and eat a dinner that's cooked on site every evening. They even have a garden out back.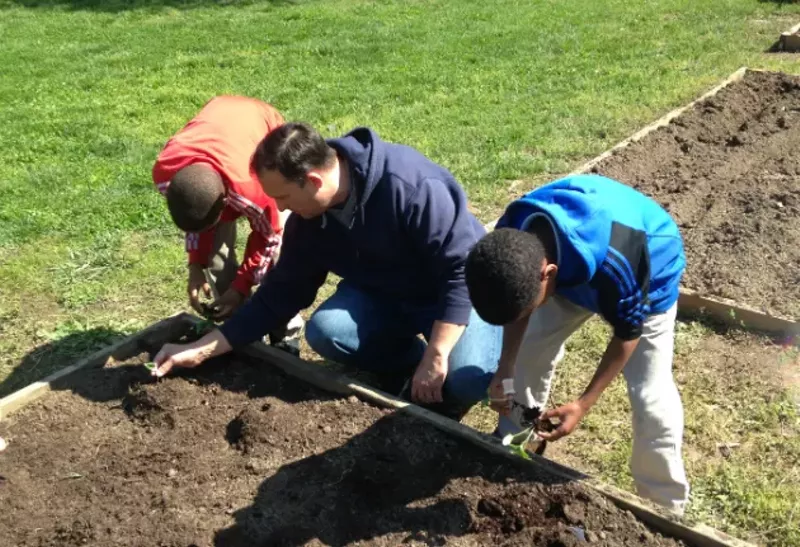 Photo by Doyle Murphy
Lift for Life Executive Director Joe Miller and two young members plant cucumbers at the gym's garden.
Two of the program's young strongmen recently competed for Team USA in Thailand. One of them, fifteen-year-old Antwan Kilbert, became the USA Junior National Champion last month in Kansas City.
Lift for Life Executive Director Joe Miller says they check up on all their kids, and even help them out with clothes and household supplies, such as bedding, if needed. It's important work, and the fundraising is always in the back of their minds.
"We're always concerned we're not going to have the funds," Miller says.
This is where Miller hopes you and drinking beer come in. The brew fest takes place in the lower Muny parking lot. It requires no bench pressing, although there is a 2-mile MicroRun at 11 a.m. on Saturday if you're feeling especially athletic. Otherwise, elbow bending is at your own pace.
Hours are 6 to 10 p.m. on Friday. Saturday has two sessions: 1 to 5 p.m. and 6:30 to 10 p.m. Friday's events include a Cinco de Mayo celebration with piñatas and Mexican-style beers brewed locally. There will be a "Derby Day" party on Saturday afternoon in the VIP tent with bourbon tastings, mint juleps and live coverage of the horse race.
General admission each day is $42, and VIP tickets are $62. For the extra $20, Microfest offers dinner from Iron Barley and access to an additional lineup of rare beers. Tickets are available at
www.stlmicrofest.org
.
We welcome tips and feedback. Email the author at doyle.murphy@riverfronttimes.com or follow on Twitter at @DoyleMurphy.