PHOTO BY SARAH FENSKE
The chicken Philly, served with fries.
Two Guys and a Chick Sandwich Shop
(3000 S. Jefferson, 314-881-1500)
isn't trying to do anything fancy. Its menu has a half-dozen sandwiches, hamburgers and a Chicago-style dog. You can get a pepperoni pizza or a cheese one, either by the slice or the whole pie. One of the two guys in that name — co-owner Steven Adams — is behind the counter, making small talk and serving up orders in either to-go boxes or on plates, your choice.
But the prices are about as good as they get in this town — the sandwiches are $4 to $7, and that includes an order of fries with every one. And not only is the service friendly, but the WiFi is free. It just might be the low-key cafe and sandwich joint this stretch of Jefferson has been waiting for.
Steven Adams is not the only Adams involved with the project. Father Bill retired after years in the car dealing industry; they're the two guys. The "chick" is Steven's sister, Crystal.
The way Adams describes it, the idea for the shop came almost by accident. "My dad said, 'Steven, I found this place.' I said, 'OK, let's go see it.'" A storefront restaurant on Jefferson, just a block north of the corner of Arsenal, it was vacant after a few previous concepts had failed in rapid succession. But Adams didn't hesitate too long. "I thought, 'Why not? Let's give it a try. Let's see if other people like what we like."
The menu, which includes an Italian sandwich loaded with ham, mortadella, salami and pepperoni, as well as a Philly cheese steak and an Italian sausage, doesn't hue to any particular ethnicity; it's just good old American, the kind of sandwiches the Adams siblings grew up eating at home.
There to execute it is chef James Gray, a veteran of everything from 1860's Hardshell Saloon to the Marriott. "He's Superman," marvels Adams. "I don't know where I'd be without him."
So far, neighbors like what they're serving. On the day we randomly stopped by, we met a handful of repeat customers, several of whom raved about things they'd tried on a previous visit. Online, you can read testimonials from early visitors
positively raving about the experience
. "The entire meal was a religious experience," one woman wrote.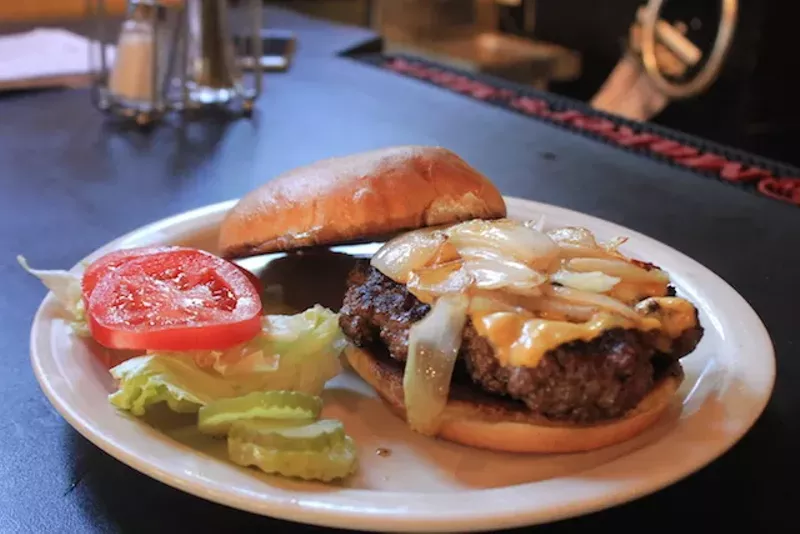 PHOTO BY SARAH FENSKE
The burger at Two Guys and a Chick could lead you to God.
"We were giving each other high fives when we read that," Adams exults.
And apparently, the customer really meant it.
"She bought a burger, and came back later to get one for her husband," he recalls. "And it was raining!"
It may have been Superman's work in the kitchen. It may have been the pricing — at $6 for a sizable char-broiled burger and fries, Two Guys and a Chick is actually less expensive than the McDonald's down the street. Either way, it felt like a promising start.
For now, Two Guys and a Chick is open from 11 a.m. to 7 p.m. every day but Sunday, though they hope to expand to evening hours as the get their sea legs. Scroll down for more photos.
PHOTO BY SARAH FENSKE
Pizza is $3 a slice or $13 for a 14-inch pie.
PHOTO BY SARAH FENSKE
Large windows face Jefferson.
PHOTO BY SARAH FENSKE
The owners plan to offer cook-outs out back in the summer.

We welcome tips and feedback. Email the author at sarah.fenske@riverfronttimes.com