PHOTO BY MABEL SUEN
Miss Leon's chicken-fried steak and fried chicken.
She's back!
Devotees of Miss Leon's Fried Chicken have reason to celebrate. The beloved soul food spot has found a new place to roost, and it promises to be better than ever.
Beginning this Sunday, Miss Leon's fried chicken will be teaming up with
Capitalist Pig
(2727 S. 12th Street, 314-772-1180)
for a new series called Sunday Suppers. As Leon Augustus Braxton Jr. — aka Miss Leon, aka Dieta Pepsi — explains, the dinner series has been in the works since she and Capitalist Pig owner Ron Buechele met last November at the Cornbread and Crossdressin' event held at Buechele's Mad Art Gallery.
"Ron and I met while working together to make 165 fried chicken dinners for the event," Braxton says. "We got to talking. I told him about how I used to
have a restaurant in Bomber's Hideaway
and had been getting
good reviews
, and he told me how he wanted to do a Sunday dinner series. We clicked, and from there we came up with a game plan."
Bomber's Hideaway, the sprawling gay entertainment complex that housed Braxton's fried chicken concept, was sold in May of 2015, and ever since, the mortgage banker turned drag queen turned chef has been in limbo. Briefly, Braxton partnered with Bernie Lee at Hiro Asian Kitchen for weekly pop-ups, but that was only a short-lived venture. Braxton has also been working her full-time job as the director of kitchen operations for the fuel distribution company Lion Petroleum while looking for a more permanent arrangement for Miss Leon's.
Buechele believes that the arrangement is an ideal fit for his Soulard barbecue spot. "I'm learning a lot about a food I've never really done before — and certainly not in a quantity like this," Buechele explains. "However, I'm confident we are going to come up with a really good product."
Buechele has taken the Miss Leon's flavor profile and reverse-engineered it so that he is now using only from-scratch spice blends and breading. Though fans of Braxton's chicken might raise an eyebrow at anyone attempting to improve it, Buechele's description of his process will have them convinced.
"We begin soaking the chicken in buttermilk, hot sauce and honey on Wednesday for service of Sundays," Buechele explains. "We're also going to be making all of the sides completely from scratch now — mashed potatoes with homemade chicken gravy, greens, Capitalist Pig's slaw and Capitalist Pig's mac and cheese. For Sunday Suppers, though, we're going to top the mac and cheese with breadcrumbs and bake it. Oh, and we are also making from scratch cobbler, bread pudding and serving Capitalist Pig's cornbread."
Buechele and Braxton are so convinced that their partnership will be a success that Buechele bought a new refrigerator and fryer to accommodate the extra business. "We're thinking we are going to do about 180 to 190 covers the first night," says Buechele. "It's going to be crazy."
To that end, the partners are encouraging guests to make reservations at missleonschicken@gmail.com. Otherwise, they say, be prepared to wait, though there will be entertainment to keep you occupied.
"It's going to be like Ed Debevic's in Chicago, where I'm out there being my sassy self," promises Braxton. "It's going to be all about eating dinner and having a good time."
Editor's Note: This post was updated to reflect Miss Leon's correct email address. For reservations, please email Braxton at missleonschicken@gmail.com. We regret the error.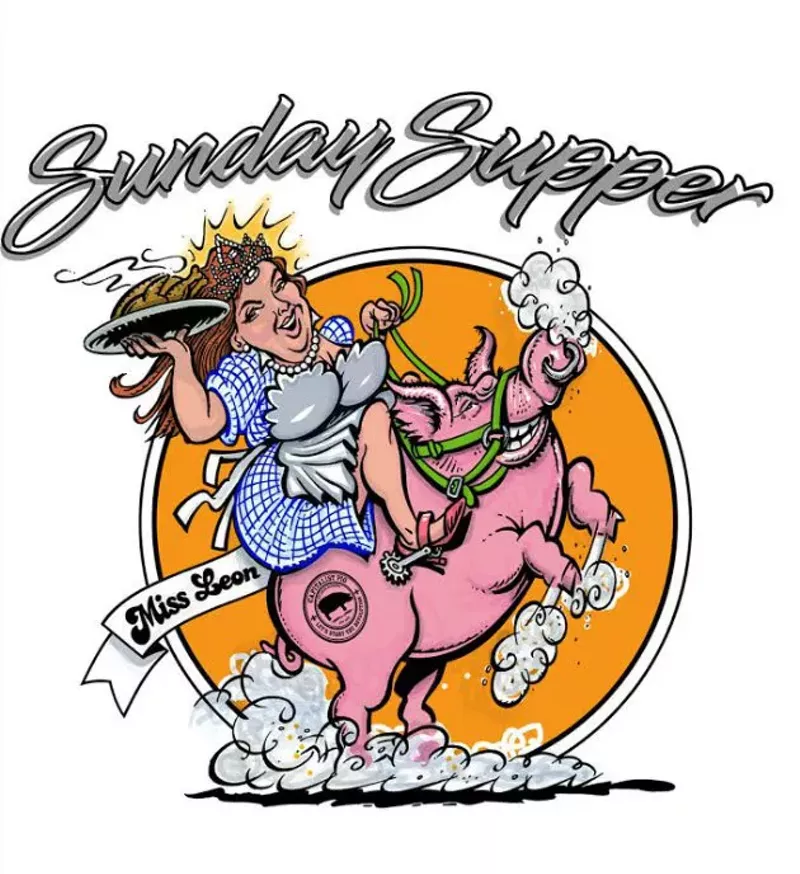 Compliments of Ron Buechele and Capitalist Pig
Miss Leon's is back and better than ever.
We are always hungry for tips and feedback. Email the author at cheryl.baehr@riverfronttimes.com.