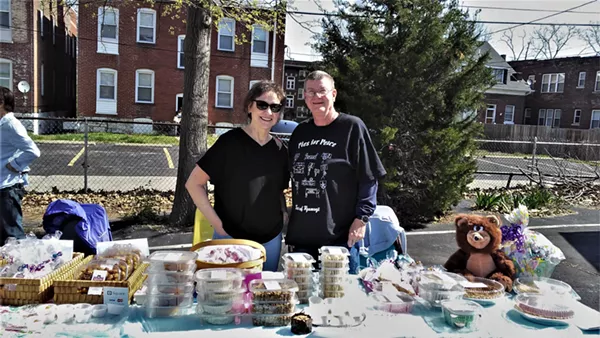 Sue Jackson (left) and Kalen McAllister (right) of Laughing Bear Bakery
There aren't many jobs out there where "felon" is a prerequisite.
But at Laughing Bear Bakery, a small team of bakers is churning out delicious treats with passion — and criminal records.
One of the major cited factors for recidivism is the inability to find gainful employment, says Laughing Bear founder Kalen McAllister. The goal of Laughing Bear, however, is to provide a starting point for recently released ex-offenders, giving them a work history and practical job skills.

"I used to be a prison chaplain. And before guys would get out they'd come to me, shaken," McAllister says. "They get $8.50 and a one-way bus ticket to where the crime was committed … you eat lunch at McDonald's, and then it's over—then what do you do? They have trouble getting a job because they have a record."

Laughing Bear is the rare exception to the usual HR policy. Boasts McAllister, "We only hire ex-offenders."
McAllister, who is an ordained Buddhist priest and landscaper as well as former chaplain, founded Laughing Bear in November 2015. It began as a nonprofit and work-skills program within Inside Dharma, an outreach organization that offers Buddhist teachings to incarcerated and ex-offenders. In 2016, Laughing Bear moved to an incubator commercial kitchen at Centenary United Methodist Church in Midtown.
Currently, the program employs three ex-cons at higher than minimum wage, and they hope to hire a fourth soon. Former employees have graduated to other jobs. One Laughing Bear alum now manages a restaurant.
"Everyone you talk to in criminal justice says, 'they have to have a job,' and how can they do that? People don't want to hire an ex-felon," says Sue Jackson, a volunteer with Laughing Bear. "That's why this is such a win-win. Not only are they learning how to work in a commercial kitchen, but they suddenly see value in themselves…they are so proud of their product. For some of them this is probably the first time they've had anyone go to bat for them, and go to the trouble to promote something they're doing."
The Laughing Bear team offers a range of old-fashioned baked goods, from key lime and chocolate bourbon pecan pies, to raspberry gooey butter cake and gluten-free almond flour cake sweetened with honey. They also offer an Easter basket filled with assorted goodies, and decorative Easter eggs. Their best seller by far is a box of sweetened corn puffs with caramelized sugar. Its official name is Bear Candy, but they have affectionately nicknamed it "crack."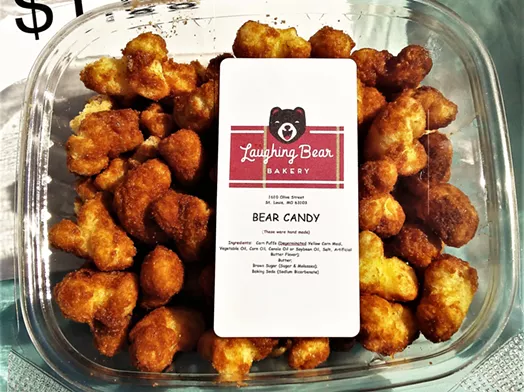 The 'crack:' Bear Candy sold by Laughing Bear
"One woman bought some on her way home for her kids, and it never made it," McAllister says. "If you have it, you'll understand why."
Because the team is small, it's a friendly and collaborative environment, McAllister says. There are no titles, and everyone has an equal say in crafting the recipes. There are arguments, but they never get in the way of making great food.

McAllister knows that far too many ex-offenders who need a job.
"When I retired from being a chaplain, I said 'I'm going to do something about this problem.' And some people were like, 'But you're only hiring three or four people!'" she says. "It's kind of like the story of the guy with a starfish that washes ashore and throws it back; he says he can't get them all, but this one's grateful. Every person that we touch, touches other people."
Laughing Bear currently sells its baked goods from 9 a.m. to noon outside All Saints' Church in University City, where they share a space with Long Acres Farms' market stand (that stand is also open Thursday through Saturday from 8:30 a.m. to 5:30 p.m. Laughing Bear products are also available at Fair Shares CCSA and Farm to You Market in Washington, Missouri.