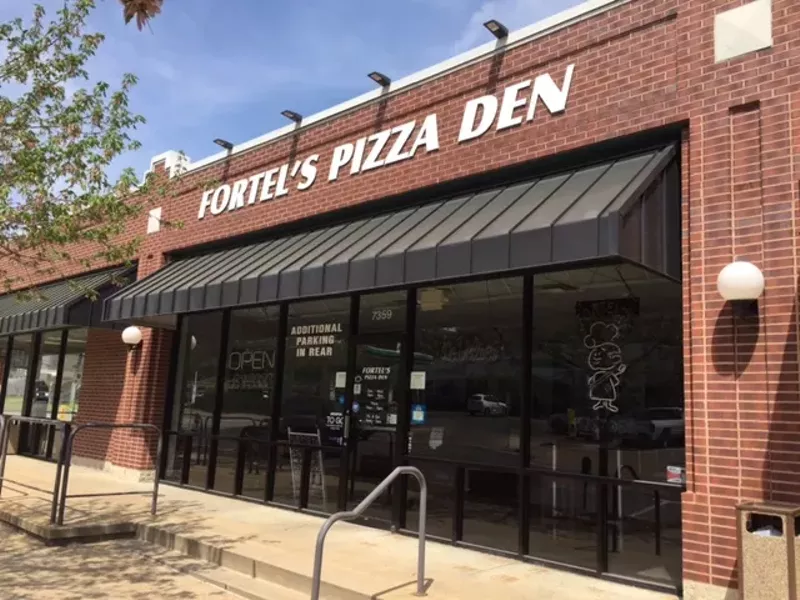 File this one under "utterly unsurprising": Less than a month after being hit with a lawsuit from the state of Missouri, the University City outpost of a local pizza chain has closed its doors.
Fortel's Pizza Den (7358 Forsyth Boulevard, University City) was hit with a lawsuit on March 20 alleging it owed the state $149,389 in unremitted taxes — sales tax it had charged customers, as well as taxes withheld from employees, yet never turned over to the state.
There is no sign in the window alerting diners of the closure, but the doors have been locked for at least a few days now. No one has been answering the phone during business hours, despite multiple attempts.
The closure follows a host of financial difficulties. While the pizza spot had previously entered into a payment plan with the state of Missouri, the suit alleges three checks with its agreed-upon payments bounced. The Department of Revenue issued no less than 21 liens and three writs of garnishment before filing last month's lawsuit.
In the suit, the Department of Revenue had asked a judge to bar the business from making any more sales and to consider turning it over to a receiver to wind down its affairs.
The pizza spot, located in the middle of a parking nightmare on the edge of Clayton and University City, was owned and operated by Jeffrey R. Behrmann of Fenton, according to the lawsuit. Fortel's franchises are independently owned; we're told the one on Forsyth is the only one owned by Behrmann.
The court docket shows that a hearing had been scheduled for yesterday, with Behrmann ordered to show why the state's request for a preliminary injunction should not be granted. It does not appear that Behrmann appeared at the hearing to make his case; we'll update this story if we hear more.
We welcome tips and feedback. Email the author at sarah.fenske@riverfronttimes.com