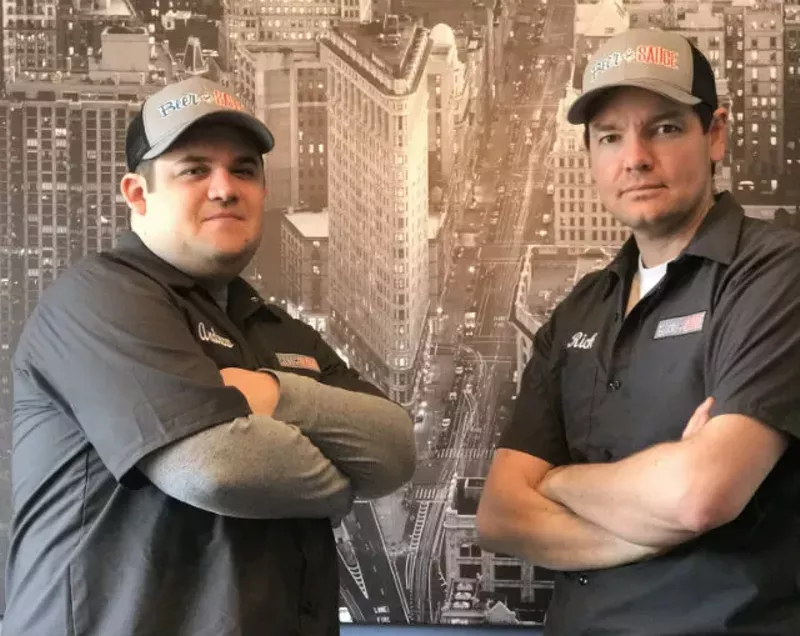 COURTESY OF THE BEERSAUCE SHOP
Andrew Tessmer (left) and Rick Duree (right) will open up the BeerSauce Shop in St. Peter this May, which will sell craft beer and craft sauce brands.
A new shop is encouraging St. Louis' northwest suburbs to "live a life of flavor."
Co-owners Andrew Tessmer and Rick Duree plan to open
the BeerSauce Shop
(318 Mid Rivers Mall Drive, St. Peters)
in a St. Peters strip mall, selling — as the name promises — craft beer and barbecue sauce.
The new venture involves combining two delicious, but different, obsessions. Tessmer, "the Beer Guy," is the co-founder of the St. Charles County Craft Beer Week. Duree, "the Sauce Guy," currently owns textbook rental stores and founded the Dupree Center for Entrepreneurship at Lindenwood University.
At first, Duree first flew around the idea of a sauce shop, only to realize that not enough people loved sauce like he did. That included Tessmer, who wanted to open a craft beer shop. The two, who had worked together before, decided to combine the ideas.
"I think we have a good niche with the beer and the barbecue," Tessmer says. "We're attracting two actually quite overlapping audiences."
At the store's center will be the Beer Bar, which will feature eight rotating taps and will both offer pints and flights, and the Sauce Bar, which has a rotating selection of 250 sauces, rubs and glazes, with a focus on house-branded sauces. Whenever possible, they intend to sell local products.
The shop will have a 1950s-inspired atmosphere, with Elvis on the soundtrack and employees dressed in mechanic-style shirts.
At the store's center is the belief that patrons should be satisfied with what they are buying. Tessmer and Duree will let them taste the store's products before they make their purchase.
And it's not just beer. The store will include a Whiskey Lounge, which will have more than 25 small-batch whiskies available for tasting and sale. A BBQ Deck will contain all the tools that patrons need to barbecue on their own, and the shop will offer weekly classes where acclaimed brewmasters and pitmasters show off new techniques for beer and barbecue.
They hope to create a store where people don't just walk in, buy something and walk out. They want to create a place where people have an experience.
"It's all community-driven," Duree says. "We're trying to be entertaining and eventful."
For more information on the shop, visit www.beersauceshop.com. You can also follow them on Facebook and Twitter.