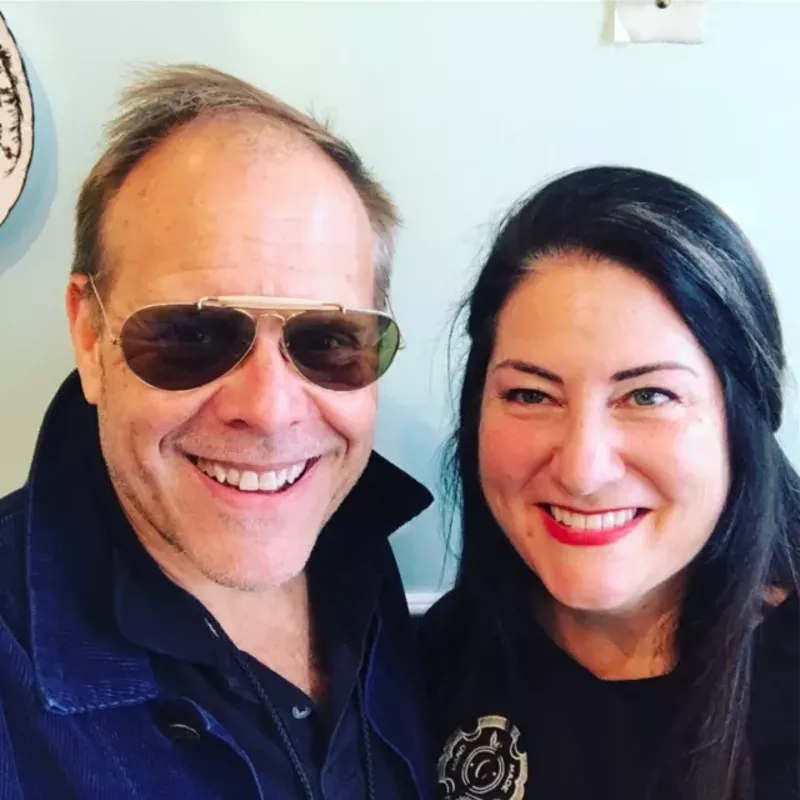 COURTESY OF TAMARA KEEFE
Alton Brown, left, with Tamara Keefe, owner of Clementine's Creamery.eat
Tamara Keefe, the owner of Clementine's Creamery (1637 S. 18th Street, 314-858-6100), was scrubbing the baseboards of her Lafayette Square shop around noon yesterday when an unexpected guest walked through the door: Alton Brown.
Brown, the Food Network star known for Good Eats, Iron Chef America and Cutthroat Kitchen, was in St. Louis yesterday to perform his show, Alton Brown Live: Eat Your Science, at the Fox Theatre.
But before Brown took the stage to talk about food, he took to the streets of St. Louis to eat it. And by all accounts, he liked what he found.
In the morning, Brown visited Sardella,
Gerard Craft's acclaimed Mediterranean-influenced spot
in Clayton. (Good thing
they recently added brunch
!)
After that, he visited Sump Coffee, Scott Carey's highly regarded spot deep in south city.
And that's not at all. He also took time to give Keefe the shock of her life in Lafayette Square. She tells us Brown tried a host of flavors and left with seven pints — a mix of both naughty (read: boozy) and nice (alcohol-free). Apparently, judging from his other tweets yesterday, someone in his crew was celebrating a birthday ... and what's a birthday cake without ice cream?
Oh, Keefe tells us he even bought a Clementine's T-shirt. So don't be surprised if you see Brown on the road repping St. Louis. After brunch, coffee, and seven whole pints, it's fair to say that here's a TV personality who does thorough research.

We welcome tips and feedback. Email the author at sarah.fenske@riverfronttimes.com